Eternals 2 is seemingly a go at Marvel Studios.
Patton Oswalt was recently a guest on the Today Show promoting his new film I Love My Dad, where he seemed to have let some classified information slip, joining Mark Ruffalo and Tom Holland in the Marvel Studios spoiler club. Ruffalo and Holland have had trouble keeping quiet in the past, and both have accidentally revealed information regarding previous Marvel projects.
RELATED: GUARDIANS OF THE GALAXY VOL. 3 FOOTAGE SHOWN AT SDCC
Oswalt continued this hilarious trend by stating that not only is Eternals 2 indeed happening, but Chloe Zhao is also returning to direct.
Patton Oswalt is Hopeful for Starfox and Pip the Troll to Return in Eternals 2
When Today Show host Al Roker asked about his role in the Marvel Cinematic Universe, Oswalt revealed that Marvel Studios is working on Eternals 2 with Chloe Zhao returning as director. While he didn't confirm his return for the sequel, he's hopeful that both he and Harry Styles would be returning for more adventures.
RELATED: BLACK PANTHER: WAKANDA FOREVER BRINGS EMOTIONAL TRAILER AND END TOMARVEL'SS SDCC 2022
Oswalt played Pip the Troll alongside Styles as Starfox/Eros, the brother of Thanos, in the post-credits scene of Eternals. Even though both roles were minor, they succeeded in garnering enough hype for a potential sequel.
Check out Oswalt's statement below:
They've announced there's going to be an Eternals sequel. Chloe Zhao is going to direct it. So hopefully, there will be more adventures of Starfox and Pip.
While Oswalt says the studio announced Eternals 2, no such announcement has been made. Marvel Studios recently hosted their first San Diego Comic-Con panel in three years and revealed many of their upcoming projects over the next three years. Eternals 2 was not one of them.
Either Oswalt is assuming a sequel is in the works, or an announcement is not far off. In September, Disney is hosting their fan event, D23, and Marvel Studios is confirmed to attend. The timeline that the studio revealed at SDCC had a lot of future release dates with no projects attached, many of which the studio could officially unveil at D23. Fans expect significant announcements from the studio at the event, and Eternals 2 could be one of them.
RELATED: CAPTAIN AMERICA: NEW WORLD ORDER: CAPTAIN AMERICA 4 CONFIRMED & TITLE REVEALED!
While the studio's SDCC panel was legendary, many fans assumed they needed to save some announcements for D23. The rest of the MCU's Phase 6 lineup and Fantastic Four casting news are at the top of every Marvel fan's wishes for the event, and Eternals 2 could easily fall into the former.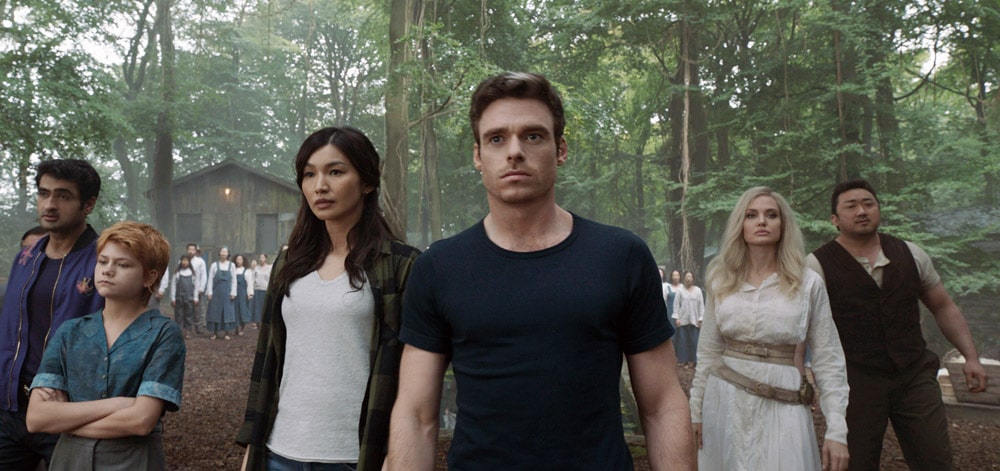 It seems likely that Marvel Studios has already reached out to Oswalt about starring in the upcoming sequel, but the actor may have let that slip prematurely.
RELATED: SDCC: EXCITING PROJECTS REVEALED FOR PHASES 4, 5, AND 6
Remember that both Oswalt's and Styles' roles were two of Eternals' biggest secrets, so neither actor did any press for the film. Maybe Oswalt hasn't been put through Marvel's press training gauntlet yet. It's safe to say, after this slipup, that Kevin Feige and the studio will make sure Oswalt gets the necessary training so that it doesn't happen again.
You can check out the full clip of the interview below.
Are you excited about a potential Eternals 2? Do you think Patton Oswalt's comments are confirmation that it's in the works? Are you hoping for an official reveal at D23? Let us know in the comments, and follow us on Twitter!
KEEP READING: AVENGERS: THE KANG DYNASTY FINDS AN EXCITING DIRECTOR IN DESTIN DANIEL CRETTON