We've got some exclusive plot details to share about the highly mysterious upcoming Disney+ series, Agatha: Coven of Chaos.
---
The MCU's newest entry, Black Panther: Wakanda Forever just hit theaters and is the talk of the town. The emotional celebration of Chadwick Boseman's legacy combined with the epic war between the MCU's most powerful nations has drawn audiences around the globe into their local cineplex. The film grossed $300 million globally during its opening weekend and there is no sign of it slowing down.
But the next project is already in the starting blocks as Disney+ is preparing audiences to get into the Christmas spirit with The Guardians of the Galaxy Holiday Special. It will be Marvel Studios' second Special Presentation, after last month's Werewolf by Night, a seemingly well-functioning format that seems to be the middle point between a full feature film and Marvel Studios' typical "six episodes event". And Marvel is ready to rock as we have already seen the teaser trailers for their next theatrical and Disney+ output: Ant-Man and the Wasp: Quantumania and Secret Invasion.
RELATED: WATCH THE MIND-BLOWING ANT-MAN AND THE WASP: QUANTUMANIA TEASER TRAILER NOW!
And there are no signs of slowing down in the most successful franchise in cinematic history, as two upcoming Disney+ shows are assembling their cast. While Wonder-Man hasn't been officially confirmed by Marvel Studios yet, the trades reported that Aquaman star Yayha Abdul-Mateen II has landed the titular role. We also exclusively reported that Marvel is eyeing Breaking Bad and Better Call Saul star Bob Odenkirk for a role in the series.
But the next thing to start the production will be the mysterious WandaVision spin-off: Agatha: Coven of Chaos. We already tried to shed some light on the project with our exclusive reporting of The White Lotus' Aubrey Plaza joining the show. We also revealed some of the show's directors and the episode count, as well as new casting and character details that could reveal Joe Locke's character.
RELATED: AGATHA: COVEN OF CHAOS: AUBREY PLAZA CAST IN MYSTERY ROLE AND NEW SHOOTING DETAILS: EXCLUSIVE
Now we at The Illuminerdi can reveal a few more details about the highly mysterious show, including some basic plot details. Therefore, we could be tapping into possible SPOILER territory.
UNWRAPPING THE AGATHA: COVEN OF CHAOS MYSTERY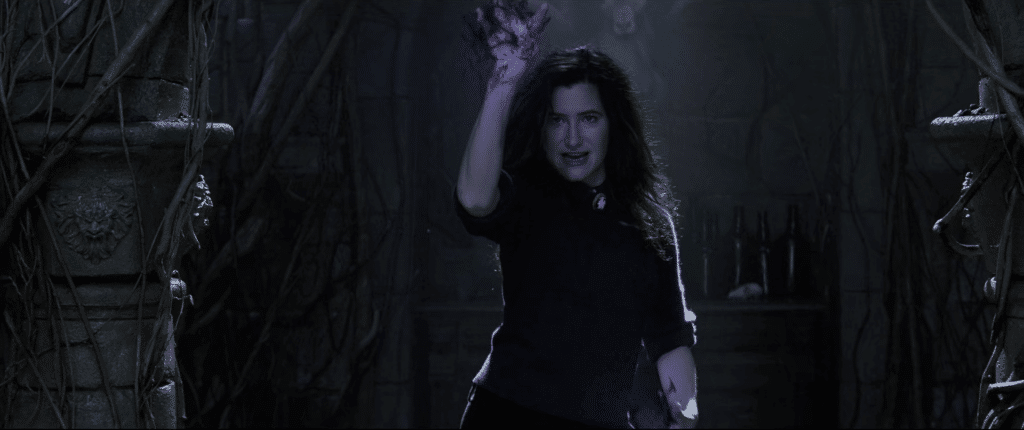 Our sources have told us that Agatha: Coven of Chaos brings us back into Westview. The show seemingly picks up where WandaVision left off, as Agatha Harkness (Kathryn Han) will be freed from Wanda's spell, which imprisoned her in her Westview persona, Agnes. Most interestingly our sources stated that she is freed by a new Coven of Witches. Aubrey Plaza is one of them and according to some casting details it can be assumed that Ali Ahn is also part of them.
This wouldn't be the first Coven of Witches in the MCU, as we've seen another one in a flashback sequence in WandaVision. During the Witch Trials in 1693 Salem, we see Agatha being expelled from her Coven for using dark magic. Furthermore, her Coven and mother Evanora Harkness captured and tried to kill her with energy beams. While desperately pleading with her captors, her newly found dark powers took over and converted the beams, killing all the members of the Salem coven. Agatha broke free, killed her mother, and took her brooch before flying away.
RELATED: NEW CHARACTER DESCRIPTIONS REVEAL JOE LOCKE'S AGATHA: COVEN OF CHAOS CHARACTER: EXCLUSIVE
Another detail our sources could reveal to us is that Billy is indeed back. He was previously played by Julian Hilliard in WandaVision and Doctor Strange in the Multiverse of Madness. Our sources stated that he is now a teen and is visiting, or attending, a school in Westview. For some unclear reason, he is a person of interest for the new Coven of Witches. Our sources couldn't give us any more specifics as to why and what they want from him.
Agatha: Coven of Chaos is set to star: Kathryn Hahn, Aubrey Plaza, Joe Locke, Emma Caulfield, Ali Ahn, Maria Dizzia, Sasheer Zamata, and Eric André. The show is set to premiere on Disney+ in Winter 2023/2024. What do you all think? Are you excited about the show? What are your theories about the plot? Let's discuss everything in the comments down below and on our social media.
KEEP READING: REMARKABLE BLACK PANTHER: WAKANDA FOREVER POST-CREDIT SCENE EXPLAINED [SPOILERS]