There are plenty of February movies that are coming to theatres, streaming platforms, and video on demand this month that we should not miss. The second month offers loads of movies belonging to a wide plethora of genres, especially romantic films, and also R-rated films. That includes action flicks, romance, dramas, comedies, adventure, sci-fi, and thrillers.
Netflix is known for releasing a lot of content each month and February offers a great line-up of films. Some of them include Netflix original movies, such as: Malcolm & Marie a romantic-drama; To All the Boys: Always and Forever a romantic-comedy; I Care A Lot, and also a few other new movies.
HBO Max original animated film, Earwig and the Witch; Disney+ original, Flora & Ulysses a comedy; Amazon's Bliss a sci-fi romantic drama and The Map of Tiny Perfect Things a sci-fi romantic drama; Hulu's bio-pic, The United States vs. Billie Holiday are also coming this month.
RELATED: HBO MAX: WB ANNOUNCES SHOCKING 2021 RELEASE STRATEGY
Many films have been released digitally for the audience to view on-demand since last year. The most intriguing VOD releases in February are Little Fish a sci-fi romantic-drama, Falling a drama, Son of South a biopic, The Wanting Mare a fantasy drama, PVT Chat an erotic mystery, Fear of Rain a psychological thriller, Cowboys a drama, Barb and Star Go to Vista Del Mar a comedy, Willy's Wonderland an action horror-comedy, Saint Maud a horror mystery, Supernova a romantic drama, Silk Road a crime thriller, The Killing of Two Lovers a drama, Minari a drama, The Vigil a horror. Most of the on-demand releases are also opening in select theatres before, or simultaneously, launching on digital platforms.
In the last few months, many theatres across various countries are reopened and new movies are getting released wherever theatres are available instead of waiting for other theatres to come back in full form. Some movies are having a release in select theatres before they head to streaming but some movies are having a wide release possible. Those films are French Exit a comedy-drama, Nomadland a drama, The Mauritanian a drama, The Father a drama.
In a shocking move to the entire industry, late last year Warner Bros. announced that its entire 2021 film slate would be debuting on HBO Max on the same day that the films are released in theaters. Whether if it will be the case for all their movies is still up for debate. Meanwhile, the filmmakers and studios affected by this move will be working out the kinks for quite a while. After the first film in that slate was released last month, two movies are arriving in February.
Warner Bros. biographical drama, Judas and the Black Messiah, and comedy-adventure, Tom & Jerry are releasing in both theatres and on HBO Max for a month.
Check out the synopses and release dates for each of these movies below.
February Movies To Watch Out For
Malcolm & Marie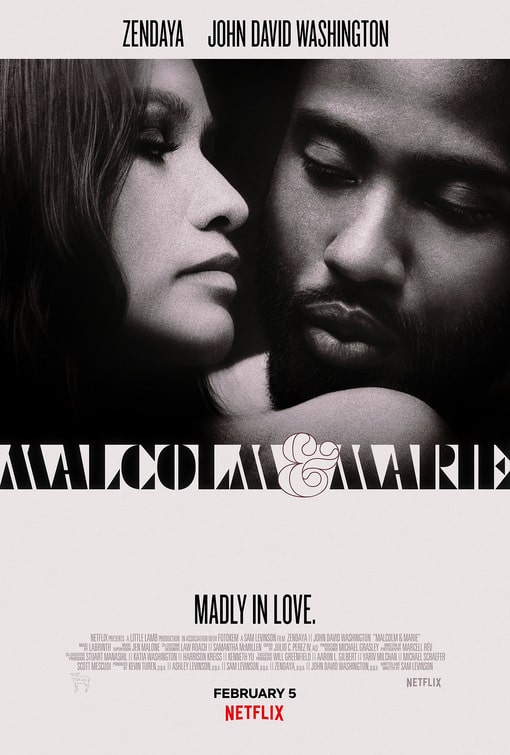 Malcolm & Marie is Netflix's original black-and-white romantic drama written and directed by Sam Levinson (Euphoria, Assassination Nation). The achingly romantic film stars only two actors, Zendaya (Spider-Man: Far From Home, Euphoria) and John David Washington (Tenet, BlacKkKlansman) as the title characters.
The movie was announced after it became the first feature film to be entirely written, financed, and filmed in secret during the COVID-19 pandemic in 2020. It so far holds a 58% RT score based on 78 reviews. The R-rated film will also release in select theatres before being released digitally on Netflix.
Synopsis: When filmmaker Malcolm (Washington) and his girlfriend Marie (Zendaya) return home from a celebratory movie premiere and await his film's critical response, the evening takes a turn as smoldering tensions and painful revelations about their relationships begin to surface, testing the couple's love, pushing them toward a romantic reckoning.
Malcolm & Marie Netflix release date: February 5, 2021
Bliss
Bliss is Amazon's original romantic sci-fi drama written and directed by Mike Cahill (Another Earth). It stars Owen Wilson (Wedding Crashers, Cars, Wonder), Salma Hayek (The Hitman's Bodyguard, Frida), Madeline Zima (Twin Peaks), Nesta Cooper (The Edge of Seventeen), Ronny Chieng (Crazy Rich Asians), Jorge Lendeborg Jr. (Bumblebee), and Joshua Leonard (Togetherness).
The R-rated film is a mind-bending love story that follows Greg (Wilson) who, after recently being divorced and then fired, meets Isabel (Hayek), an enchanting woman living on the streets who believes that the polluted, broken world around them is not real and that they are living in an alternative computer simulation inside of the beautiful, peaceful real world of bliss. Doubtful at first, Greg eventually discovers there may be some truth to Isabel's wild conspiracy.
Bliss Amazon Prime release date: February 5, 2021
Little Fish
Little Fish is IFC Films' sci-fi romantic drama directed by Chad Hartigan (Morris from America, This Is Martin Bonner), from a screenplay by Mattson Tomlin. It stars Olivia Cooke (Ready Player One, Sound of Metal, Thoroughbreds), Jack O'Connell (Unbroken, Seberg), Raúl Castillo (Atypical), and Soko (Her, Augustine).
Set in a near-future Seattle teetering on the brink of calamity. Imagine waking up in a world where a pandemic has broken out, which strikes with no rhyme or reason, and causes its victims to lose their memories. Imagine waking up and not remembering the person you love. This is the world that newlyweds Emma (Cooke) and Jude (O'Connell) find themselves in, not long after meeting and falling in love.
When Jude contracts the disease, the young couple will do anything to hold onto the memory of their love. But the virus grip on society tightens, blurring the lines between the past and the present, it becomes more and more difficult to know what's true and what's false. But how do you build a future when you keep having to rebuild the past?
The film will be simultaneously released in theatres and through video-on-demand. It is already getting a good response for its creative premise and performances.
Little Fish VOD release date: February 5, 2021
Earwig and the Witch
Earwig and the Witch is Studio Ghibli's Japanese computer-animated film directed by Gorō Miyazaki (From Up on Poppy Hill) and is based on the novel of the same name by Diana Wynne Jones. The film will open in select theaters in the US on Feb. 3 in both subtitled and English-dubbed versions before being released digitally on HBO Max.
It is the studio's first CG animated feature. The original voice cast includes Kokoro Hirasawa, Shinobu Terajima, Etsushi Toyokawa, Sherina Munaf, and Gaku Hamada and their English-language voice counterparts are Taylor Henderson, Vanessa Marshall, Richard E. Grant, Kacey Musgraves, and Dan Stevens.
Synopsis: Growing up in an orphanage in the 1990's British countryside, a 10-year-old girl named Earwig (Hirasawa in Japanese & Henderson in English) has no idea that she is a witch's daughter. Her life changes dramatically when a strange couple takes her in, and she is forced to live with a selfish witch. As the headstrong young girl sets out to uncover the secrets of her new guardians, she discovers a world of spells and potions and a mysterious song that may be the key to finding the family she has always wanted.
Earwig and the Witch HBO Max release date: February 5, 2021
Falling
Falling is a drama film written and directed by Viggo Mortensen in his feature directorial debut. The film stars Mortensen (The Lord of the Rings, Green Book), Lance Henriksen (Aliens), Sverrir Gudnason (The Girl in the Spider's Web), Laura Linney (Ozark), Terry Chen (Jessica Jones), Gabby Velis, Hannah Gross (Mindhunter), Carina Battrick (Feel the Beat), and David Cronenberg (Star Trek: Discovery).
The film follows John (Mortensen), a middle-aged gay man who lives with his partner, Eric (Chen), and their daughter, Mónica (Velis), in California, far from the traditional rural life he left behind years ago, while his conservative and homophobic father, Willis (Henriksen), lives alone on the isolated farm where John grew up. In the early stages of dementia, Willis is brought to John's California home to help him relocate. Unfortunately, their best intentions ultimately run up against Willis's adamant refusal to change his way of life in the slightest.
It had its world premiere at the Sundance Film Festival on January 31, 2020. It was released in the United Kingdom on December 4, 2020. Now it is scheduled to be released in the US and Canada both theatrically and through video-on-demand. The R-rated film holds a 72% RT score based on 53 reviews.
Falling VOD release date: February 5, 2021
Son of the South
Son of the South is a biographical historical drama film, written and directed by Barry Alexander Brown (Last Looks). Based on Bob Zellner's autobiography, The Wrong Side of Murder Creek: A White Southerner in the Freedom Movement. Spike Lee serves as an executive producer.
It stars Lucas Till (X-Men: First Class, Days of Future Past, & Apocalypse), Lucy Hale (Fantasy Island, Truth or Dare), Lex Scott Davis (Training Day), Julia Ormond (The Walking Dead: World Beyond), Shamier Anderson (Wynonna Earp), Brian Dennehy (The Blacklist), and Cedric the Entertainer (The Neighborhood).
Synopsis: A grandson of a Klansman comes of age in the deep south and eventually joins the Civil Rights Movement. Son of the South had its world premiere at the American Black Film Festival on August 26, 2020. Now it will be simultaneously released in theatres and through video-on-demand.
Son of the South VOD release date: February 5, 2021
The Wanting Mare
The Wanting Mare is a romantic fantasy drama film written & directed by Nicholas Ashe Bateman in his feature directorial debut. The film stars Jordan Monaghan (After Everything), Josh Clark (McFarland, USA), Yasamin Keshtkar, Kate Lyn Sheil (House of Cards), Ashleigh Nutt, Anthony Perullo (Dark Secrets), Christine Kellogg-Darrin, Meghan McGarry (Casual Encounters), Maxine Muster, and Edmond Cofie.
The Premise of the film is- In the city of Whithren, a line of women passes a single dream through multiple generations. This indie film showcases a futuristic, expansive world created by Bateman who is a visual effects artist. The film so far holds a 100% RT score based on 8 reviews. It will debut in select theatres and through video-on-demand.
The Wanting Mare VOD release date: February 5, 2021
PVT Chat
PVT Chat is an erotic mystery drama film written and directed by Ben Hozie (Annunciation). It stars Julia Fox (Uncut Gems), Peter Vack (Brittany Runs a Marathon, M.F.A.), Buddy Duress (Good Time), Nikki Belfiglio, Austin Brown, and Keith Poulson (Her Smell). The film premiered at the Fantasia International Film Festival on August 21, 2020.
The film follows Jack (Vack), a lonely internet gambler living in New York City. He quickly becomes fixated on Scarlet (Fox) – a cam girl from San Francisco. As Jack learns more about Scarlet, he discovers her unrealized talent as a painter and begins to fall hard for her. His obsession reaches a boiling point when fantasy materializes in reality and Jack sees Scarlet on a rainy street in NYC Chinatown.
While Scarlet is clearly hiding her whole truth, milking Jack's wallet in the process, she also seems to develop genuine feelings for him. Jack has to find out – is their emotional connection real or is he just being taken for a ride? The film will be released in select theatres in the US on February 5, followed by a VOD and digital release. It so far holds an 80% RT score based on 10 reviews.
PVT Chat VOD release date: February 9, 2021
French Exit
French Exit is Sony Pictures Classics' surreal comedy-drama film directed by Azazel Jacobs (Sorry for Your Loss, Doll & Em), based on the novel of the same name by Patrick deWitt, who also wrote the screenplay.
It stars Michelle Pfeiffer (Ant-Man and the Wasp, Maleficent 2), Lucas Hedges (Lady Bird, Manchester by the Sea), Valerie Mahaffey (Dead to Me), Susan Coyne (Cardinal), Imogen Poots (Vivarium, Castle in the Ground), Danielle Macdonald (Unbelievable, Bird Box), Daniel Di Tomasso (Ratched), Isaach de Bankolé (Casino Royale), and Tracy Letts (Ford v Ferrari, Lady Bird).
It tells the story of a widowed New York socialite (Pfeiffer) who moves to Paris with her aimless son (Hedges) with the little money they have left after she spends the last of her husband's inheritance.
The film had its world premiere at the New York Film Festival on October 10, 2020, and is scheduled to be theatrically released in the US this month. The film holds a 71% RT score based on 45 reviews with much praise for Pfeiffer and the writing.
French Exit release date: February 12, 2021
Judas and the Black Messiah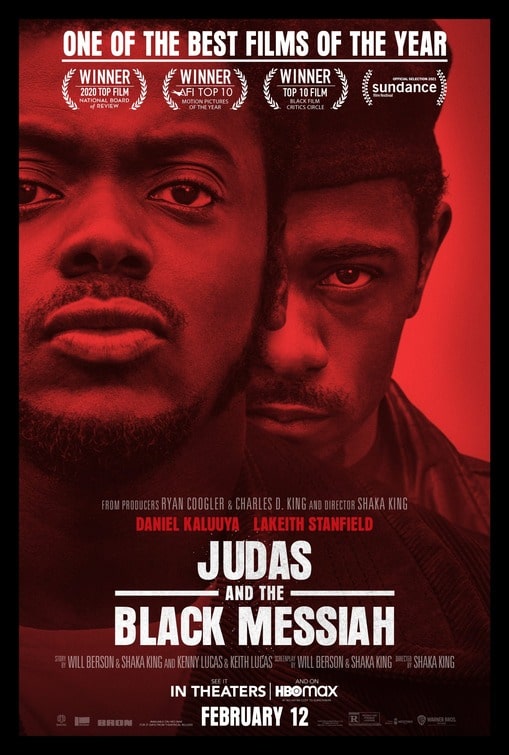 Judas and the Black Messiah is Warner Bros. biographical drama film directed and produced by Shaka King (Newlyweeds, People of Earth), from a screenplay written by King and Will Berson, based on a story by King, Berson, and Kenny and Keith Lucas. Ryan Coogler and Charles D. King serve as co-producers. The film stars Daniel Kaluuya (Get Out, Black Panther), Lakeith Stanfield (Knives Out), Jesse Plemons (I'm Thinking of Ending Things, Vice), Dominique Fishback (Project Power), Ashton Sanders (Moonlight), Dominique Thorne (If Beale Street Could Talk), and Martin Sheen (The Departed).
The film details the betrayal of Fred Hampton (Kaluuya), chairman of the Black Panther Party in the late 1960s Illinois, at the hands of petty criminal William O'Neal (Stanfield) who agrees to work as an informant for the FBI and takedown Hampton.
This is one of the WB films which is going to follow the HBO Max release strategy. Judas and the Black Messiah is scheduled to premiere at the 2021 Sundance Film Festival on Feb. 1, and be released in the US simultaneously in theatres and digitally on HBO Max for one month. This film is expected to be an awards contender and this is a must-watch.
Judas and the Black Messiah HBO Max release date: February 12, 2021
The Map of Tiny Perfect Things
The Map of Tiny Perfect Things is Amazon's original sci-fi romantic comedy-drama directed by Ian Samuels (Sierra Burgess Is a Loser), from a screenplay by Lev Grossman, based upon his short story of the same name. The "stuck in a time loop" setup has been making a comeback as of late and Samuels is attempting to keep the momentum going.
It stars Kathryn Newton (Detective Pikachu, Freaky, Blockers), Kyle Allen (American Horror Story), Jermaine Harris (Ballers), Anna Mikami (Vox Lux), Josh Hamilton (Eighth Grade), Cleo Fraser (The Unicorn), Al Madrigal (The Way Back), and Jorja Fox (CSI).
The film tells the story of quick-witted teen Mark (Allen), contentedly living the same day in an endless loop whose world is turned upside-down when he meets mysterious Margaret (Newton) also stuck in the time loop. Mark and Margaret form a magnetic partnership, setting out to find all the tiny things that make that one day perfect. What follows is a love story with a fantastical twist, as the two struggle to figure out how — and whether — to escape their never-ending day.
The Map of Tiny Perfect Things Amazon release date: February 12, 2021
Fear of Rain
Fear of Rain is Lionsgate's psychological mystery thriller film written and directed by actress/director Castille Landon (Apple of My Eye). It stars Madison Iseman (Jumanji: Welcome to the Jungle & The Next Level, Annabelle 3, Clouds), Katherine Heigl (Grey's Anatomy, Suits), Israel Broussard (Happy Death Day), Eugenie Bondurant (The Hunger Games: Mockingjay – Part 2), Julia Vasi (Watchmen), and Harry Connick Jr. (Dolphin Tale).
Synopsis: For teenager Rain Burroughs (Iseman), a diagnosis with schizophrenia means that every day is a struggle as she tries to figure out which of the disturbing images, harrowing voices, and traumatic feelings she experiences are real and which are all in her mind.
But when Rain insists against her parents' (Heigl and Connick Jr.) advice that the shadows and cries from her neighbor's attic are hiding a dark secret, she enlists help from Caleb (Broussard), the charmingly awkward new boy at school — who himself may not be real.
This movie just for the premise itself is not one to be missed. It is releasing in theatres and on-demand.
Fear of Rain VOD release date: February 12, 2021
Cowboys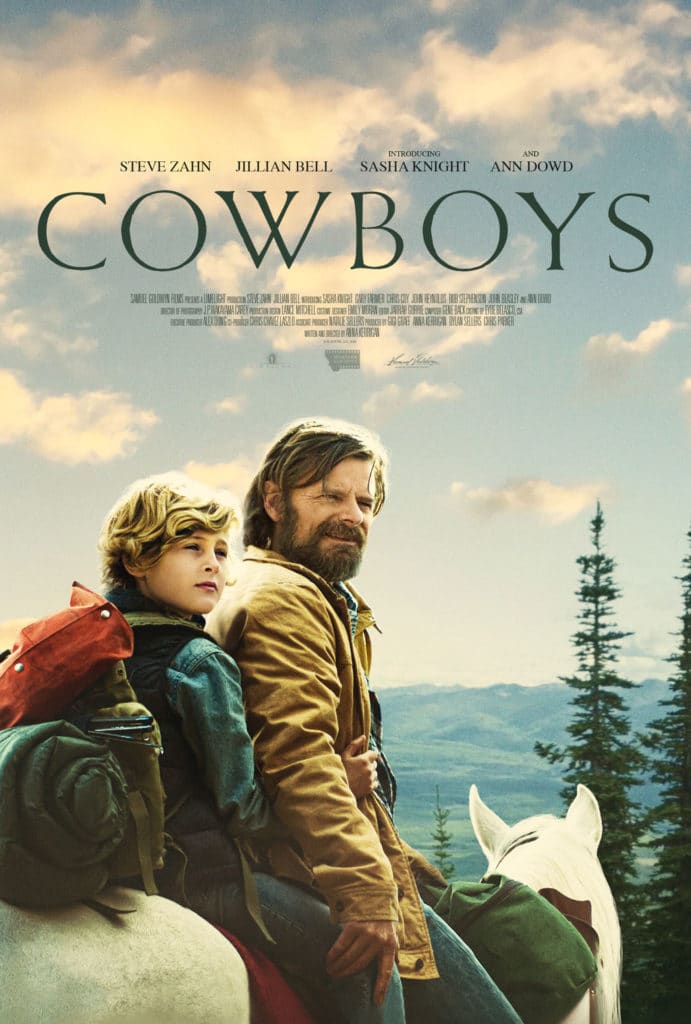 Cowboys is a drama film written and directed by Anna Kerrigan (The Impossibilities). It is a modern-day Western starring Steve Zahn (Uncle Frank), Jillian Bell (Godmothered, Brittany Runs a Marathon, Rough Night), Sasha Knight, Ann Dowd (The Handmaid's Tale), Gary Farmer (The Red Road), Chris Coy (The Deuce), and Bob Stephenson (Just Add Magic).
The film follows Troy (Zahn), a troubled but well-intentioned father who has recently separated from his wife Sally (Bell). Aghast at Sally's refusal to let their trans son Joe (Knight) live as his authentic self, Troy runs off with Joe into the Montana wilderness. Meanwhile, the police detective (Dowd) pursues them, but her resolve about the case is tested the more she learns about Joe's family.
It had its world premiere at Outfest on August 22, 2020, now it will be having a limited theatrical release and will be released through Video-on-demand. The film so far holds a 92% RT score based on 13 reviews.
Cowboys VOD release date: February 12, 2021
Keep reading on the next page: