Vertical Entertainment's newest action movie, A Day To Die, stars action powerhouses Bruce Willis and Frank Grillo. In A Day To Die, Conner Connolly (Kevin Dillon) has only one day to pay his $2 million dollar debt to a gang leader who has kidnapped his wife. He recruits his old military team, led by Brice Mason (Frank Grillo) to pull a number of dangerous heists to gather the money. With time and the city's corrupt police chief (Bruce Willis) working against them the team must work together and rely on their training as well as each other to save themselves and the ones they love.
RELATED: PURSUIT DIRECTOR ON WORKING WITH JOHN CUSACK AND EMILE HIRSCH IN NEW ACTION THRILLER: EXCLUSIVE INTERVIEW
The Illuminerdi had the opportunity to speak with A Day To Die director Wes Miller about his new action movie. During our interview he talked about the importance of practical effects, especially in action films, and working with the legendary action star Bruce Willis and what he brought to the film.
A DAY TO DIE DIRECTOR WES MILLER TALKS ABOUT WORKING WITH BRUCE WILLIS IN HIS NEW ACTION FILM
"I mean, he brings Bruce Willis. I mean he walks through the door and everybody's like, "There's Bruce Willis, there's Bruce Willis." And there were times that I would literally have to kind of almost pinch myself, just looking at the whole amazing cast, but like when Bruce comes in your kind of likening it to a football game, you know, I played cornerback in school. And you know, when that good team is coming in you wake up a little bit early. Everybody on the team is a little bit sharper, a little bit quicker, like a little bit more on it.

So, everybody just kind of brought their A game, but like just being there with him and watching his work, his craft and just bringing his moments of being Bruce Willis is just really awe inspiring. And just being in the presence of somebody that has that much history. And is that good at what they do and is that much of a legend, especially. And who's trusting you as a young filmmaker to help bring the best of them out is very humbling and rewarding. But we got in, we got the cameras rolling and we got the work in man and he was game to get it going."
RELATED: PURSUIT DIRECTOR EXPLAINS HOW THE COP AND THE CRIMINAL ARE 2 SIDES OF THE SAME COIN IN NEW ADVENTURE THRILLER: EXCLUSIVE INTERVIEW
Bruce Willis is a legend in the action genre forever cementing his place with the classic, Die Hard. It's no wonder Wes Miller was thrilled to work with him in his new film, A Day To Die. It's fascinating to hear how Willis' presence elevated the performance of everyone else on the set of A Day To Die.
A DAY TO DIE DIRECTOR EXPLAINS WHY PRACTICAL EFFECTS ARE THE WAY TO GO IN ACTION MOVIES
Bruce Willis, along with the rest of the cast, were an integral part of what brought A Day To Die to life on screen, but Wes Miller also explained how practical effects can infuse energy into the performances in the major action sequences that can be lost with CGI.
"So for me, practical is the way to go. As long as budget allows, so all of our gun fights, 99% of it is all practical. Their explosions are 99-95% all practical. And then use CGI as a kind of supplement. I feel like if you're doing an action scene and it's just maybe like a couple of, you know pistol shots, you can get away with CGI, but like when you have sustained gunfire and back and forth battles at some point that lack of energy that you miss when you're just using replicate, you know, replicas you'll miss that.

And so, it just adds having those real guns, there just adds a real visceral nature to the action scene that you just can't, you can't mimic. And it gives actors added energy when they feel that coming out. But like for us, and this was before the Rust tragedy, we have amazing armorer. Eric Pettway and his wife, Adrian, like they were, you know, safety was always paramount on point.

And you follow all safety protocols, man, and you can do this stuff very well and very safely. But no matter how fast you have to move, there's one thing you don't sacrifice and that's safety. And so, no matter what your budget is, you get great armorer and you take those precautions. And then when they get stuff set, have your cameras ready and make sure you capture it all."
RELATED: PURSUIT DIRECTOR ON MAKING HIS NEW REVENGE MOVIE STAND OUT AND WHY THE MAIN CHARACTER IS A HACKER: EXCLUSIVE INTERVIEW
Wes Miller's passion on this subject is palpable. Practical effects especially in action movies like A Day To Die add a certain magic to the energy and the authenticity of what audiences are watching. That isn't to say CGI isn't an integral part of filmmaking today, many times CGI can be masterfully incorporated into the film bringing truly impossible ideas to life on screen. However, practical effects, especially in gritty thrillers based in reality, harken back to the classic action movies that Miller loves. The passion Miller brings to all aspects of this film bleeds through on screen adding to the fun of this action thriller.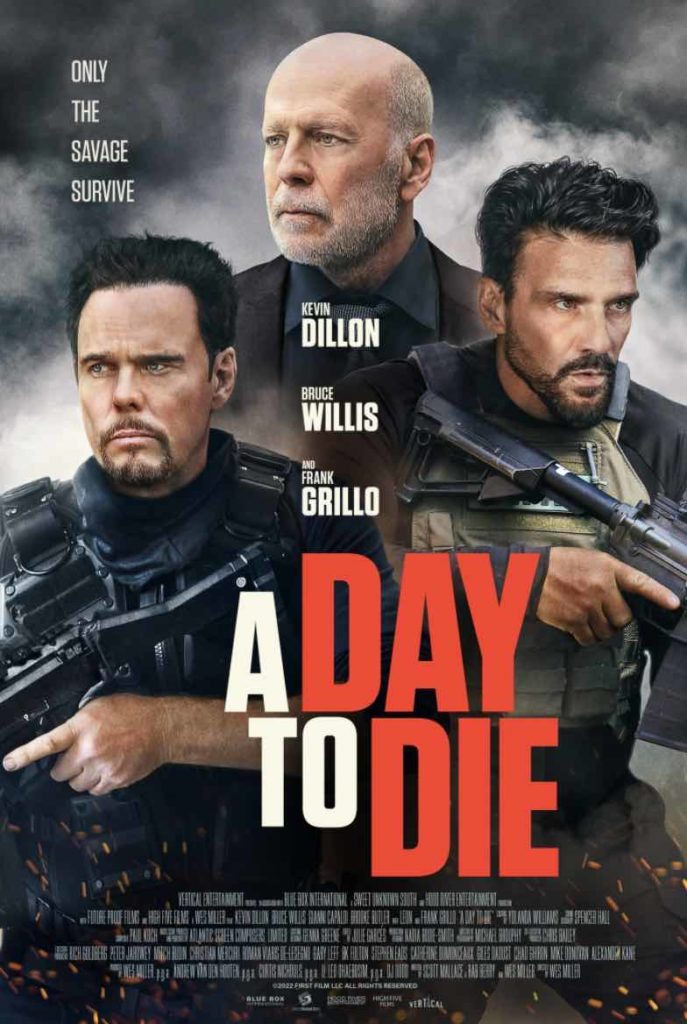 A Day To Die is in select theaters and available on Video On Demand now. Are you going to see A Day To Die? What do you think about practical effects vs. CGI in action movies? Leave your thoughts in the comments below or on our social media and check back with The Illuminerdi for more.
KEEP READING: REACHER: WILLA FITZGERALD EXPLAINS ROSCOE'S DRIVE AND THE INTERESTING DYNAMIC WITH "GOOFBALL" ALAN RITCHSON: EXCLUSIVE INTERVIEW