Sabbac and Eclipso may not be the the first names you think of when someone brings up DC supervillains. In all likelihood, the names of these two demonic antagonists are brand new to you.
The good news, Black Adam fans, is that we're here to break down everything you need to know about Bruce Gordon and Ishmael Gregor. 
The History Of Eclipso
We'll start with Bruce Gordon, or Eclispo, as an Illuminerdi breakdown of Sabbac is right here for your reading pleasure. Bruce Gordon – an in-house joke and the amalgamation of Bruce Wayne and Jim Gordon, courtesy of character creator Bob Haney – was a scientist who specialized in solar power (a little on the nose, I know) and wounded up on Diablo Island. It was here that he would be possessed by the villainous Eclipso, the fallen wrath of God.
RELATED: BLACK ADAM: SHEDDING NEW LIGHT ON AMON TOMAZ'S MYSTERIOUS ROLE IN THE FILM: EXCLUSIVE
Now, it's difficult to explain Eclipso's powers properly without comparing him to the Spirit Of Vengeance, Zarathos, in the Marvel Universe, or to his DCU successor, The Spectre. Eclipso is an extremely old force, one that predates humanity itself. He is the embodiment of God's fury, and to give you an idea of how insanely powerful this being is, he is solely responsible for the great flood in the Bible. Both The Spectre and Eclipso have accomplished feats of incredible strength and fought against omega-level (or stronger) entities multiple times.
Since he was corrupted, Eclipso became more closely aligned with revenge than holy justice, and became trapped in 'the heart of darkness", a black diamond which contained Eclipso, lest an individual touch the diamond. It was eventually split into a thousand pieces, and actually liquified by Wildcat's brother (cousin in the source material) Alex Montez once, but regardless of what form it took, the heart of darkness most always held some sway over Eclipso, something that infuriated the powerful vengeance demon.
RELATED: STEVE AGEE TO REPRISE HIS SUICIDE SQUAD ROLE IN HBO MAX'S PEACEMAKER SERIES
Fans of Stargirl may recall Cindy Burman, alias Shiv, discovered a mysterious glowing diamond, formerly property of the Injustice Society of America. This diamond is the Arrowverse's first tease of Eclipso, who has since been confirmed to play a major antagonistic role in season two of Stargirl. In the DCEU, it would appear as though the aforementioned Heart of Darkness appeared in the animated Black Adam trailer, though this has not been outright confirmed.
TheDirect exclusively reported that Eclipso would be a villain in Black Adam, though exact details regarding his role were unavailable. As Eclipso is it's own being, separate Bruce Gordon, it is entirely possible that the character will possess a citizen of Kahndaq, assist with the banishment of Black Adam, only to be imprisoned himself. Another possibility is that Eclipso was banished before Black Adam, and his heart of darkness merely resides in proximity to Black Adam out in space, or wherever they are exactly. The point is that even if Eclipso appears in this film, he may play a small role, and there is no guarantee that Bruce Gordon would also appear in the film.
Sabbac: A Demon In The Vein Of Shazam
In the comics, Ishmeal gregor is a russian mob boss who performs a dark ritual involving the murder of both Timothy Karnes, formerly known a Sabbac, and a bus full of innocent people. This ritual bestows him the power of Sabbac, which is no small thing. By saying "Sabbac", Ishmael becomes a demon with powers akin to Shazam and Black Adams, plus the ability to breathe fire. His name is an acronym of six lords of Hell, and he was seen fighting The Outsiders and Shazam Jr/Captain Marvel Jr in his few appearances in the source material.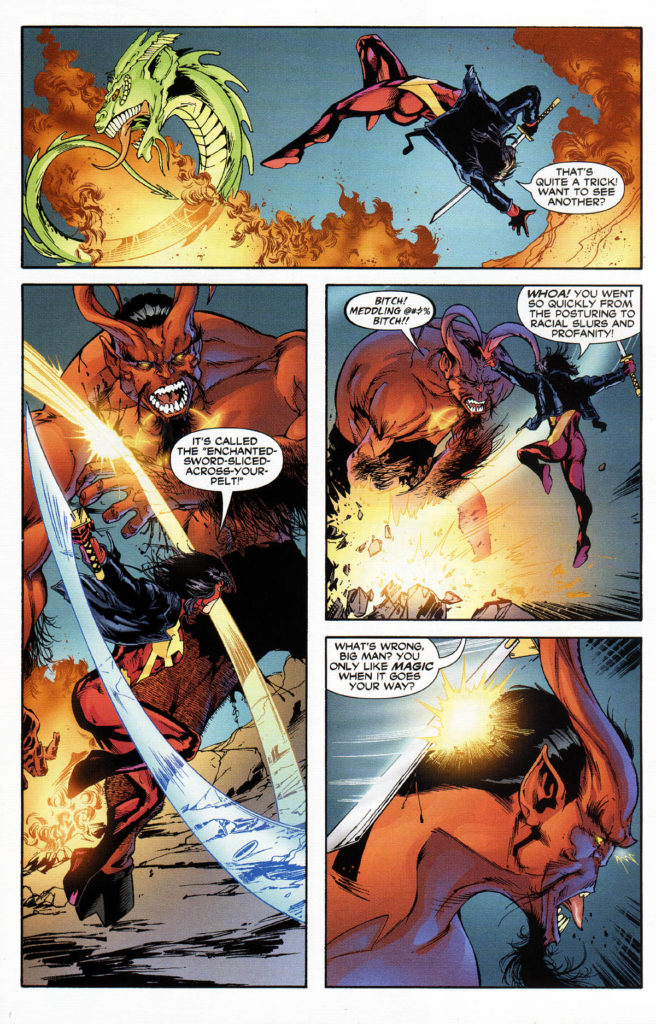 Black Adam is currently searching for a 40-year old male to play a villain named "Ishmael". Aladdin's Marwan Kenzari is a person of interest for the role. "Ishmael" is a villain with an army, descended from a "murdered Pharaoh". His goal is to harness the power of the "crown of Sabbac".
My assumption is that Ishmael has been retooled, abandoning the Russian mob boss cliche, for something more directly tied to the world of Black Adam. Logically, we can also infer that the powers of Sabbac will lay within this crown, and not Timothy Karnes in this version of Ishmael's story.
The Roles These Two Could Play
Before getting into speculation, I need to make two things very clear. First of all, with the film still a few months away from beginning production, and no release date currently in sight, rewrites are always a possibility.
Secondly, I have a lot of respect for TheDirect, and I am not saying that Eclipso is not in Black Adam. I am simply saying that according to the same information, which revealed that Sarah Shahi was offered a role in Black Adam before she officially accepted, indicates that "Ishmael" will be the primary antagonist of the film. On top of that, the role that Sabbac will play in Osiris' origin story practically guarantees his spot as the main supervillain of Black Adam.
RELATED: FIRST LOOK AT TITANS SEASON 3'S RED HOOD REVEALED
Theoretically Black Adam could open in ancient Kahndaq, following Teth-Adam and possibly Prince Khufu in their liberation of the country. Teth-Adam's unbridled rage would lead The Wizard Shazam to banish him. Eclipso, if he is in the film, would likely factor into this prologue of sorts, as the primary storyline will focus on Black Adam, The Justice Society, Isis and the fight against Ishmael/Sabbac.
Eclipso might have possessed the aforementioned "murdered Pharaoh", or he might have helped Black Adam and Prince Khufu overthrow the regime in Kahndaq. If he appears in the scenes set in the present day, perhaps he could be mentioned or shown to be an enemy of the JSA. There are a number of ways which he could factor into the plot of the movie in a small role.
Personally, I would like to see how the Black Marvel family would fare against Sabbac and Eclipso simultaneously, though that isn't likely to happen. Would you prefer to see Eclipso or Sabbac as the main villain in Black Adam? Let us know your thoughts in the comments below or on our social media!
KEEP READING: NO, ZACK SNYDER'S JUSTICE LEAGUE IS NOT CANCELLED YOU MINDLESS DEGENERATES