After many months of promotional marketing and teasers, Warner Bros finally released the first trailer for Space Jam: A New Legacy.
Fans can rejoice as the trailer includes almost all of your favorite Looney Tunes and of course NBA Superstar Lebron James. We are also are treated to the main villain of Space Jam: A New Legacy, Al G played by award winning actor Don Cheadle.
Surprisingly the trailer includes characters and IPs from Warner Bros Studio's history. Then finally we get our first reveal of the villains that will go against the Tune Squad, the Good Squad! Let's take a look at the exciting first official trailer for Space Jam: A New Legacy.
SPACE JAM: A NEW LEGACY FULL OFFICIAL TRAILER
SPACE JAM: A NEW LEGACY TRAILER BREAKDOWN
We first see an aerial view of NBA Superstar Lebron James' mansion, presumably in Los Angeles. We then see James son Dom, played by Cedric Joe, playing a video games on his portable console. We then are first introduced to James while having a conversation with Dom. We see that James is trying to convince his son is continuing his legacy by playing basketball, hopefully to become a professional or NBA player.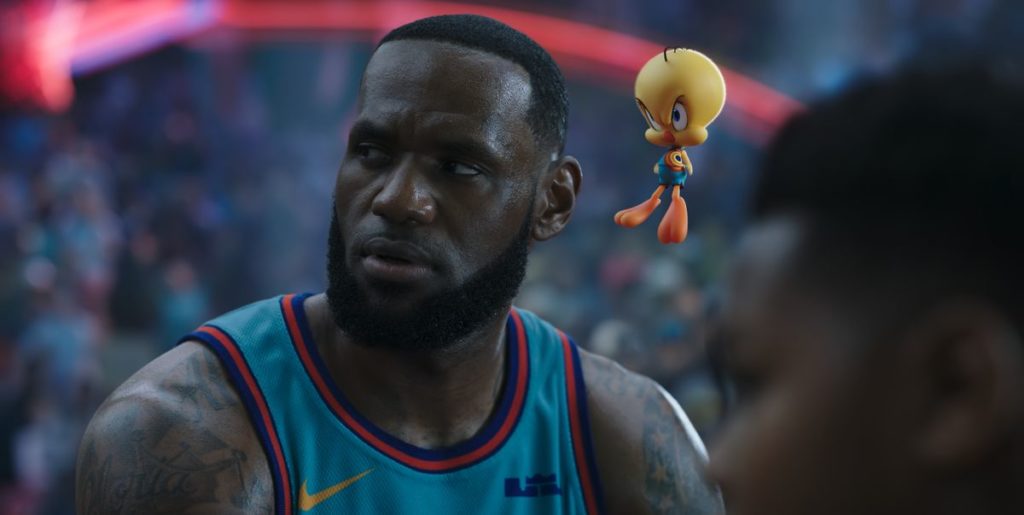 We then see James other son Darius, played by Ceyair J. Wright, and Dom play basketball in their homemade court. However we see Dom has no interest in playing basketball, and wants to have his own dream and future (presumably being a video game developer). We then see Dom and James inside a fancy building (presumably Warner Bros studios). The Space Jam trailer follows James and Dom into an elevator in which Dom accuses his father of not supporting his dreams. Dom then exits the elevator and we see the floor number change into Al G.
James tries to go after his son, and while searching he enters a server room. We then see Dom get teleported away with James as well. We next find James floating around a WarnerMedia inspired cyberspace showing some known IP worlds, with one of them being Westeros from Game Of Thrones.
We are then first introduced to Don Cheadle's Al G who challenges James to a basketball game in order to get Dom back. We also find out the cyberspace that James is inside of is called the Server-Verse.
RELATED: SPACE JAM: A NEW LEGACY REVEALS NEW IMAGES AND QUOTES
We then see Al G sends James to Looney Toon land, and funny enough he turns into a cartoon. Then we are first introduced to Bugs Bunny with the rest of Tune Squad featuring Daffy Duck, Lola Bunny, Yosemite Sam, Granny, Tweety Bird, Tasmanian Devil, Elmer Fudd, and many more.
Then James and the Tune Squad are taken to a world in which almost all of Warner Bros IP's are present. Intellectual property such as Scooby Doo, King Kong, DC, Thundercats, The Mask, Iron Giant, The Flintstones, and characters from the Huckleberry Hound Show. Then we are shown the basketball court where Lebron James and the Tune Squad will face Al G's team, the Goon Squad.
RELATED: WATCH SPACE JAM: A NEW LEGACY SPOT PROVIDE A HILARIOUS TEASE FOR TOMORROW'S FULL TRAILER DROP
We see that the Goon Squad consists of cyber versions of current NBA and WNBA players. Some of those players that were featured are Anthony Davis, Klay Thompson, Damian Lillard. Diana Turasi  Nneka Ogwumike, and many others. We then see James and the Tune Squad become three-dimensional. We are then treated to a series of hilarious scenes from the Tune and Good Squad, including a comedic finale from Granny and the trailer ends.
Overall the trailer was well done and is sure to hype up fans. The trailer is also so much full of nostalgia, especially the appearances of IPs from Warner Bros historical catalog. The trailer shows that Space Jam: A New Legacy will be similar to films such as Tron and Ready Player One.
The trailer also highlights Lebron James' incredible talent as a basketball player and even an actor. But one of the main highlight of that trailer was James doing a behind the leg dunk similar to what the late great Kobe Bryant first did in the 1996 NBA All-Star Game (perhaps a touching nod and tribute to the late NBA Hall Of Famer). After many years of waiting fans finally have another Space Jam film on the way, even though it's not a direct sequel to the original film. Nonetheless, hopefully this upcoming film can honor its predecessor and create its own legacy.
Space Jam: A New Legacy will premiere simultaneously on theaters and HBO Max on July 16th 2021. What did you think of the new trailer? Let us know your thoughts in the comment section below or over on our social media!
KEEP READING: POWERPUFF: NEW CW SHOW ADDS DONALD FAISON AS PROFESSOR UTONIUM TO EXCITING LIVE-ACTION CAST
Source: Warner Bros