There are plenty of April movies that are coming to theatres, streaming platforms, and video on demand this month that we should not miss. The third month offers loads of movies belonging to a wide plethora of genres. That includes action flicks, romance, dramas, comedies, adventure, sci-fi, horror, and thrillers.
In April, streaming services are offering a great line-up of films such as: Netflix's Concrete Cowboy, a western drama; Thunder Force, a superhero comedy; Stowaway, a sci-fi thriller; Things Heard and Seen, a horror thriller, The Mitchells vs. The Machines, a sci-fi animated comedy; and Amazon's Without Remorse, an action thriller.
Many films have been released digitally for the audience to view on-demand since last year. In April, the most intriguing VOD releases are Shiva Baby, a comedy-drama; Every Breath You Take, a thriller; Honeydew, a horror mystery; Monday, a romantic drama; Vanquish, an action thriller; and Golden Arm, a comedy. Most of the on-demand releases are also opening in select theatres before or simultaneously launching digital platforms.
RELATED: WATCH SPACE JAM: A NEW LEGACY SPOT PROVIDE A HILARIOUS TEASE FOR FULL TRAILER DROP
In the last few months, many theatres across various countries are reopened and new movies are getting released wherever theatres are available instead of waiting for other theatres to come back in full form. Looks like the movie-going audience is increasing every month and there is a sign at last for theatres to return in full form in near future. The recent tentpole movie Godzilla vs. Kong set an opening Box-office record during the pandemic, last week.
Some movies are having a release in select theatres before they head to streaming but some movies are having a wide release possible. One such film is Voyagers a sci-fi thriller.
In Warner Bros.'s HBO Max release strategy of their 2021 film slate, already four films have been released among them one is a tentpole film. Their second biggest tentpole film, Mortal Kombat is arriving in April.
Check out the synopses and release dates for each of these movies below.
April 2021 Movies To Watch Out For
Concrete Cowboy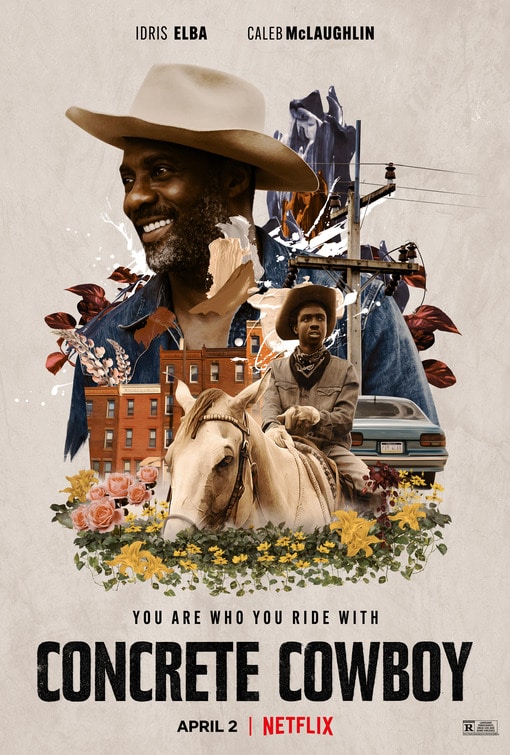 Concrete Cowboy is Netflix's original western drama directed by Ricky Staub in his feature directorial debut, from a screenplay by Staub and Dan Walser, based upon the novel Ghetto Cowboy by Greg Neri, which is a fictionalization of the Fletcher Street Urban Riding Club and urban African-American horse-riding culture in Philadelphia, Pennsylvania.
The film stars Idris Elba (Thor, Luther, Hobbs & Shaw), Caleb McLaughlin (Stranger Things), Jharrel Jerome (Mr. Mercedes), Byron Bowers (Honey Boy), Lorraine Toussaint (Orange Is the New Black), and Clifford "Method Man" Smith (The Deuce).
The film is about a 15-year-old rebellious teen from Detroit who is sent to live with his estranged father for the summer in North Philadelphia and learns about the local tight-knit community of urban cowboys.
Concrete Cowboy had its world premiere at the Toronto International Film Festival on September 13, 2020, and is scheduled to be released on Netflix. The R-rated film so far holds a 79% Rotten Tomatoes score based on 81 reviews. Read our review for Concrete Cowboy below!
RELATED: CONCRETE COWBOY REVIEW: STRANGER THINGS STAR CALEB MCLAUGHLIN SHINES IN UNIQUE COMING OF AGE DRAMA
Concrete Cowboy Netflix release date: April 2, 2021
Shiva Baby
Shiva Baby is a comedy-drama film written and directed by Emma Seligman in her feature directorial debut, adapted from Seligman's own 2018 short film of the same name. It stars Rachel Sennott (Tahara), Molly Gordon (Booksmart, Good Boys), Danny Deferrari (Three Christs), Dianna Agron (Glee), Fred Melamed (WandaVision), Polly Draper (Golden Boy), Jackie Hoffman (The Politician), and Deborah Offner (Black Swan).
The film follows Danielle (Sennott), a directionless young bisexual Jewish college student who attends a shiva (Jewish funeral service) with her parents and has an awkward encounter with her successful ex-girlfriend Maya (Gordon), and face-to-face with her sugar daddy Max (Deferrari) and his family. The events of the film take place almost entirely in real-time and at one location as Danielle explores her romantic and career prospects under the intense watch of her family, friends, and judgmental neighbors.
Shiva Baby was released in many film festivals in 2020 where its cast and director were praised by critics and it won several awards for Seligman's screenplay. The comedy film holds a 97% RT score based on 62 reviews with praise for its bisexual and Jewish representation. It is scheduled to be released in theatres and on-demand on the same day. This is a must-watch film for everyone.
Shiva Baby VOD release date: April 2, 2021
Every Breath You Take
Every Breath You Take (also know as You Belong to Me) is Vertical Entertainment's thriller film, directed by Vaughn Stein (Terminal, Inheritance), from a screenplay by David Murray. It stars Casey Affleck (Manchester by the Sea, Our Friend), Michelle Monaghan (Mission: Impossible III, Kiss Kiss Bang Bang), Sam Claflin (Enola Holmes, Peaky Blinders), India Eisley (The Secret Life of the American Teenager, I Am the Night), Emily Alyn Lind (The Babysitter 1&2, Doctor Sleep), Lilly Krug (Der Lehrer), and Veronica Ferres (Salt and Fire, Crisis).
The film follows a psychiatrist (Affleck), whose career is thrown into jeopardy when his patient takes her own life, finds his family life disrupted after inviting his patient's surviving brother (Claflin) into his home to meet his wife (Monaghan) and daughter. The R-rated film is scheduled to be released in theatres and on-demand simultaneously.
Every Breath You Take VOD release date: April 2, 2021
Thunder Force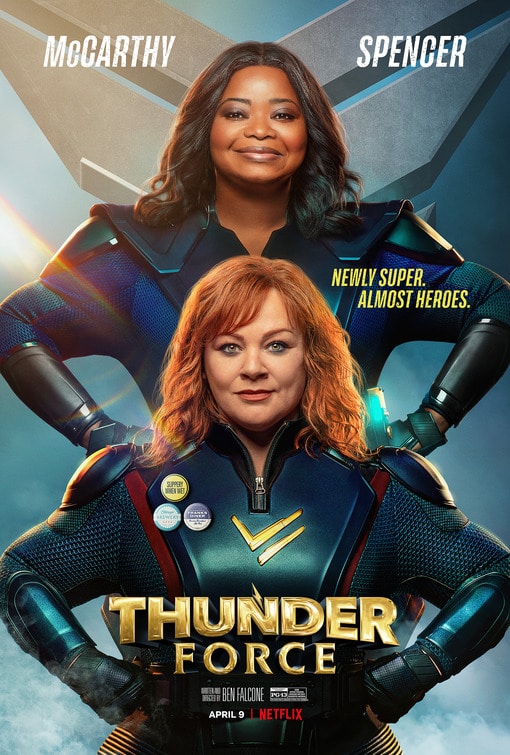 Thunder Force is Netflix's original superhero comedy film written and directed by Ben Falcone (Tammy, Life of the Party). Starring Melissa McCarthy (The Heat, Bridesmaids, Tammy), Octavia Spencer (Hidden Figures, Ma, The Help), Jason Bateman (Ozark, Game Night), Bobby Cannavale (Ant-Man), Pom Klementieff (Guardians of the Galaxy Vol. 2), Kevin Dunn (Warrior), and Melissa Leo (Prisoners).
Synopsis: In a world terrorized by supervillains, one woman has developed the process to give superpowers to regular people. But when scientist Emily Stanton (Spencer) accidentally imbues her estranged best-friend Lydia (McCarthy) with incredible abilities, the two women must become the first superhero team. Now, it is up to Thunder Force to battle the super-powered Miscreants and save Chicago from the clutches of The King (Cannavale).
Thunder Force Netflix release date: April 9, 2021
Voyagers
Voyagers is Lionsgate's sci-fi thriller written and directed by Neil Burger (The Upside, Divergent). It stars Tye Sheridan (X-Men: Apocalypse, Ready Player One, Mud), Lily-Rose Depp (The King, Yoga Hosers, Crisis), Fionn Whitehead (Dunkirk), Colin Farrell (The Lobster, Fantastic Beasts, The Gentlemen), Chanté Adams (The Photograph), Isaac Hempstead Wright (Game of Thrones), Viveik Kalra (Blinded by the Light), Madison Hu (Bizaardvark), Archie Renaux (Shadow and Bone), Archie Madekwe (Midsommar), and Quintessa Swindell (Trinkets).
Synopsis: Set in the future, the film chronicles the odyssey of 30 young men and women who are bred for enhanced intelligence and to suppress emotional impulses, sent deep into space on a multi-generational mission in search of a new home. The mission descends into madness, as the crew reverts to its most primal state, not knowing if the real threat they face is what's outside the ship or who they're becoming inside it. They're consumed by fear, lust, and the hunger for power. The film is scheduled to be released in theatres.
Voyagers release date: April 9, 2021
Honeydew
Honeydew is a horror mystery film written and directed by Devereux Milburn. It stars Sawyer Spielberg (The Post), Malin Barr (Top Dog), and Barbara Kingsley (The Flight Attendant). The film had a limited theatrical release on March 12, 2021, and now it will be released through VOD. It so far holds an 86% RT score based on 22 reviews.
The story follows a young scientist (Spielberg) and her actor boyfriend (Barr) who travels to rural Massachusetts to investigate an outbreak of an ergot-type fungus that has been devastating local farms. After attempting to camp on private lands, they are forced to seek shelter in the home of an aging farmer (Barbara Kingsley) and her peculiar son when they suddenly begin having strange cravings and hallucinations taking them down a rabbit hole of the bizarre.
Honeydew VOD release date: April 13, 2021
Monday
Monday is IFC Films' romantic drama directed by Argyris Papadimitropoulos (Suntan), from a screenplay by Papadimitropoulos and Rob Hayes. It stars Sebastian Stan (The Falcon and the Winter Soldier, The Devil All the Time), Denise Gough (The Witcher 3: Wild Hunt), Dominique Tipper (The Expanse), Elli Tringou (Suntan), and Andreas Konstantinou (Cloudy Sunday).
The film follows Mickey (Stan) and Chloe (Gough), two self-destructive Americans in their mid-thirties living in Athens who meet in the heat of summer one whirlwind weekend and plunge into a tsunami of a romance. The chemistry between them is undeniable. When Chloe's time in Greece is drawing to a close, she decides to give up her high-flying job back home and explore whether one weekend's passion can blossom into something more.
It is a fun, sensuous romance about how love gets in the way of life, and life gets in the way of love. The R-rated film had its world premiere on September 11, 2020, at the Toronto International Film Festival. Currently, it holds a 60% RT score based on 10 reviews. It is scheduled to be simultaneously released in theatres and on-demand.
Monday VOD release date: April 16, 2021
Stowaway
Stowaway is Netflix's original sci-fi thriller drama directed by Joe Penna (Arctic, Release) and written by Penna and Ryan Morrison. The film stars Anna Kendrick (Pitch Perfect franchise, A Simple Favor, Up in the Air, Trolls), Daniel Dae Kim (Lost, Hellboy), Shamier Anderson (Race, Wynonna Earp), and Toni Collette (Hereditary, Knives Out, I'm Thinking of Ending Things).
Synopsis: A three-person crew on a mission to Mars faces an impossible choice when an unplanned passenger jeopardizes the lives of everyone on board. The film is set to be released by Netflix in most regions and by Prime Video in Canada on the same day. This film is not to be missed based on its premise and cast.
Stowaway Netflix release date: April 22, 2021
Mortal Kombat
Mortal Kombat is Warner Bros. martial arts fantasy action-adventure directed by Simon McQuoid in his feature directorial debut, from a screenplay by Greg Russo and Dave Callaham and a story by Oren Uziel and Russo. It is based on the popular video game franchise of the same name created by Ed Boon and John Tobias, serving as a reboot to the Mortal Kombat film series.
It stars Lewis Tan (Wu Assassins, Into the Badlands), Jessica McNamee (The Meg, Battle of the Sexes), Josh Lawson (House of Lies), Tadanobu Asano (Thor), Mehcad Brooks (Supergirl), Ludi Lin (Power Rangers), Chin Han (The Dark Knight), Joe Taslim (The Raid), Max Huang (Time Raiders), Sisi Stringer (Children of the Corn), Daniel Nelson (Godzilla vs. Kong), Elissa Cadwell, Matilda Kimber, Laura Brent (The Chronicles of Narnia 3), and Hiroyuki Sanada (The Wolverine, Avengers: Endgame).
The film features Tan as Cole Young, McNamee as Sonya Blade, Lawson as Kano, Asano as Raiden, Brooks as Jax, Lin as Liu Kang, Han as Shang Tsung, Taslim as Bi-Han/Sub-Zero, Huang as Kung Lao, Stringer as Mileena, Nelson as Kabal, Cadwell as Nitara, Kimber as Emily Young, Brent as Alison Young, and Sanada as Hanzo Hasashi/Scorpion. Cole, Emily, and Alison Young are the original characters created for the film rest of them are characters from the video game.
RELATED: MORTAL KOMBAT: 5 NEW REVEALS OF CHARACTERS COMING TO WB ANIMATED FILM: EXCLUSIVE
Synopsis: A washed-up MMA fighter (Tan) is unaware of his hidden lineage or why he is being hunted down by Sub-Zero (Taslim) of the Lin-Kuei clan of assassins. Concern for the safety of his family leads him to a mystical tournament called Mortal Kombat where he meets a group of warriors who were chosen to defend Earthrealm in a high-stakes battle against the forces of Outworld. They have to fight to the death to save the realms from the evil sorcerer Shang Tsung (Han).
This is one of the WB films of this year that is going to follow the HBO Max release strategy. Mortal Kombat is scheduled to be released in theaters and also stream simultaneously on the HBO Max service for a period of one month. This R-rated action flick is a must-watch for all hardcore fans of the video-game franchise.
Mortal Kombat HBO Max release date: April 23, 2021
More April 2021 films on the next page:
Vanquish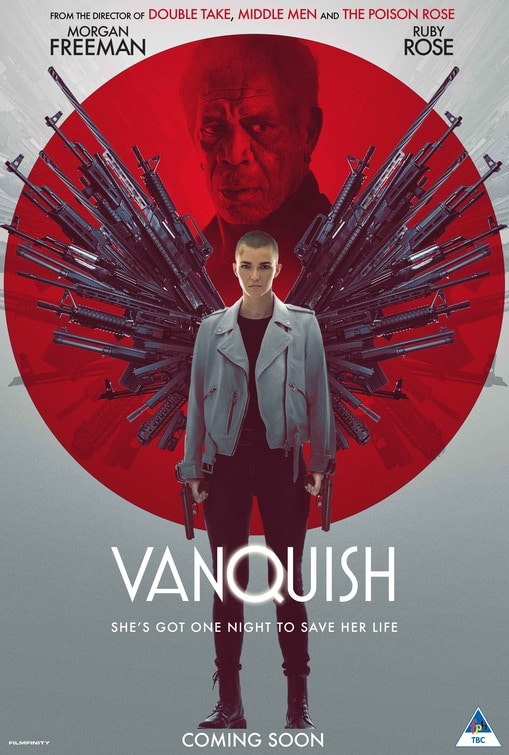 Vanquish is Lionsgate's action crime thriller directed by George Gallo (Double Take, Middle Men, and The Poison Rose) and written by Gallo and Sam Bartlett. It stars Ruby Rose (Batwoman, The Doorman, SAS: Red Notice, John Wick 2, Orange Is the New Black), Nick Vallelonga (Green Book), Miles Doleac (The Hollow), Patrick Muldoon (Starship Troopers), Juju Journey Brener (VHYes), Julie Lott (The Poison Rose), Ekaterina Baker (Fatman), and Morgan Freeman (Se7en, The Dark Knight).
The film follows Victoria (Rose), a mother who is trying to put her dark past as a Russian drug courier behind her, but retired cop Damon (Freeman) forces Victoria to do his bidding by holding her daughter hostage. Now, Victoria must use guns, guts, and a motorcycle to take out a series of violent gangsters — or she may never see her child again.
Ruby Rose has been killing it lately with her B-level raw action flicks mainly targeted towards action-loving audiences, looks like this falls under that category. This stylishly, glossy R-rated action flick will be released on-demand and digital on April 23 and DVD and Blu-ray on April 27.
Vanquish Available in Select Theaters on April 16th and on Apple TV, and Everywhere You Rent Movies on April 20th! Available on Blu-ray and DVD on April 27th!
Things Heard & Seen
Things Heard & Seen is Netflix's original horror mystery thriller written and directed by the director duo Shari Springer Berman (The Nanny Diaries) and Robert Pulcini (The Nanny Diaries), based on the novel All Things Cease to Appear by Elizabeth Brundage.
It stars Amanda Seyfried (Mank, Mean Girls, Mamma Mia!), James Norton (Mr. Jones), Natalia Dyer (Stranger Things and Yes, God, Yes), Rhea Seehorn (Better Call Saul, Veep), Karen Allen (Indiana Jones), Ana Sophia Heger (Life in Pieces), and F. Murray Abraham (The Grand Budapest Hotel).
Synopsis: Catherine Clare (Seyfried) reluctantly trades life in 1980s Manhattan for a remote home in the tiny hamlet of Chosen, New York, after her husband George (Norton) lands a job teaching art history at a small Hudson Valley college. Even as she does her best to transform the old dairy farm into a place where her young daughter Franny (Heger) will be happy, Catherine increasingly finds herself isolated and alone. She soon comes to sense sinister darkness lurking both in the walls of the ramshackle property-and in her marriage.
Things Heard &Seen Netflix release date: April 29, 2021
Without Remorse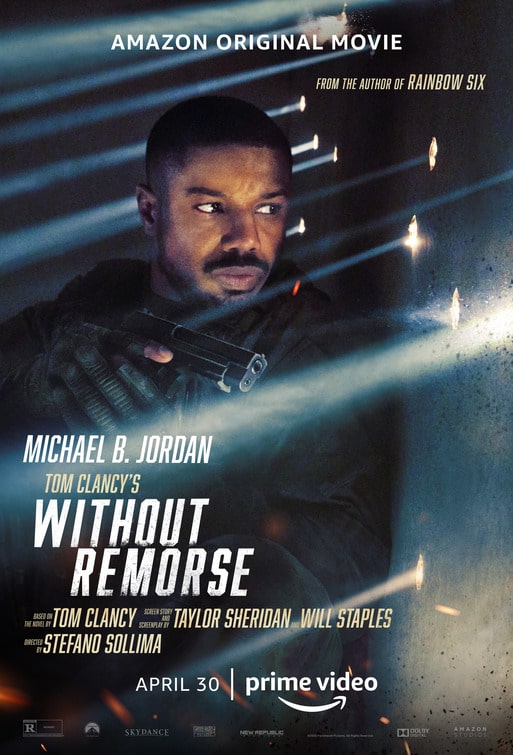 Without Remorse is Paramount Pictures' original action thriller film directed by Stefano Sollima (Sicario 2, Gomorrah) and written by Taylor Sheridan and Will Staples. It is based on the 1993 novel of the same name by Tom Clancy and a spin-off of the Jack Ryan film series. It is the explosive origin story of an action hero John Clark, who is one of the most popular characters in Clancy's Jack Ryan universe.
The R-rated film stars Michael B. Jordan (Black Panther, Creed, Just Mercy), Jamie Bell (Jumper, Snowpiercer), Jodie Turner-Smith (Queen & Slim, Jett), Luke Mitchell (Blindspot, Agents of S.H.I.E.L.D.), Jack Kesy (12 Strong), Brett Gelman (Stranger Things), Colman Domingo (Fear the Walking Dead), Lauren London (Baggage Claim), and Guy Pearce (Memento, Bloodshot).
The film centers around an elite US Navy SEAL John Clark (Jordan) who uncovers an international conspiracy while seeking justice for the murder of his pregnant wife. When a squad of Russian soldiers kills his family in retaliation for his role in a top-secret op, Kelly pursues the assassins at all costs. Joining forces with a fellow SEAL Karen Greer (Turner-Smith) and a shadowy CIA agent Robert Ritter (Bell), Kelly's mission unwittingly exposes a covert plot that threatens to engulf the U.S. and Russia in an all-out war.
Torn between personal honor and loyalty to his country, Kelly must fight his enemies without remorse if he hopes to avert disaster and reveal the powerful figures behind the conspiracy. Originally to be theatrically released by Paramount, the film's distribution rights were sold to Amazon Studios due to the global pandemic. Amazon is set to release it digitally on Prime Video. This is a must-watch for action fans.
Without Remorse Amazon release date: April 30, 2021
Golden Arm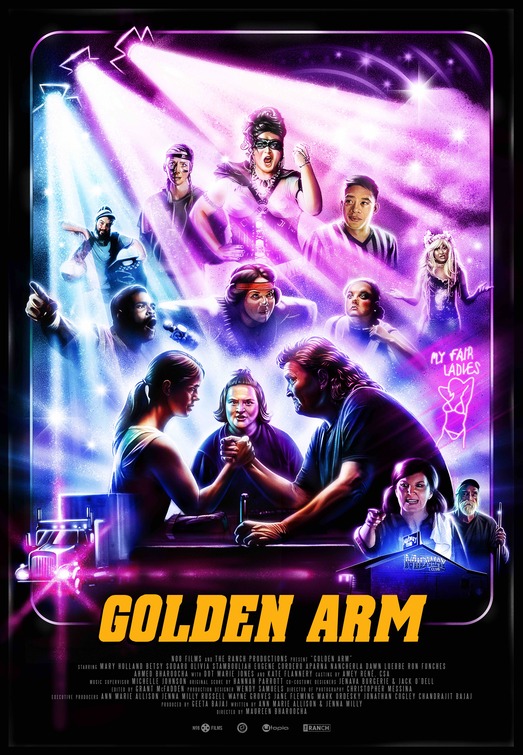 Golden Arm is a comedy film directed by Maureen Bharoocha (I Am Watching You) and written by Jenna Milly and Ann Marie Allison. It stars Mary Holland (Happiest Season, Homecoming), Betsy Sodaro (Disjointed), Dot-Marie Jones (Glee), Kate Flannery (The Office), Olivia Stambouliah (The Walking Dead), Dawn Luebbe (Greener Grass), Ron Funches (Trolls), and Eugene Cordero (Kong: Skull Island).
The story follows Melanie (Holland), a peaceful baker who's convinced by her truck-driving best friend, Danny (Sodaro), to travel through the United States while fighting for the title of champion in arm wrestling. Melanie must trade whisks for barbells as she trains to face off with the reigning champ for a chance at newfound badassery and the grand prize.
The female-led, buddy road-trip, arm-wrestling delight with female-centric production revolves around a sport usually associated with men. It has a fun premise with the energy of sports. It is scheduled to be released in select theaters in the US, with a simultaneous release on-demand.
Golden Arm VOD release date: April 30, 2021
The Mitchells vs. The Machines
The Mitchells vs. The Machines (previously titled Connected) is Sony Pictures' computer-animated sci-fi comedy film produced by Sony Pictures Animation. The film is directed by Michael Rianda, and written by Rianda and Jeff Rowe (who also serves as co-director), with Phil Lord, Christopher Miller, and Kurt Albrecht serving as producers.
The film follows a family that winds up having to save Earth from a technological singularity. It stars the voices of Abbi Jacobson (Broad City), Danny McBride (The Disaster Artist), Maya Rudolph (Bridesmaids), Eric Andre (Bad Trip), Fred Armisen (Anchorman), Beck Bennett (DuckTales), Conan O'Brien, Charlyne Yi (Jexi), Sasheer Zamata (Woke), Mike Rianda, Blake Griffin, Skylar Gray (Evil), and Olivia Colman (The Crown).
Synopsis: After Katie Mitchell (Jacobson) is accepted into the film school of her dreams, her plans to meet "her people" at college are completely upended when her nature-loving dad Rick (McBride) plans for an ultimate family road trip. However, Rick's plan of getting all of them to truly bond as a family for one last time is suddenly interrupted by a tech uprising. With the help of two friendly malfunctioning robots, the Mitchells will have to get past their problems and work together to save one another and the world.
Originally set to be theatrically released by Sony, the film's distribution rights were sold to Netflix after multiple delays due to the global pandemic. The Mitchells vs. the Machines is set to be digitally released on Netflix. This is a must-watch for all family audiences.
The Mitchells vs. The Machines Netflix release date: April 30, 2021
Which April movies are you most excited about? Which movies will you be seeing during the month of April? Let us know in the comments below or on our social media and be sure to come back to The Illuminerdi for more movie news!
KEEP READING: BATMAN'S CANCELLED SNYDERVERSE FILM WOULD HAVE INTRODUCED BATGIRL