DC has a lot of exciting content coming soon and DC Fandome gave fans a sneak peek at quite a bit of it including Black Adam.
Fans were especially pumped by the first scene with Dwayne Johnson as the titular character as he incinerates a man showing off his sheer power. But there were also a few other sneak peeks at what is to come in the film. During the DC Fandome Black Adam panel fans got a few quick glimpses behind the scenes of filming, but one in particular stood out as possibly a key moment for Sarah Shahi's character Adrianna Tomaz and Pierce Brosnan's Dr. Fate.
RELATED: SARAH SHAHI OFFERED A MAJOR ROLE IN BLACK ADAM: EXCLUSIVE
There is a brief glimpse of Pierce Brosnan as Dr. Fate holding the Helmet of Fate in one arm and touching his fingers to the forehead of Sarah Shahi's character, Adrianna Tomaz. Shahi's eyes are closed and she seems to be in a trance of sorts before Dr. Fate pulls his hand away. Now, this is purely speculation, but this could potentially be connected to Adrianna Tomaz becoming her heroic alter ego, Isis.
RELATED: BLACK ADAM PRODUCER HIRAM GARCIA TEASES THE EXCITING DYNAMIC BETWEEN HAWKMAN AND BLACK ADAM: EXCLUSIVE
In the comics Adrianna Tomaz was an Egyptian refugee who was enslaved and brought before Black Adam by Intergang as a gift. When Black Adam frees her, Adrianna is unafraid and very vocal about how he could improve his country. He falls in love with Adrianna after many weeks of discussions and retrieves the amulet of Isis from the tomb of his wife and children. Black Adam then has the power of the amulet conferred onto Adrianna. When Adrianna holds the amulet and speaks the words, "I am Isis" she is instilled with the power of the Goddess.
HOW ADRIANA TOMAZ COULD BECOME ISIS IN BLACK ADAM
Adrianna's character has been updated for the film now working as a university professor and a freedom fighter against Intergang. In the first clip shown during DC Fandome Shahi seems to be leading a team in exploring a tomb and awakens Black Adam, whether it is on purpose or accident is still a mystery. If Adrianna is excavating the tomb where Adam is trapped it seems possible that she could have found the Amulet of Isis herself.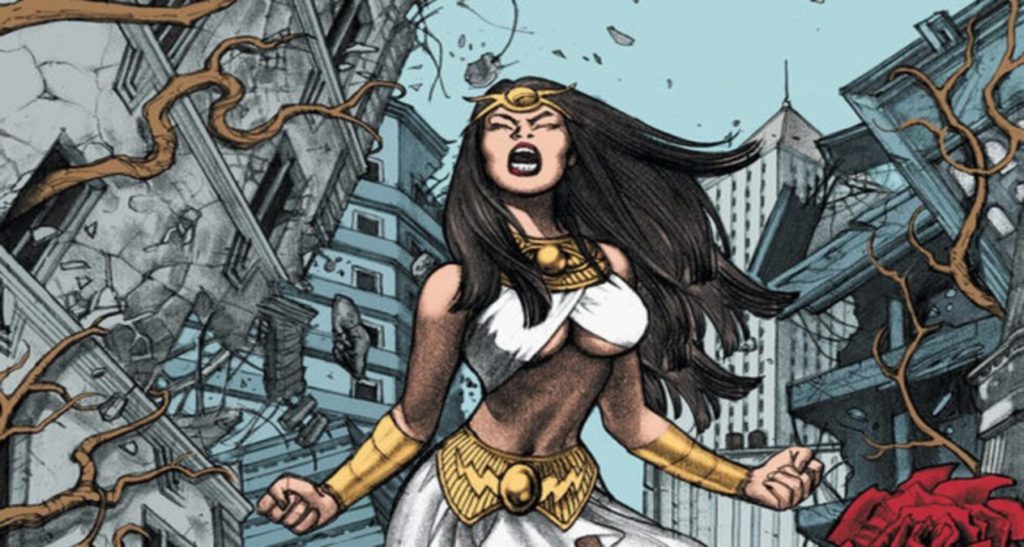 However, Black Adam could be sticking closer to the comics origin and have Black Adam fall in love with Adrianna before he deems her worthy of the power of the Amulet of Isis. Possibly retrieving it from either the tomb he was trapped in or a second tomb, possibly his family's like in the comics. Either way if Adrianna is to become her superhero alter ego in the film the Amulet of Isis will need to come into play, but the question becomes how would the Amulet of Isis be activated in the film?
In the comics Captain Marvel, who later became Shazam, bestowed the power upon her, but Dr. Fate could take on that responsibility in Black Adam instead. This short moment that was shown in the behind the scenes video could be when Dr. Fate is bestowing the power upon Adrianna and be the first step to her becoming a superhero. However, there is another possibility.
RELATED: BLACK ADAM PRODUCER TEASES DOCTOR FATE'S DYNAMIC WITH HAWKMAN AND THE JSA: EXCLUSIVE
From a recent interview with Hiram Garcia it became clear that Black Adam and Hawkman are going to have an antagonistic relationship, with Hawkman knowing the danger that the titular character presents. Hawkman will apparently continuously go after him doing whatever it takes to stop the dangerous anti-hero. But this moment from the behind the scenes footage could indicate that Dr. Fate has a different plan to stop him. This plan could be to bestow the power of the Amulet of Isis upon Adrianna knowing she could be the only one able to stop Black Adam or he could be sharing memories of the past with her.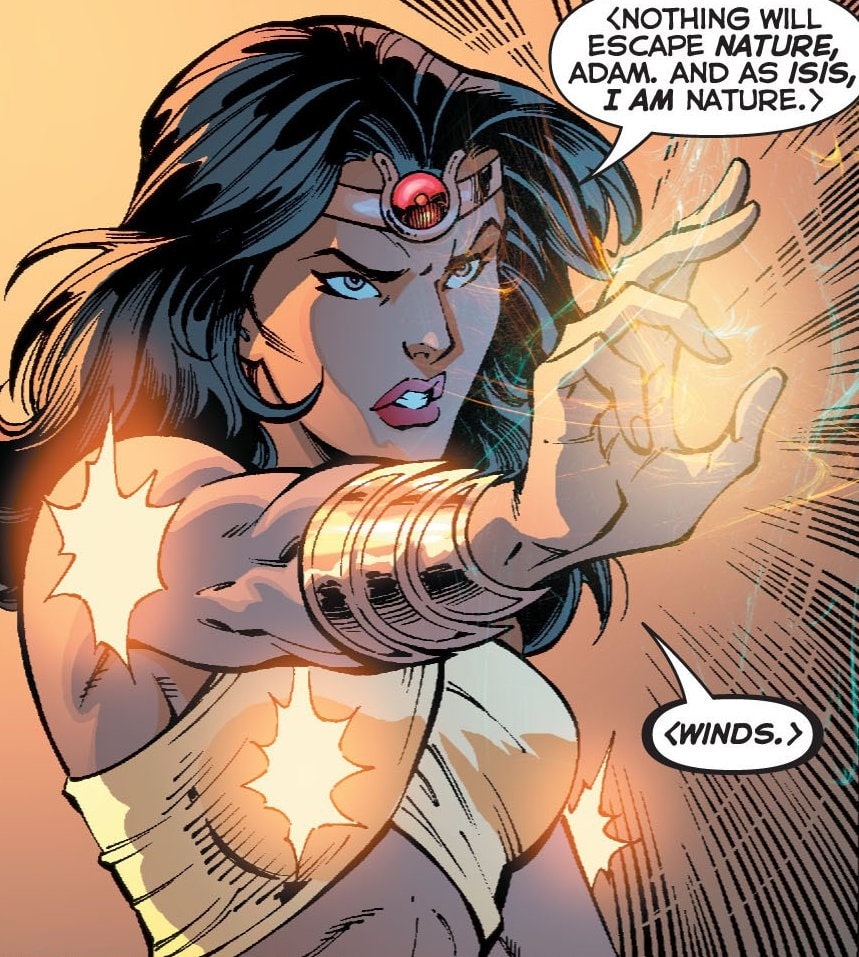 If Adrianna and Black Adam fall in love she may not know the extent of the destruction he is able to cause. Although she likely witnesses the moment when Black Adam incinerates the man in the tomb he was imprisoned in, that seemed almost instinctual or reactionary versus a premeditated attack. If the JSA needs to convince Adrianna to help them thwart Black Adam, Dr. Fate may believe that the only way is to actually show Adrianna scenes from the anti-hero's past, specifically why he was entombed for thousands of years.
RELATED: BLACK ADAM: GET YOUR BRUTAL FIRST LIVE-ACTION LOOK AT THE MAN IN BLACK IN NEW TRAILER FROM DC FANDOME
Dr. Fate taking on a role similar to Captain Marvel, aka Shazam, as the magical conduit to awaken the Amulet of Isis from its dormancy and bestow the powers upon Adrianna seems like a perfect use of his magical skills. The possibility of the JSA using Adrianna Tomaz to either defeat or even begin Black Adam's journey to change and redemption seems like a sound tactical decision that Dr. Fate could deduce as well. Whatever the case may be, it looks like Adrianna Tomaz will have an interesting role to play in the film and some potentially life altering interactions with Dr. Fate.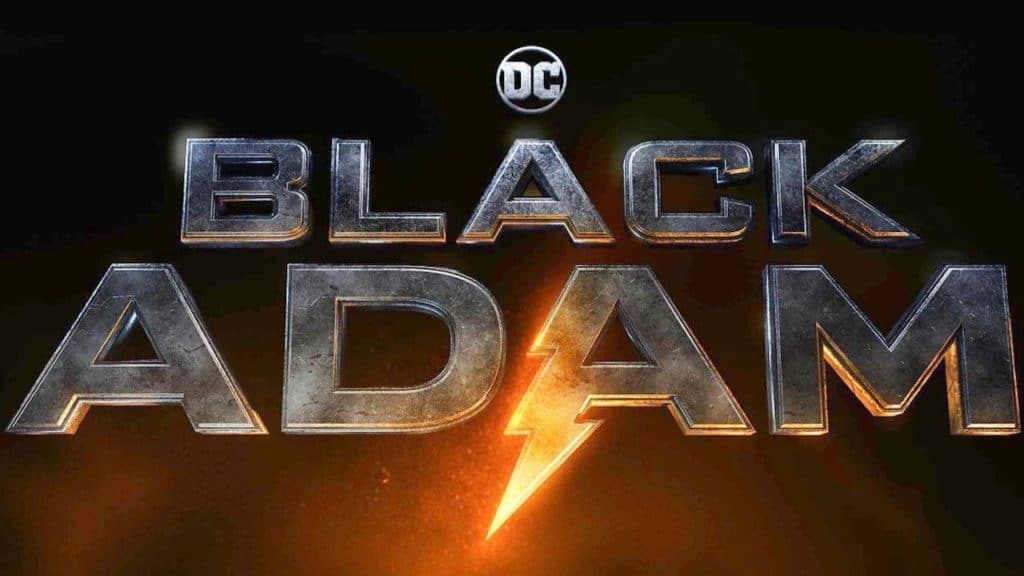 Black Adam is scheduled to hit theaters July 29, 2022. What do you think the moment between Dr. Fate and Adrianna Tomaz is? Leave your thoughts in the comments below or on our social media.
KEEP READING: HOW BLACK ADAM SHOULD DEAL WITH ISIS' NAME PROBLEM IN THE DCEU