It was recently reported that the upcoming Twisted Metal series will be starring Thomas Haden Church (Spider-Man 3, Sideways, Wings) as Agent Stone.
As we recently reported, the Twisted Metal series was looking to cast two characters, Agent Stone and Quiet. Stephanie Beatriz (Encanto, In The Heights, Brooklyn Nine-Nine) was recently cast as Quiet.
RELATED: TWISTED METAL: NEW INFO ON 2 NEW CHARACTERS COMING TO PEACOCK ACTION SERIES
Now Thomas Haden Church has been cast as Agent Stone, and we can't wait to see how the story shakes out.
What Is Twisted Metal?
If you are unfamiliar with the Twisted Metal series, we'll  give a short breakdown.
The series is a vehicular combat game featuring a post-apocalyptic world where combat is decided through demolition derbies. It's very reminiscent of Mad Max: Fury Road, except the vehicles turn into mechs. These games are exclusive to Playstation, and the last title came out just over a decade ago on February 12th, 2012.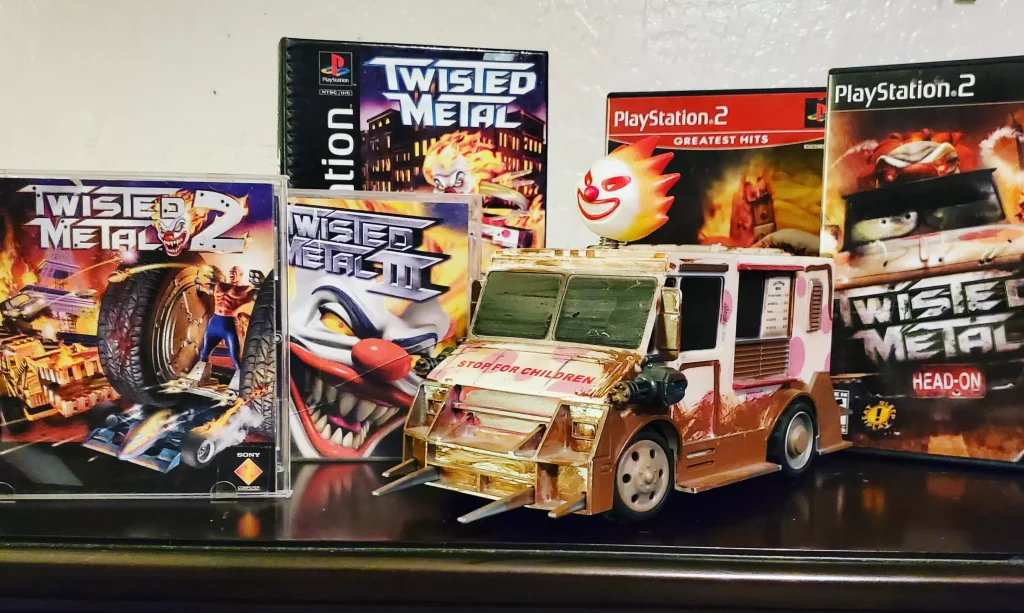 Who Is Agent Stone?
Peacock was looking for a man, aged fifty to fifty-nine of any ethnicity to portray Agent Stone, another series regular. This character has now been confirmed to be played by Thomas Haden Church. Stone is a vicious highway patrolman who has given in to the apocalypse fully. He is said to have a certain charisma about him that puts people around I'm at ease, but is a dangerous force when it comes to bringing law and order to the Divided States of America. Anyone who crosses his path that has not accepted the new reality they live in can expect a swift and brutal end.
RELATED: NEW MARVEL STUDIOS' DAREDEVIL SERIES IN THE WORKS!
In the games, he drives the Crimson Fury and differs from the casting call. His character in his last appearance in Twisted Metal: Small Brawl described him as a British man who wanted to take down the character Billy Calypso. His character in the show appears to have aged up and changed into a post-apocalyptic agent hellbent of order.
It will be exciting to see Thomas Haden Church take on this role. Many fans of the Spider-Man films must be excited to see the actor who played Sandman in Spider-Man 3 and Spider-Man: No Way Home taking on such a different character to portray. It will certainly be interesting to see Church on screen alongside co-star, Stephanie Beatriz.
Who Is Quiet?
Quiet grew up in an oppressive community and was not allowed to speak. As she grew up and was allowed to talk freely, Quiet's inability to speak gave her new insight into the world she lives in by being an observer. She now uses her words very deliberately, and isn't afraid to stand up for herself or others. She is also skilled in combat; utilizing a knife as her weapon of choice. Although her life has been hard, Quiet manages to maintain a dry sense of humor. After Quiet has a run in with the wrong man, she is set on a mission of vengeance.
RELATED: TIME BANDITS: PETER DINKLAGE OFFERED LEAD IN TAIKA WAITITI-LED REMAKE SERIES FOR APPLE TV+: EXCLUSIVE
Peacock was looking for a woman, aged twenty-five to twenty-nine of any ethnicity to portray Quiet, a series regular. This character has been confirmed to be played by Stephanie Beatriz. We have seen in recent years Beatriz's popularity rise, especially after playing the beloved character Rosa Diaz on Brooklyn Nine-Nine.
What are your thoughts on the casting of Agent Stone in Twisted Metal? Are you excited to see Thomas Haden Church take on the role? Let us know in the comments and on our Twitter!
CONTINUE READING: DOCTOR STRANGE 2 STAR BENEDICT WONG CONFIRMED TO APPEAR IN SHE-HULK: ATTORNEY AT LAW