As Phase Four of the Marvel Cinematic Universe continues onward, we're discussing how the character Veranke could play a role in the future!
Who is Veranke?
VIDEO: Asher Freidberg
The Skrull Empress
RELATED: COULD IRONHEART'S VILLAIN BE THE HOOD?
In the comics, Veranke is a Skrull Empress and was a member of a religious group of Skrulls that foresaw the end of their empire. After Earth's Illuminati tried to ward off their forces, Veranke pleaded with their ruler to prepare for the coming threat of an eater of worlds, but was banished for challenging him and dismissed as insane. She would be brought back after Galactus had laid waste to her home. From there, she would become empress and begin her conquest of Earth, otherwise known as the Secret Invasion.
Veranke's Secret Invasion
RELATED: HOW HULKLING COULD JOIN THE MCU
Starting the invasion of Earth, she took the form of Spider-Woman and infiltrated the Avengers and S.H.I.E.L.D., and would not be caught until after the events of both House of M and Civil War. By the time the Secret Invasion event takes place, the invasion has fully begun as she fights the Avengers. In the end, her crusade fails and she is seemingly assassinated by Norman Osborn, who would go on to use the good PR to become Iron Patriot and lead the Dark Avengers. Osborn would be revealed to have secretly saved Veranke and kept her in a prison of his own.
RELATED: MORBIUS POST-CREDITS SCENES EXPLAINED!
The Disney+ series, Secret Invasion is expected to release either late 2022 or early 2023 and is set to be an adaptation of the comic storyline. It's been said the scale of this event will not be as large as the comics, which makes sense as that story included the Avengers, X-Men, Fantastic Four and more.
Emilia Clarke's Mystery Role?
Rumor is that this series will feature Veranke as a lead, and that this is actually the mystery character being played by Emilia Clarke. When casting a high profile actor like Clarke, chances are they are giving her an important and nuanced character to play.
RELATED: WHAT'S NEXT FOR THE SCARLET WITCH IN THE MARVEL CINEMATIC UNIVERSE?
We imagine Veranke's MCU story might vary from the source material. The Skrulls in the MCU have been shown to not all be the invaders we expected them to be, but a divided race of refugees. Her character in the Marvel Cinematic Universe could go one of two ways.
Veranke's Role in Secret Invasion?
Veranke could differ from her comic counterpart by being a more heroic version of the character. We could see her humbled by being cast out of a more sinister sect of Skrulls and working with Earth's heroes to help prevent the coming invasion. We imagine the character's connection to the Skrulls could be helpful to Earth as they ward off the invasion, and we could see her allegiances challenged throughout the series. It might even be revealed that Veranke is the daughter of Talos and Soren we saw back in 2019's Captain Marvel!
RELATED: WHAT'S NEXT FOR KANG THE CONQUEROR?
RELATED: WHAT'S NEXT FOR KID LOKI IN THE MARVEL CINEMATIC UNIVERSE?
We could also get a more comic-accurate iteration of the character in which she is the main villain of Secret Invasion. We could see her infiltrate S.W.O.R.D. by disguising herself as an Avenger or agent to collect intel. We could even see her change allegiances throughout the series, either betraying Nick Fury and Talos or her own empire.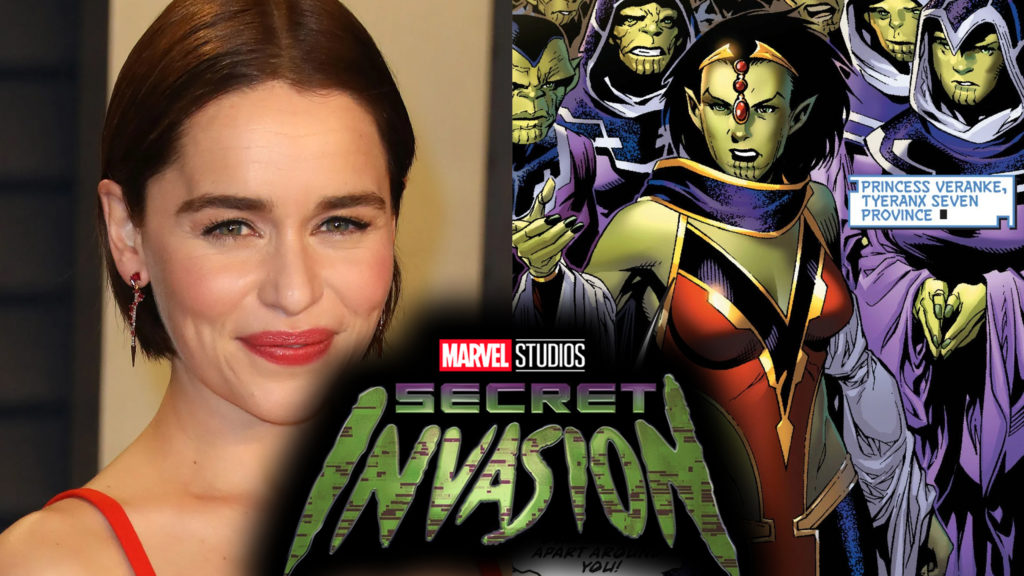 Veranke looks set to join the Marvel Cinematic Universe in Secret Invasion, but that's not the only place we could see her. With her connections to Captain Marvel, we could see her make an appearance in The Marvels as well! Depending on Marvel's release schedule, we could even see Veranke teased in The Marvels before her appearance in Secret Invasion!
RELATED: IS ANDREW GARFIELD THE SPIDER-MAN OF SONY'S MARVEL UNIVERSE?
What are your thoughts on Veranke? Do you think she is the mystery character being played by Emilia Clarke in Secret Invasion? Let us know in the comments and on our Twitter!
CONTINUE READING: WHAT'S NEXT FOR THE BATMAN 2?