This year is easily going to be more exciting than the previous one with numerous tentpole films arriving throughout 2022. Hopefully, none of them get pushed back again. January 2022 might be huge for movies, but there is a lot more in store for both the big screen and the small screen in 2022.
In January 2022, streaming services are stacked with an exciting line-up of films. On Netflix, The Royal Treatment a rom-com; Munich – The Edge of War a biographical drama; and Home Team a sports comedy will be released.
RELATED: Red Notice Is Now The Most Watched Netflix Film Of All Time
On Amazon Prime, The Tender Bar a drama, and Hotel Transylvania: Transformania an animated comedy; on HBO Max, The Fallout, a drama; on Apple TV+, The Tragedy of Macbeth, a drama; on Disney+, The Ice Age Adventures of Buck Wild an animated comedy are releasing. The intriguing VOD release of this month is A Mouth Full of Air, a drama.
Films that are set to release exclusively in theaters in January 2022 are The 355, a spy thriller; Scream a horror mystery; The King's Daughter a fantasy adventure; Redeeming Love a romantic Western drama; Cyrano romantic musical drama.
2021 At Cinema:
In the second half of 2021, the number of major movie releases increased. Overall in 2021 tentpole movies, Godzilla vs. Kong, A Quiet Place Part II, Fast 9, Black Widow, Jungle Cruise, Free Guy, Shang-Chi and the Legend of the Ten Rings, Venom: Let There Be Carnage, No Time To Die, Eternals, Ghostbusters Afterlife performed very well at the box office worldwide. 
And the year ended with a bang with MCU/Sony's Spider-Man: No Way Home becoming the highest-grossing film of 2020-2021. It shattered multiple records (both pre-pandemic, and during the pandemic), and crossed the $1 billion mark just in 12 days (the 3rd fastest), and currently has made more than $1.53 billion (in 4-weeks) putting it at 8th position in all-time box-office charts.
There are certainly more high-profile films coming in 2022. It will be interesting to see which films will be able to cross a $1 billion mark in 2022. When you look at this year's movie line-up there are undoubtedly many possibilities. In my opinion, during the normal conditions, 2022 has the potential to set the highest box-office record worldwide surpassing the 2019 record.
Check out the synopses and release dates for these new movies below.
NEW MOVIES TO WATCH OUT FOR IN JANUARY 2022
A Mouth Full of Air
A Mouth Full of Air is Stage 6 Films' drama film directed, written, and produced by Amy Koppelman. It stars Amanda Seyfried, Finn Wittrock, Jennifer Carpenter, Michael Gaston, Amy Irving, Britt Robertson, Cate Elefante, Alysia Reiner, and Paul Giamatti.
Synopsis: Julie Davis (Seyfried) writes bestselling children's books about unlocking your fears but has yet to unlock the dark secret that has haunted her own life. When her daughter is born, that trauma is brought to the fore, and with it, a crushing battle to survive.
It was released in limited theatres on October 29, 2021, and is now set for an on-demand release. The R-rated drama currently holds a 68% Rotten Tomatoes score based on 28 reviews with praise for Seyfried.
A Mouth Full of Air VOD release date: January 3, 2022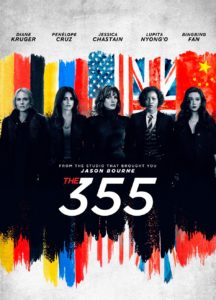 The 355
The 355 is Universal Pictures' spy action thriller directed by Simon Kinberg from a screenplay by Theresa Rebeck and Kinberg, and a story by Rebeck. It is a female-led kickass spy thriller that showcases a diverse group of powerhouse actresses in the lead. Jessica Chastain produced this movie along with Kelly Carmichael and Kinberg. The title is derived from Agent 355, the codename of a female spy for the Patriots during the American Revolution.
The film stars Jessica Chastain, Penélope Cruz, Diane Kruger, Fan Bingbing, and Lupita Nyong'o, as a group of international spies who must work together to stop a terrorist organization from starting World War III; Édgar Ramírez, Emilio Insolera, Jason Wong, Jason Flemyng, and Sebastian Stan also star.
Synopsis: When a top-secret weapon falls into mercenary hands, wild card CIA agent Mason "Mace" Brown (Chastain) will need to join forces with rival badass German agent Marie (Kruger), former MI6 ally and cutting-edge computer specialist Khadijah (Nyong'o), and skilled Colombian psychologist Graciela (Cruz) on a lethal, breakneck mission to retrieve it, while also staying one step ahead of a mysterious woman, Lin Mi Sheng (Fan), who is tracking their every move.
As the action rockets around the globe from the cafes of Paris to the markets of Morocco to the opulent auction houses of Shanghai, the quartet of women will forge a tenuous loyalty that could protect the world–or get them killed.
The combination of Chastain, Cruz, Kruger, Bingbing, and Nyong'o sharing the screen itself is exciting. Chastain proposed the idea for the film while working with Kinberg on Dark Phoenix. After a delay from a January 2021 release, The 355 is finally releasing in theatres worldwide this month. It will be streamed on the Peacock streaming service 45 days after its theatrical release.
The film received generally negative reviews from critics, although the cast received some praise. So far it holds a 25% RT score based on 150 reviews but the audience score is at 83%. If you like a good popcorn flick starring badass women this film is worth watching.
The 355 release date: January 7, 2022
The Tender Bar
The Tender Bar is Amazon's original coming-of-age drama directed by actor-director George Clooney from a screenplay by William Monahan. The film is an adaptation of the 2005 best-selling memoir of the same name by J. R. Moehringer and recounts Moehringer's life growing up on Long Island. It stars Ben Affleck, Tye Sheridan, Daniel Ranieri, Lily Rabe, and Christopher Lloyd.
Synopsis: It tells the story of J.R. (Sheridan), a fatherless boy growing up in the glow of a bar where the bartender, his Uncle Charlie (Affleck), is the sharpest and most colorful of an assortment of quirky and demonstrative father figures. As the boy's determined mother (Rabe) struggles to provide her son with opportunities denied to her — and leave the dilapidated home of her outrageous if the begrudgingly supportive father (Lloyd) — J.R. begins to gamely, if not always gracefully, pursue his romantic and professional dreams — with one foot persistently placed in Uncle Charlie's bar.
The film was released in a limited release on December 17, 2021, by Amazon Studios, followed by a wide expansion on December 22. Now it is scheduled to release on Prime Video. It received mixed reviews from critics, though Affleck was nominated for the Golden Globe Award for Best Supporting Actor – Motion Picture. The R-rated drama currently holds a 52% RT score based on 138 reviews but it has a 76% audience rating, it was praised for its performances.
Read our review for The Tender Bar below!
RELATED: THE TENDER BAR REVIEW: BEN AFFLECK IS A SCENE STEALER IN CROWD PLEASING FILM
The Tender Bar Amazon Prime release date: January 7, 2022
Hotel Transylvania: Transformania
Hotel Transylvania: Transformania (also known as Hotel Transylvania 4), is Sony Pictures' computer-animated family adventure comedy produced by Sony Pictures Animation and released by Amazon Studios. Intended to be the fourth and final installment of the successful Hotel Transylvania franchise and the sequel to Hotel Transylvania 3: Summer Vacation (2018), the film is directed by Jennifer Kluska and Derek Drymon from a screenplay by Amos Vernon, Nunzio Randazzo, and Genndy Tartakovsky (who directed the prior three films).
Most of the regular cast had returned for this, including Andy Samberg, Selena Gomez, Kathryn Hahn, Jim Gaffigan, Steve Buscemi, Molly Shannon, David Spade, Keegan-Michael Key, Fran Drescher, and Asher Blinkoff. Unfortunately, Adam Sandler who voiced one of the main leads, Dracula in the franchise did not return. Dracula will be voiced by Brian Hull. Brad Abrell had also replaced Kevin James as the voice of Frankenstein. Gomez also serves as an executive producer alongside Tartakovsky.
Synopsis: Drac (Hull) and the pack are back like you've never seen them before in Hotel Transylvania: Transformania. Reunite with your favorite monsters for an all-new adventure that presents Drac with his most terrifying task yet. When Van Helsing's mysterious invention, the 'Monsterfication Ray," goes haywire, Drac and his monster pals are all transformed into humans, and Johnny (Samberg) becomes a monster!
In their new mismatched bodies, Drac, stripped of his powers, and an exuberant Johnny, loving life as a monster, must team up and race across the globe to find a cure before it's too late and before they drive each other crazy. With help from Mavis (Gomez) and the hilariously human Drac Pack, the heat is on to find a way to switch themselves back before their transformations become permanent.
Hotel Transylvania is a hit family franchise despite its mixed-to-positive reviews, with the three films grossing over $1.36 billion worldwide against a combined production budget of $245 million. The box-office for each film had surpassed its previous one. So making the fourth one is a no-brainer. It will be interesting to see how they end the franchise.
Originally planned to be released theatrically on October 1, 2021, Sony Pictures Releasing canceled the film's release plans and sold the film's distribution rights to Amazon Studios for $100 million, due to the pandemic. The film will release exclusively on Amazon Prime Video on January 14, 2022, worldwide except in China, where Sony will handle a theatrical release. This is a must-watch film for all the family audiences.
Hotel Transylvania: Transformania Amazon release date: January 14, 2022
The Tragedy of Macbeth
The Tragedy of Macbeth is A24's historical drama-thriller written and directed by Joel Coen and based on the William Shakespeare play Macbeth. It is the first film directed by one of the Coen brothers without the other's involvement.
The film stars Denzel Washington, Frances McDormand (who also produced the film), Bertie Carvel, Alex Hassell, Corey Hawkins, Harry Melling, Kathryn Hunter, and Brendan Gleeson. The story follows the power-hungry lord Macbeth (Washington), who sets his sights on the Scottish throne after receiving a prophecy from three witches. And his ambitious wife (McDormand) supports him in his plans of seizing power.
The Tragedy of Macbeth had its world premiere at the 2021 New York Film Festival on September 24, 2021. The R-rated drama currently holds a 94% RT score based on 185 reviews with praise for its cast, especially Washington. The film is aiming to be an awards contender. It had a limited theatrical release on December 25, by A24. Now it is set to be released on Apple TV+. This is a must-watch film.
The Tragedy of Macbeth Apple TV+ release date: January 14, 2022
Scream
Scream is Paramount Pictures' slasher film directed by Matt Bettinelli-Olpin and Tyler Gillett and written by James Vanderbilt and Guy Busick. It is the fifth installment in the Scream film series. Though billed as a relaunch of the film series, the film is a direct sequel to Scream 4 (2011), and the first in the series not to be directed by Wes Craven, who passed away in 2015.
It stars franchise newcomers Melissa Barrera, Dylan Minnette, Jenna Ortega, Mason Gooding, Mikey Madison, Sonia Ammar, Jasmin Savoy Brown, and Jack Quaid, with Marley Shelton, Courteney Cox, David Arquette, Neve Campbell, and Roger L. Jackson reprising their roles from previous installments.
Synopsis: Twenty-five years after a streak of brutal murders shocked the quiet town of Woodsboro, a new killer has donned the Ghostface mask and begins targeting a group of teenagers to resurrect secrets from the town's deadly past.
Recently some of the classic horror franchises are making a comeback. In 2018 Halloween was revived and became a hit and spawned a sequel in 2021 and a third one coming later this year. After that, we also got a Chucky film and a series, a new Paranormal Activity film, I Know What You Did Last Summer series, etc while a Hellraiser reboot, Texas Chainsaw Massacre reboot, and a few others on their way. It will be interesting to see if this Scream sequel/ soft reboot will spawn a new franchise.
Even though this film is kind of a sequel it is being considered as a reboot, so the new audience might not need to have much knowledge about previous installments. The R-rated horror mystery film is scheduled to be released in theatres worldwide. This is a must-watch film for the fans of horror/ slasher flicks and the fans of the Scream franchise.
Scream release date: January 14, 2022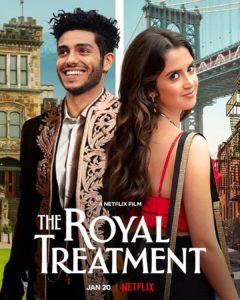 The Royal Treatment
The Royal Treatment is Netflix's original romantic-comedy directed by Rick Jacobson and written by Holly Hester. It stars Laura Marano, Mena Massoud, Chelsie Preston Crayford, Jacque Drew, Jen Van Epps, Cameron Rhodes, Amanda Billing, and James Gaylyn. It is set to be released on Netflix.
Synopsis: Isabella runs her own salon and isn't afraid to speak her mind, while Prince Thomas runs his own country and is about to marry for duty rather than love. When Izzy and her fellow stylists get the opportunity of a lifetime to do the hair for the royal wedding, she and Prince Thomas learn that taking control of their own destiny requires following their hearts.
The Royal Treatment Netflix release date: January 20, 2022
The King's Daughter
The King's Daughter is Gravitas Ventures' action-adventure fantasy film directed by Sean McNamara from a screenplay by Barry Berman and James Schamus. It is based on the 1997 novel The Moon and the Sun by Vonda N. McIntyre. The film stars Pierce Brosnan, Kaya Scodelario, Benjamin Walker, Fan Bingbing, Ben Lloyd-Hughes, Pablo Schreiber, Rachel Griffiths, Crystal Clarke, and William Hurt.
Synopsis: Known as The Sun King, Louis XIV (Brosnan) is the most powerful and influential monarch on the planet. Obsessed with his own mortality and the future of France, Louis turns to his spiritual advisor, Père La Chaise (Hurt), and the royal physician to help him obtain the key to immortality. Believing a mermaid (Fan) contains a force that grants everlasting life, Louis commissions a young sea captain to search the seas and capture the mystical creature.
Further complicating his plans is his orphaned daughter, Marie-Josèphe (Scodelario), who returns to court with an abundance of elegance and inherent defiance of authority. With a rare solar eclipse approaching, Louis will discover where his daughter's true loyalties lie as he races against time to extract the mermaid's life-giving force. This might be one of the longest delayed films. The King's Daughter is now scheduled for a limited theatrical release.
The King's Daughter (limited) release date: January 21, 2022
Redeeming Love
Redeeming Love is Universal Pictures' Western romantic drama film directed by D. J. Caruso, who co-wrote the screenplay with Francine Rivers. The film is based on Rivers' best-selling 1991 novel of the same name and is set in the American Old West during the California Gold Rush and is a story about a young couple's relationship that clashes with the harsh realities of that period.
It stars Abigail Cowen, Tom Lewis, Logan Marshall-Green, Famke Janssen, Nina Dobrev, Eric Dane, Livi Birch, Brandon Auret, Ke-Xi Wu, Jamie-Lee O'Donnell, Amy Louise Wilson, and Tanya van Graan. The film is scheduled to have a wide release in theaters by Universal.
Premise: This is a powerful and timeless story of the power of unconditional and all-consuming love and perseverance that takes place against the backdrop of the California Gold Rush of 1850. The story centers on Angel (Cowen), who was sold into prostitution as a child. She has survived through hatred and self-loathing until she meets Michael Hosea (Lewis) and discovers there is no brokenness that love can't heal.
The story reflects the redemptive power of unconditional and sacrificial love with characters and circumstances relevant to the contemporary world.
Redeeming Love release date: January 21, 2022
Munich – The Edge of War
Munich – The Edge of War is Netflix's original biographical drama directed by Christian Schwochow, from a screenplay by Ben Power. It is based upon the bestselling novel of the same name by Robert Harris. This film was originally slated to be released in 2021 by Netflix but instead will release on January 21, 2022, with a limited theatrical release beforehand.
The film stars Jeremy Irons, George MacKay, Jannis Niewöhner, Sandra Hüller, Liv Lisa Fries, August Diehl, Jessica Brown Findlay, Anjli Mohindra, Ulrich Matthes, and Mark Lewis Jones.
Synopsis: It is Autumn 1938 and Europe stands on the brink of war. Adolf Hitler (Matthes) is preparing to invade Czechoslovakia and Neville Chamberlain's (Irons) government desperately seeks a peaceful solution. With the pressure building, Hugh Legat (MacKay), a British civil servant, and Paul von Hartmann (Niewöhner), a German diplomat, travel to Munich for the emergency Conference. As negotiations begin, the two old friends find themselves at the center of a web of political subterfuge and very real danger.
With the whole world watching, can war be averted and, if so, at what cost?
Munich – The Edge of War Netflix release date: January 21, 2022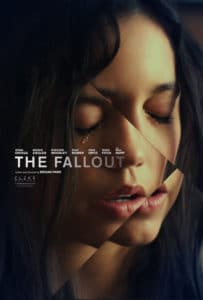 The Fallout
The Fallout is HBO Max's original high school drama film written and directed by actress Megan Park in her feature directorial debut, the film features Jenna Ortega as a high-school student who navigates significant emotional trauma following a school shooting. The film also stars Maddie Ziegler, Shailene Woodley, Julie Bowen, Niles Fitch, Lumi Pollack, Will Ropp, and John Ortiz.
Synopsis: Bolstered by new friendships forged under sudden and tragic circumstances, high schooler Vada Cavell (Ortega) begins to reinvent herself while re-evaluating her relationships with her family, friends, and her view of the world. Moving away from her comfortable family routine, she starts taking chances with a series of quicksilver decisions that test her own boundaries and push her in new directions.
As she spends more time with Mia (Ziegler), they grow closer, and Vada slowly redefines herself through their shared experiences, leading her further away from that day and closer to living her life in the now.
The Fallout had its premiere at South by Southwest on March 17, 2021, and opened to positive reviews from critics, who in particular praised the directing, screenplay, and O'Connell's score, and lauded Ortega's performance. At South by Southwest, it was awarded the Grand Jury Prize in the Narrative Feature Film Competition, the Audience Choice Award in the Narrative Feature Competition, and the Brightcove Illumination Award.
"The Fallout" is a compelling exploration of the inexplicable resiliency of life and the hope that emerges out of loss. It is scheduled to be released on HBO Max with WB distributing in territories where HBO Max is not available. The R-rated drama so far holds a 92% RT score based on 39 reviews with praise for the screenplay, the new director, and performances especially Ortega's, all, in turn, makes this a must-watch film.
The Fallout HBO Max release date: January 27, 2022
Cyrano
Cyrano is United Artists Releasing's musical romantic drama directed by Joe Wright and with a screenplay by Erica Schmidt, based on Schmidt's 2018 stage musical of the same name, itself based on the 1897 Edmond Rostand's classic play Cyrano de Bergerac. The film stars Peter Dinklage, Haley Bennett, Kelvin Harrison Jr., Bashir Salahuddin, and Ben Mendelsohn.
Synopsis: Joe Wright envelops moviegoers in a symphony of emotions with music, romance, and beauty in Cyrano, re-imagining the timeless tale of a heartbreaking love triangle. A man ahead of his time, Cyrano de Bergerac (Dinklage) dazzles whether with ferocious wordplay at a verbal joust or with brilliant swordplay in a duel. But, convinced that his social status and appearance renders him unworthy of the love of a devoted friend, the luminous Roxanne (Bennett), Cyrano has yet to declare his feelings for her — and Roxanne has fallen in love, at first sight, with Christian de Neuvillette (Harrison, Jr.).
Though Cyrano understands that it will forever keep him apart from his lady love, he offers his skills as a gifted poet to Christian in an effort to bring the two lovers together once and for all.
The film had its world premiere at the 48th Telluride Film Festival on September 2, 2021, and had a one-week theatrical run in LA on December 17. It will have a limited theatrical release in the US on January 28, 2022, and will expand wide by February 14 by United Artists Releasing with Universal Pictures releasing internationally. It will release in the UK on February 25.
This movie might be in the awards race. It is already nominated for Best Motion Picture – Musical or Comedy and Best Actor in a Motion Picture – Musical or Comedy (Dinklage) at the 79th Golden Globe Awards. It currently holds an 83% RT score based on 54 reviews with praise for its cast. This is a must-watch musical.
Cyrano (limited) release date: January 28, 2022
The Ice Age Adventures of Buck Wild
The Ice Age Adventures of Buck Wild is Disney+ original computer-animated action-adventure family comedy and the sixth installment in the successful Ice Age franchise. The first five films were produced by Blue Sky Studios. This film is directed by John C. Donkin in his directorial debut and written by Ray De Laurentis, Jim Hecht, and William Schifrin. Donkin is generally a producer, he is one of the producers for most of the Blue Sky Studios' films including Ice Age 1, 3, and 4.
The film will feature Simon Pegg reprising his role as the title character, Buck, Vincent Tong & Aaron Harris as the possum brothers Crash & Eddie. New voices include Justina Machado as Zee, Natalie Martinez, and Utkarsh Ambudkar as Orson. Manny, Ellie, Sid, and Diego will appear in the film, but as supporting characters. Batu Sener is composing the film's score. Unlike past installments, the film's animation is outsourced to Bardel Entertainment.
Synopsis: "The Ice Age Adventures of Buck Wild" continues the hilarious escapades of everyone's favorite sub-zero heroes as they create more prehistoric pandemonium. Desperate for a little independence from their older sister Ellie, the thrill-seeking possum brothers Crash (Tong) and Eddie (Harris) set out to find a place of their own, but quickly find themselves trapped beneath the ice in a massive cave inhabited by dinosaurs. They are rescued by the one-eyed, adventure-loving, dinosaur-hunting weasel, Buck Wild (Pegg), and together, with the help of some new friends, embark on a mission to save the Lost World from dinosaur domination.
Ice Age is a hit family franchise with five feature films grossing over $3.21 billion worldwide against a combined production budget of $429 million. The franchise consists of computer-animated films, short films, TV specials, and a series of video games. With overall $6 billion in revenue, making it one of the highest-grossing media franchises of all time.
After the acquisition of 21st Century Fox by Disney the Blue Sky Studios was terminated. This is the only project that survived the acquisition thanks to the popularity of the franchise. The film is set to release on Disney+ this month. This is a must-watch comedy for the family audience and the fans of the Ice Age franchise
The Ice Age Adventures of Buck Wild Disney+ release date: January 28, 2022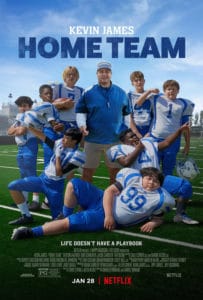 Home Team
Home Team is Netflix's original sports comedy directed by Charles and Daniel Kinnane and written by Chris Titone and Keith Blum inspired by actual events. The film stars Kevin James as a suspended NFL head coach who then coaches his son's football team. Taylor Lautner, Rob Schneider, Jackie Sandler, Tait Blum, Maxwell Simkins, Chloe Fineman, Jacob Perez, Bryant Tardy, Manny Magnus, and Gary Valentine co-star.
Premise: Two years after the New Orleans Saints win Super Bowl XLIV, head coach Sean Payton (James) is suspended from the NFL for one year, due to his involvement in the Bountygate scandal. He returns to his hometown and finds himself reconnecting with his 12-year-old son by coaching his Pop Warner football team.
Home Team was produced by Adam Sandler's Happy Madison Productions and James's Hey Eddie Productions. It is scheduled to be released on Netflix this month.
Home Team Netflix release date: January 28, 2022
Which new movies in January 2022 are you most excited about? Which January 2022 movies will you see in theaters? Do you prefer VOD or theatrical releases? Let us know in the comments below or on our social media and be sure to come back to The Illuminerdi for more movie news!