There are plenty of June 2021 movies that are coming to theaters, streaming platforms, and video on demand this month that we should not miss. This month is offering loads of movies belonging to a wide plethora of genres. That includes action flicks, romance, dramas, comedies, adventure, fantasy, sci-fi, horror, and thrillers. This will be an exciting month because after a long time a whole bunch of tentpole movies are releasing in the same month.
In June, streaming services are offering a great line-up of films such as: Netflix's Awake a sci-fi adventure drama, Wish Dragon an animated fantasy adventure, Skater Girl a sports drama, Fatherhood a comedy-drama, and a few other new movies, and Hulu's False Positive a horror mystery.
Many films have been released digitally for the audience to view on-demand since last year. In June, the intriguing VOD releases are Dream Horse a biographical comedy-drama, and Batman: The Long Halloween Part One a superhero movie.
At this point, many theaters across various countries are reopened and new movies are getting released wherever theaters are available. Looks like the movie-going audience is increasing every month and there is a sign at last for theaters to return to full form soon. The recent tentpole movie, A Quiet Place Part II set a new box-office opening record during the pandemic surpassing the March record of Godzilla vs. Kong, this has further emboldened studios.
The release of big tentpole movies is increasing for the last two months. Films like Spirit Untamed an animated adventure film, Flashback a mystery thriller, The Hitman's Wife's Bodyguard an action-comedy, Peter Rabbit 2: The Runaway a comedy adventure, F9 an action drama, Zola a crime comedy-drama are all releasing exclusively in theaters. F9 is one of the highly anticipated films of this year it has the potential to be the biggest release of 2021 so far.
In Warner Bros' HBO Max release strategy of their 2021 film slate, six films have already been released. This month two films are arriving from that slate, In the heights a musical drama, and The Conjuring: The Devil Made Me Do It a horror thriller. Similar to how Disney debuted Pixar's Soul on Disney+ last December they decided to drop Pixar's latest animated film, Luca a comedy adventure on the streamer for no extra cost.
Check out the synopses and release dates for each of these movies below.
JUNE 2021 MOVIES TO WATCH OUT FOR
The Conjuring: The Devil Made Me Do It
The Conjuring: The Devil Made Me Do It (also known as The Conjuring 3) is Warner Bros. supernatural horror mystery thriller directed by Michael Chaves (The Curse of la Llorona, Chase Champion), with a screenplay by David Leslie Johnson-McGoldrick from a story by Johnson-McGoldrick and James Wan.
The film serves as a sequel to The Conjuring (2013) and The Conjuring 2 (2016), and as the eighth installment in The Conjuring Universe franchise. Wan and Peter Safran return to produce the new installment, which is based on the trial of Arne Cheyenne Johnson, a murder trial that took place in 1981 Connecticut.
Patrick Wilson (Insidious, Aquaman, Watchmen) and Vera Farmiga (The Departed, Godzilla: King of the Monsters) reprise their roles as paranormal investigators and authors Ed and Lorraine Warren, with Ruairi O'Connor (Teen Spirit, Handsome Devil), Julian Hilliard (WandaVision, The Haunting of Hill House), Sarah Catherine Hook (Monsterland), Charlene Amoia (How I Met Your Mother), and John Noble (The Lord of the Rings) also starring.
The film reveals a chilling story of terror, murder, and unknown evil that shocked even experienced real-life paranormal investigators Ed and Lorraine Warren. One of the most sensational cases from their files, it starts with a fight for the soul of a young boy, then takes them beyond anything they'd ever seen before, to mark the first time in U.S. history that a murder suspect would claim demonic possession as a defense.
The Conjuring franchise has been one of the very successful movie franchises. Especially the first Conjuring (2013) film directed by James Wan was one of the best horror films of recent times. The third film takes a fresh turn from previous films with a mystery courtroom case story. This is one of the WB films of this year that is going to follow the HBO Max release strategy.
The Conjuring: The Devil Made Me Do It was already released in the UK on May 26, 2021, and it is now scheduled to be released in theaters worldwide and also have a month-long simultaneous release on the HBO Max streaming service. The film so far has a 61% Rotten Tomatoes score based on 98 reviews. This R-rated horror flick is a must-watch for all Conjuring fans and horror mystery fans in general.
The Conjuring: The Devil Made Me Do It (HBO Max & theatrical) release date: June 4, 2021
Spirit Untamed
Spirit Untamed is a computer-animated adventure film produced by DreamWorks Animation and distributed by Universal Pictures. The film is being directed by Elaine Bogan (Trollhunters: Tales of Arcadia) and co-directed by Ennio Torresan Jr. (Teacher's Pet), in their feature directorial debuts, from a screenplay written by Aury Wallington and Kristin Hahn.
It is based on the Netflix animated television series Spirit Riding Free, developed by Wallington, as well as a spin-off of the traditional animated oscar-nominated film Spirit: Stallion of the Cimarron (2002). The film is set for a wide theatrical release.
The film stars Isabela Merced (Instant Family, Sicario 2, Dora and the Lost City of Gold), Jake Gyllenhaal (Nightcrawler, Spider-Man: Far From Home), Eiza González (Baby Driver, I Care A Lot, Godzilla vs. Kong), Mckenna Grace (Gifted, Annabelle 3, Troop Zero), Marsai Martin (Little, Black-ish), Walton Goggins (The Hateful Eight), Andre Braugher (Brooklyn Nine-Nine), and Julianne Moore (Kingsman 2, The Woman in the Window).
The film will follow a gutsy young girl named Lucky Prescott (Merced) who moved to Miradero, a small sleepy frontier town, where she meets a wild Kiger mustang she names Spirit, who shares her rebellious spirit, and immediately bonds with him. When a heartless wrangler plans to capture Spirit and his herd, Lucky enlists her new friends Abigail (Grace) and Pru (Martin) to bravely embark on the adventure of a lifetime to rescue the horse who has helped her discover a connection to her late mother's (González) legacy that she never expected and forever changed her life.
Spirit Untamed release date: June 4, 2021
Flashback
Flashback is Lionsgate's mystery thriller written and directed by Christopher MacBride (The Conspiracy). The film stars Dylan O'Brien (Love and Monsters, The Maze Runner franchise, Teen Wolf), Maika Monroe (It Follows, Independence Day 2, Honey Boy), Hannah Gross (Mindhunter, Joker), Amanda Brugel (Kim's Convenience, The Handmaid's Tale), Keir Gilchrist (It Follows), and Emory Cohen (Brooklyn, The OA).
The film follows Fredrick Fitzell (O'Brien) who is living his best life until he starts having horrific visions of Cindy (Monroe), a girl who vanished in high school. After reaching out to old friends with whom he used to take a mystery drug called Mercury, Fredrick realizes the only way to stop the visions lies deep within his own memories, so he embarks on a terrifying mental odyssey to learn the truth.
Flashback premiered at the 2020 Sitges Film Festival. This R-rated mind-bending thriller is scheduled to be released in select theaters and on video-on-demand services simultaneously followed by a DVD and Blu-ray release on June 8.
Flashback VOD release date: June 4, 2021
Awake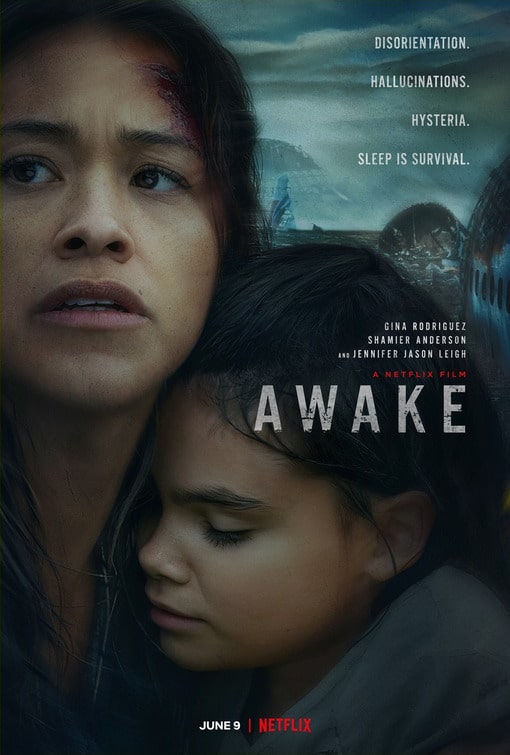 Awake is Netflix's original action-adventure sci-fi drama directed by Mark Raso (Kodachrome, Copenhagen), from a screenplay he wrote alongside Joseph Raso. It stars Gina Rodriguez (Jane the Virgin, Annihilation), Jennifer Jason Leigh (The Hateful Eight, Atypical), Ariana Greenblatt (Love and Monsters, The One and Only Ivan), Barry Pepper (True Grit), Finn Jones (Iron Fist), Shamier Anderson (Stowaway), Frances Fisher (Watchmen), Lucius Hoyos (Heroes Reborn), and Gil Bellows (Patriot).
Synopsis: Global hysteria ensues after a mysterious catastrophe wipes out all electronics and takes away humanity's ability to sleep and chaos quickly begins to consume the world. Scientists race against the clock to find a cure for unexplained insomnia before its fatal effects eliminate the human race. When Jill (Rodriguez), a former soldier with a troubled past, discovers her young daughter may be the key to salvation, she must decide: protect her children at all costs or sacrifice everything to save the world. The question is, can Jill safely deliver her daughter (Greenblatt) and save the world before she herself loses her mind.
Awake Netflix release date: June 9, 2021
In the Heights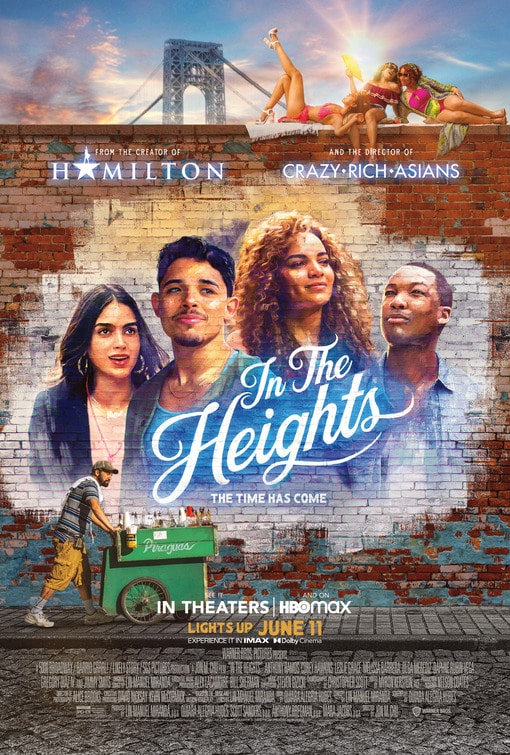 In the Heights is Warner Bros. musical drama film directed by Jon M. Chu (Crazy Rich Asians, Now You See Me 2, Step Up 2 &3) from a screenplay by Quiara Alegría Hudes. It is based on the stage musical of the same name by Hudes and Lin-Manuel Miranda. Miranda and Hudes serve as producers of this adaptation. The film follows the same plot as the musical, telling the story of a New York City bodega owner who saves his money in hopes of a better life.
The film stars Anthony Ramos (Hamilton, A Star Is Born), Melissa Barrera (Sacudete Las Penas, Tanto Amor), Corey Hawkins (6 Underground, Kong: Skull Island), Leslie Grace, Olga Merediz (Orange Is the New Black), Daphne Rubin-Vega (Katy Keene), Stephanie Beatriz (Brooklyn Nine-Nine, Short Term 12), Gregory Diaz IV (Vampires vs. the Bronx), Dascha Polanco (Orange Is the New Black, Russian Doll), Lin-Manuel Miranda (Hamilton, Mary Poppins Returns), Marc Anthony (Man on Fire), Ariana Greenblatt (Love and Monsters, The One and Only Ivan), and Jimmy Smits (Star Wars, 24: Legacy).
Synopsis: Lights up on Washington Heights… The scent of a cafecito caliente hangs in the air just outside of the 181st Street subway stop, where a kaleidoscope of dreams rallies this vibrant and tight-knit community. At the intersection of it all is the likeable, magnetic bodega owner Usnavi (Ramos), who saves every penny from his daily grind as he hopes, imagines, and sings about a better life.
RELATED: IN THE HEIGHTS: 2 NEW TEASER TRAILERS FOR THE UPCOMING LIN-MANUEL MIRANDA MUSICAL ADAPTATION
This film joins the growing list of movies that are adapted from famous plays the recent ones are Hamilton, The Prom, Ma Rainey's Black Bottom, Blithe Spirit, and The Boys in the Band. In the Heights is scheduled to be released in theaters worldwide and also have a month-long simultaneous release on the HBO Max streaming service. The summer-themed musical so far holds a 99% RT score based on 76 reviews. This film is a must-watch for the fans of the original stage play and fans of musicals in general.
In the Heights HBO Max (HBO Max & theatrical) release date: June 11, 2021
Wish Dragon
Wish Dragon is Netflix's original American-Chinese computer-animated fantasy adventure comedy film written and directed by Chris Appelhans in his feature directorial debut and produced by Columbia Pictures, Sony Pictures Animation, Beijing Sparkle Roll Media Corporation, Tencent Pictures, and Base FX. Jackie Chan (Rush Hour, Shanghai Knights, The Foreigner) serves as a producer. The characters were voiced in both Chinese and English releases of the film.
The film stars Jimmy Wong (Mulan, John Dies at the End), John Cho (Searching, Star Trek), Constance Wu (Crazy Rich Asians, Hustlers, Fresh Off the Boat), Natasha Liu Bordizzo (Guns Akimbo, The Society), Jimmy O. Yang (Space Force), Aaron Yoo (Money Monster), Will Yun Lee (Altered Carbon), Ian Chan (Shazam!, Fresh Off the Boat), Max Charles (The Lion Guard, The Amazing Spider-Man), and Ronny Chieng (Young Rock). Jackie Chan voiced Cho's role and Niu Junfeng (Born to Be Wild) voiced Wong's role in the Mandarin version.
The film follows Din, a working-class college student with big dreams but small means, and Long, a cynical but all-powerful dragon capable of granting wishes, set off on a hilarious adventure through modern-day Shanghai in pursuit of Din's long-lost childhood friend, Lina. Their journey forces them to answer some of life's biggest questions — because when you can wish for anything, you have to decide what really matters.
Wish Dragon was released theatrically in China on January 15, 2021, and now it will be released on Netflix internationally. This is a must-watch fun adventure film for the family audience.
Wish Dragon Netflix release date: June 11, 2021
Dream Horse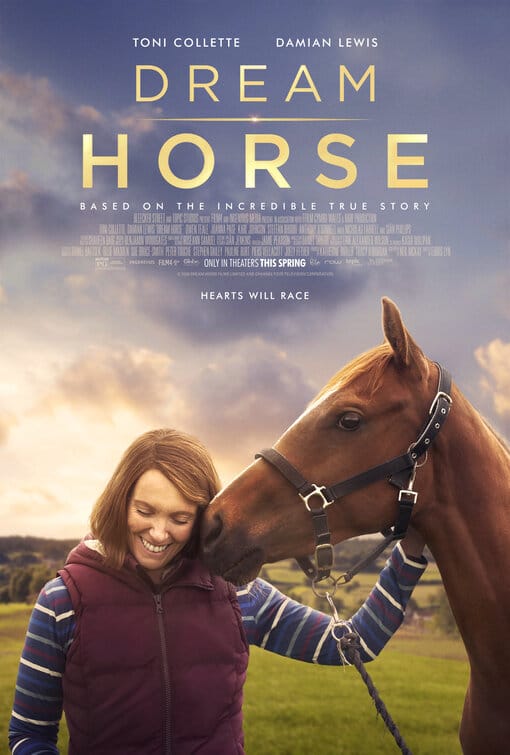 Dream Horse is a sports biographical comedy-drama directed by Euros Lyn (Doctor Who, The Library Suicides) from a screenplay by Neil McKay. The film follows the true story of Dream Alliance, a horse that raced in the Welsh Grand National. It had previously been the subject of the documentary, Dark Horse: The Incredible True Story of Dream Alliance.
The film stars Toni Collette (Hereditary, Knives Out, The Sixth Sense), Damian Lewis (Billions, Homeland), Owen Teale (Game of Thrones), Joanna Page (Dolittle, Love Actually), Karl Johnson (Hot Fuzz), Steffan Rhodri (Wonder Woman), Anthony O'Donnell (Stella), Nicholas Farrell (The Iron Lady), Peter Davison (Doctor Who), and Siân Phillips (Dune).
The film tells the inspiring true story of Dream Alliance, an unlikely racehorse bred by Welsh bartender Jan Vokes (Collette). With very little money and no experience, Jan convinces her neighbors to chip in their earnings to help raise Dream in the hopes he can compete with the racing elites. The group's investment pays off as Dream rises through the ranks with grit and determination and becomes a beacon of hope in their struggling community and goes on to race in the Welsh Grand National.
Dream Horse had its world premiere at the Sundance Film Festival on 24 January 2020. The film was theatrically released in the US on May 21, 2021, by Bleecker Street and now it is scheduled to be released in the UK on June 4 by Warner Bros. followed by a video-on-demand release on June 11. The film so far holds a 90% RT score based on 87 reviews with a lot of praise for Collette.
Dream Horse VOD release date: June 11, 2021
Peter Rabbit 2: The Runaway
Peter Rabbit 2: The Runaway is Sony Pictures' 3D live-action/computer-animated adventure comedy directed and co-produced by Will Gluck (Easy A, Friends with Benefits, Annie) and written by Patrick Burleigh and Gluck. The film is a sequel to 2018's Peter Rabbit also directed by Gluck and is based on the stories of Peter Rabbit created by Beatrix Potter.
James Corden (The Prom) who voices the title character returned for the sequel. Other recurring voice cast include Elizabeth Debicki (Tenet), Colin Moody (Pirate Islands), Sia (Music), Ewen Leslie (The Luminaries), Sam Neill (Jurassic Park), and Margot Robbie (Birds of Prey). New additions to the voice cast include Aimee Horne (Psychotown), Lennie James (Fear the Walking Dead), and Hayley Atwell (Captain America).
The returning live-action cast includes Rose Byrne (Bridesmaids) and Domhnall Gleeson (Star Wars sequel trilogy) whereas David Oyelowo (Chaos Walking) is the new addition. Robbie also reprises the role of the narrator.
Synopsis: Bea (Byrne), Thomas (Gleeson), and the rabbits have created a makeshift family, but despite his best efforts, Peter (Corden) can't seem to shake his mischievous reputation. Adventuring out of the garden, Peter finds himself in a world where his mischief is appreciated, but when his family risks everything to come looking for him, Peter must figure out what kind of bunny he wants to be.
The first Peter Rabbit film was a surprise hit grossing $351.2M worldwide against a $50M budget. After facing numerous delays from its original February 2020 release date, the film was released theatrically in Australia on 25 March 2021, then in the UK on May 17, and now it is scheduled to be released in the US. The film so far holds a 71% RT score based on 38 reviews. Like the first film, this is a fun movie for the younger audience.
Peter Rabbit 2: The Runaway release date: June 11, 2021
Skater Girl
Skater Girl is Netflix's original Indian-American coming-of-age sports drama directed by Manjari Makijany. It was written by Manjari and Vinati Makijany, who also co-produced the film through their Indian production company Mac Productions. The cast includes newcomers Rachel Sanchita Gupta and Shafin Patel and also stars Amrit (Amy) Maghera (Casualty), Jonathan Readwin (Stoner Express, Rock & Chips), Anurag Arora (Dangal), and Waheeda Rehman (Delhi-6).
Skater Girl is a coming-of-age story about confidence, courage, and the profound impact of blazing your own trail. Set in a remote village in Rajasthan, India, the film follows Prerna (Gupta), a local teen living a life bound by tradition and duty to her parents. But when London-bred advertising executive Jessica (Maghera) arrives in the village to learn more about her late father's childhood, Prerna and the other local children are introduced to an exciting new adventure thanks to Jessica and her old friend (Readwin) who cruises into town on a skateboard.
The kids become infatuated with the sport, skating through the village, disrupting everything and everyone around them. Determined to empower and encourage their newfound passion, Jessica sets out on an uphill battle to build the kids their own skatepark, leaving Prerna with a difficult choice between conforming to society's expectations of her or living out her dream of competing in the National Skateboarding Championships.
Skater Girl Netflix release date: June 11, 2021
The Hitman's Wife's Bodyguard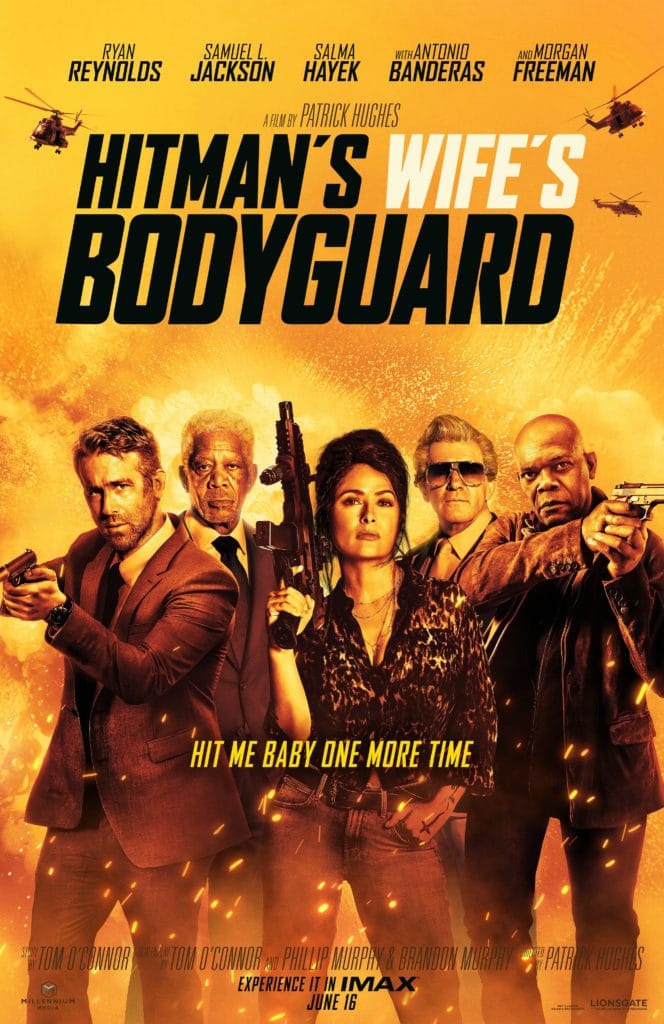 The Hitman's Wife's Bodyguard is Lionsgate's action comedy film directed by Patrick Hughes (The Expendables 3, Red Hill) from a story by Tom O'Connor and screenplay by O'Connor, Brandon & Phillip Murphy. It is a sequel to the 2017 film The Hitman's Bodyguard which is also directed by Hughes and written by O'Connor. The world's most lethal odd couple – bodyguard Michael Bryce and hitman Darius Kincaid – are back on another life-threatening mission.
RELATED: THE HITMAN'S WIFE'S BODYGUARD: SAMUEL L. JACKSON, RYAN REYNOLDS, SALMA HAYEK ARE BACK FOR NEW SEQUEL ON JUNE 16
Ryan Reynolds (Deadpool, Pokémon Detective Pikachu, The Proposal), Samuel L. Jackson (The Hateful Eight, Avengers, Glass), Salma Hayek (Frida, Bliss, Dusk Till Dawn), and Richard E. Grant (Logan, Jackie) reprise their roles from the first film. The new cast includes Frank Grillo (Captain America: Winter Soldier, Cosmic Sin), Tom Hopper (The Umbrella Academy), Antonio Banderas (Pain and Glory, The Mask of Zorro), Gabriella Wright (The Transporter Refueled), and Morgan Freeman (Dark Knight, Seven).
Four years after the events of the original film, still unlicensed and under scrutiny, bodyguard Michael Bryce (Reynolds) is on a company-mandated sabbatical. He is forced into action by Sonia Kincaid (Hayek), the wife of hitman Darius Kincaid (Jackson) with whom Bryce shares an uneasy friendship. Sonia is even more volatile than Darius, she is an infamous international con artist who rescues Bryce from an assassination attempt to rescue Darius.
Due to his sabbatical, Bryce is not allowed to use firearms or lethal weapons of any kind and must use his wits and intelligence to save Darius and save the day. As Bryce is driven over the edge by his two most dangerous protectees, the trio gets in over their heads in a global plot and soon finds that they are all that stands between Europe and a vengeful and powerful madman.
The Hitman's Bodyguard became a profitable hit with $180.6M worldwide against a low budget of $30M. The film rested on the shoulders of Reynolds and Jackson's banter which provided good laughs in between routine action. The trailer's for the sequel shows that it will once again rely on the chemistry between the lead trio. It will be fun to see Reynolds, Jackson, and Hayek in a high-octane action setting. The Hitman's Wife's Bodyguard is scheduled to have a wide theatrical release. This is a must-watch action film for all audiences because of its cast alone and it is surely a pure fun popcorn flick.
RELATED: HITMAN'S WIFE'S BODYGUARD TRAILER: RYAN REYNOLDS IS BACK AT BODYGUARDING EVEN IF HE DOESN'T WANT TO
The Hitman's Wife's Bodyguard release date: June 16, 2021
Luca
Luca is Pixar's computer-animated coming-of-age fantasy comedy-adventure directed by Enrico Casarosa in his feature-length directorial debut, written by Jesse Andrews and Mike Jones, produced by Andrea Warren. Casarosa previously directed the 2011 Academy Award-nominated Pixar short film, La Luna. The film will be dedicated to the late Italian musician Ennio Morricone, who was originally considered to compose the soundtrack. Dan Romer is the film's composer.
Luca was originally intended to be a theatrical release on June 18 but Disney opted to skip theatres as they did for the previous Pixar film Soul. It will be released exclusively on Disney+ on the same date. In international markets where Disney+ is not available, it will be released theatrically.
It stars the voices of Jacob Tremblay (Room, Wonder, Good Boys), Jack Dylan Grazer (IT Chapter-1&2, Shazam!), Emma Berman, Marco Barricelli (The Book of Daniel), Saverio Raimondo, Maya Rudolph (Bridesmaids, Big Hero 6), Giacomo Gianniotti (Grey's Anatomy), and Jim Gaffigan (Troop Zero).
The movie is set during the 1950s, in Portorosso, a beautiful seaside town on the Italian Riviera. It follows two young boys who experience an unforgettable summer filled with gelato, pasta, and endless scooter rides. Luca (Tremblay) shares these adventures with his newfound best friend, Alberto (Grazer), but all the fun is threatened by their deeply-held secret: they are sea monsters from a world just below the water's surface.
Together, they brave the new world and learn how humans live, and although Alberto doesn't know much more about humans than Luca, he teaches him to silence his fears, try new things, trust new people, and most importantly, trust himself. All the while, the pair must be careful not to reveal their secret sea monster identities.
RELATED: WATCH PIXAR'S NEW OFFICIAL LUCA TRAILER DELIVER A STUNNING COMING OF AGE STORY
Director Enrico Casarosa stated that the movie is a celebration of friendship, and "a love letter to the summers of our youth – those formative years when you're finding yourself". The premise of the film itself feels delightful which puts a wonderful landscape on display on the screen.
Pixar always creates high-standard films which make us emotionally invested so we can assume this to be another great movie. Trailers for Luca looked gorgeous and it promises a fun cute summer-themed movie filled with warmth and friendship. This is a must-watch film for audiences of all ages.
Luca Disney+ release date: June 18, 2021
Fatherhood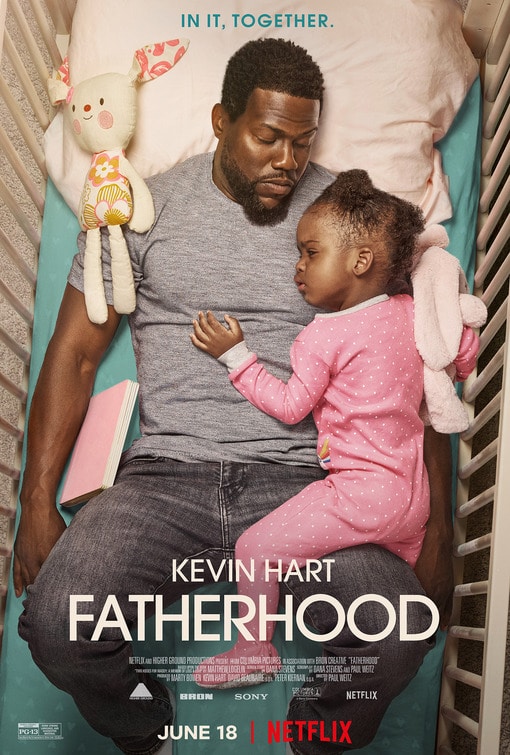 Fatherhood is Netflix's original comedy-drama directed by Paul Weitz (Grandma, About a Boy) from a screenplay by Weitz and Dana Stevens and based upon the 2011 memoir Two Kisses for Maddy: A Memoir of Loss and Love by Matthew Logelin.
The film stars Kevin Hart (Jumanji 2&3, Night School), Alfre Woodard (Luke Cage, 12 Years a Slave), Lil Rel Howery (Bad Trip, Get Out), DeWanda Wise (She's Gotta Have It), Anthony Carrigan (Barry), Melody Hurd (Them), and Paul Reiser (Stranger Things, The Kominsky Method). Hart also serves as a producer.
This heartwarming, funny, and emotional true story follows a widower (Hart) taking on one of the toughest jobs in the world: fatherhood. As a widowed new dad he copes with doubts, fears, heartache, and dirty diapers as he sets out to raise his daughter on his own.
Fatherhood Netflix release date: June 18, 2021
Check out the next set of June 2021 films on the next page: