There are plenty of March movies that are coming to theatres, streaming platforms, and video on demand this month that we should not miss. The third month offers loads of movies belonging to a wide plethora of genres. That includes action flicks, romance, dramas, comedies, adventure, sci-fi, and thrillers.
In March, streaming services are offering a great line-up of films such as: Netflix's Moxie a comedy-drama, Yes Day a comedy, Bad Trip a comedy; Amazon's Coming 2 America a comedy; Apple TV+ original, Cherry a crime-thriller drama; Hulu's Boss Level a sci-fi action thriller. And Zack Snyder's Justice League is coming as an HBO Max original film.
Many films have been released digitally for the audience to view on-demand since last year. The most intriguing VOD releases in March are The World to Come a drama; My Salinger Year a romantic-drama; Crisis a dramatic thriller; Pixie a comedy crime-thriller; The Winter Lake a mystery drama; Cosmic Sin a sci-fi action-adventure; Jumbo a drama; SAS: Red Notice an action thriller; The Vault a crime thriller; Six Minutes to Midnight a war-drama. Most of the on-demand releases are also opening in select theatres before, or simultaneously, launching on digital platforms.
RELATED: SUPER BOWL MOVIE TRAILER CHEAT SHEET: NEW LOOKS AT RAYA, COMING 2 AMERICA, NOBODY, AND MORE
In the last few months, many theatres across various countries are reopened and new movies are getting released wherever theatres are available instead of waiting for other theatres to come back in full form. Some movies are having a release in select theatres before they head to streaming but some movies are having a wide release possible. Those films are Chaos Walking a sci-fi action-adventure, The Courier a historical thriller, and Happily a dark comedy thriller.
Similar to how Disney debuted Mulan on Disney+ the studio decided to also release their latest animation film, Raya and the Last Dragon for premiere access on their streaming service along with a simultaneous release in theatres.
In Warner Bros.'s HBO Max release strategy of their 2021 film slate, already three films have been released but the first biggest tentpole film is arriving in March. WB's epic monster flick, Godzilla vs. Kong is simultaneously releasing in theatres and on HBO Max for a month.
Check out the synopses and release dates for each of these movies below.
March Movies To Watch Out For
The World to Come
The World to Come is a drama film directed by Mona Fastvold (The Sleepwalker, Vox Lux), from a screenplay by Ron Hansen and Jim Shepard, based upon Shepard's story of the same name which explores how isolation is overcome by the intensity of the human connection. It stars Vanessa Kirby (Hobbs & Shaw, The Crown, Pieces of a Woman), Katherine Waterston (Fantastic Beasts part- 1&2), Christopher Abbott (James White, It Comes At Night, Black Bear), and Casey Affleck (Manchester by the Sea, Our Friend).
In this powerful mid-19th century romance set in the American East Coast frontier, Abigail (Waterston), a farmer's wife, and her new neighbor Tallie (Kirby) find themselves irrevocably drawn to each other. A grieving Abigail tends to her withdrawn husband Dyer (Affleck) as free-spirit Tallie bristles at the jealous control of her husband Finney (Abbott), when together their intimacy begins to fill a void in each other's lives they never knew existed. In the process the neighbouring couples battle hardship and isolation, witnessed by a splendid yet testing landscape, challenging them both physically and psychologically.
It had its world premiere at the 77th Venice International Film Festival on September 6, 2020, where it won the Queer Lion award for best LGBTQ-themed film at the festival. The R-rated film so far holds a 73% Rotten Tomatoes score based on 94 reviews with a lot of praise for its lead pair. It had a limited theatrical release on February 12, 2021, now it will be released through video on demand.
The World to Come VOD release date: March 2, 2021
Moxie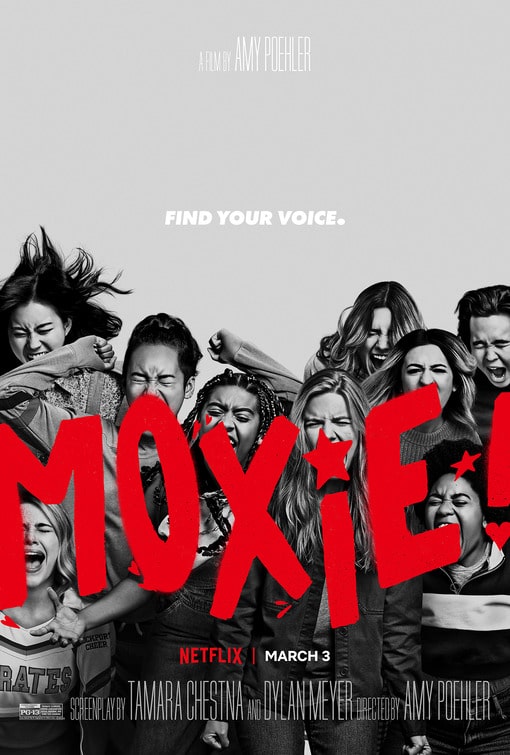 Moxie is Netflix's original comedy-drama film directed by Amy Poehler (Parks and Recreation, Inside Out) from a screenplay by Tamara Chestna and Dylan Meyer, based on the novel of the same name by Jennifer Mathieu. It stars Hadley Robinson (Utopia), Lauren Tsai (Legion), Josephine Langford (After), Patrick Schwarzenegger (Midnight Sun), Ike Barinholtz (Blockers), Sydney Park (The Walking Dead), Alycia Pascual-Peña (Saved by the Bell), Clark Gregg (Avengers, Agents of Shield), Marcia Gay Harden (The Morning Show), Josie Totah (Jessie, Glee), and Poehler.
The film follows Vivian (Robinson), a seemingly shy 16-year-old, who always preferers to keep her head down and fly under the radar. But when the arrival of a new student (Pascual-Peña) forces her to examine the unchecked behavior of her fellow students running rampant at her high school, Vivian realizes she's fed up with the sexist and toxic status quo. Inspired by her mother's (Poehler) rebellious past, Vivian anonymously publishes an underground zine called Moxie to expose bias and wrongdoing in her high school and unexpectedly sparks a movement. Now at the center of a revolution, Vivian begins to forge new friendships with other young women and allies, reaching across the divide of cliques and clubs as they learn to navigate the highs and lows of high school together.
Moxie Netflix release date: March 3, 2021
Raya and the Last Dragon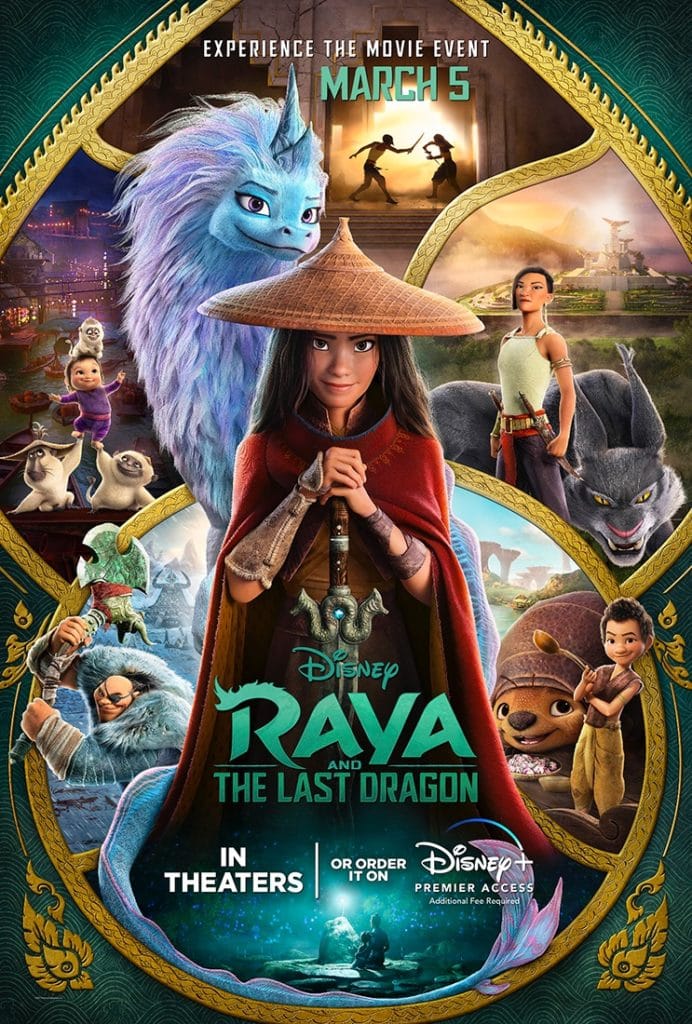 Raya and the Last Dragon is Walt Disney Animation's action-adventure fantasy film directed by Don Hall (Big Hero 6, Moana) and Carlos López Estrada (Blindspotting), co-directed by Paul Briggs and John Ripa, produced by Osnat Shurer and Peter Del Vecho, written by Qui Nguyen and Adele Lim, and music score composed by James Newton Howard. The Head of Story for the film was headed by Thai artist Fawn Veerasunthorn.
The movie features a predominantly Asian American cast, including the voices of Kelly Marie Tran (Star Wars: Episode-8 & 9, Sorry for Your Loss) as the titular Raya and Awkwafina (The Farewell, Crazy Rich Asians, Ocean's 8) as Sisu, the last dragon, along with Gemma Chan (Humans, Crazy Rich Asians), Daniel Dae Kim (Lost), Sandra Oh (Killing Eve), Benedict Wong (Doctor Strange), Jona Xiao (Hightown), Izaac Wang (Good Boys), Thalia Tran (Little), Lucille Soong (Freaky Friday), Patti Harrison (Shrill), Ross Butler (13 Reasons Why), and Alan Tudyk (Rogue One, Harley Quinn).
RELATED: DISNEY RELEASES DELIGHTFUL CRAFTING RAYA FEATURETTE
The film which was set a long time ago takes us on an exciting, epic journey to the fantasy world of Kumandra, where humans and dragons lived together long ago in harmony. But when an evil force known as the Druun threatened the land, the dragons sacrificed themselves to save humanity. Now, 500 years later, those same monsters have returned and it's up to a lone warrior, Raya, to track down the legendary last dragon to restore the fractured land and its divided people and finally stop the Druun for good. However, along her journey, she'll learn that it'll take more than a dragon to save the world—it's going to take trust and teamwork as well.
Raya and the Last Dragon is set in a fictional fantasy land called Kumandra, inspired by Southeast Asian cultures from Laos, Thailand, Cambodia, Vietnam, Myanmar, Malaysia, Indonesia, and the Philippines. Don Hall is the Academy Award-winning director behind Big Hero 6 and he also co-wrote and co-directed Moana so this shows that Disney will be getting another hit with Raya. The trailers for the film showcased stunning animation filled with great action. This is a must-watch for all kinds of audiences.
Raya and the Last Dragon is scheduled to be released theatrically and also simultaneously available on Disney+ with Premier Access. You have your choice of going to theatres or you can watch it at your home. As a bonus, in theaters, the film will be accompanied by a new short film, Us Again it will be the first short by Disney Animation in five years.
The movie will be unlocked with a $29.99 price point and will remain available to renters for as long as they stay subscribed to Disney+ but the Premier Access purchase will be available until May 4. The movie will join the regular Disney Plus library after three months on June 4. Later the film will be released through Digital HD and on DVD, Blu-ray, and Ultra HD Blu-ray on June 15, 2021.
Raya and the Last Dragon (Disney+ premiere access & theatrical) release date: March 5, 2021
RELATED: WATCH THE NEW RAYA AND THE LAST DRAGON TRAILER AND CHECK OUT THE MAGICAL NEW POSTER NOW
My Salinger Year
My Salinger Year is a romantic drama film written and directed by Philippe Falardeau (The Good Lie, Chuck), based upon the memoir of the same name by Joanna Rakoff. It stars Margaret Qualley (Once Upon a Time In Hollywood, Fosse/Verdon), Sigourney Weaver (Alien, Avatar), Douglas Booth (Pride and Prejudice and Zombies), Seána Kerslake (The Hole in the Ground), Colm Feore (The Umbrella Academy), and Brían F. O'Byrne (Million Dollar Baby).
Set in New York in the 90s, after leaving graduate school to pursue her dream of becoming a writer, Joanna (Qualley) gets hired as an assistant to Margaret (Weaver), the stoic and old-fashioned literary agent of J. D. Salinger. Fluctuating between poverty and glamour, she spends her days in a plush, wood-paneled office — where dictaphones and typewriters still reign and agents doze off after three-martini lunches — and her nights in a sink-less Brooklyn apartment with her socialist boyfriend.
Joanna's main task is processing Salinger's voluminous fan mail, but as she reads the heart-wrenching letters from around the world, she becomes reluctant to send the agency's impersonal standard letter and impulsively begins personalizing the responses. The results are both humorous and moving, as Joanna, while using the great writer's voice, begins to discover her own.
The R-rated film had its world premiere at the 70th Berlin International Film Festival on February 20, 2020. It is scheduled to be released in Canada and the US in limited theatres and on-demand. So far the film holds a 70% RT score based on 23 reviews with praise for its lead actresses and story.
My Salinger Year VOD release date: March 5, 2021
Coming 2 America
Coming 2 America is Paramount Pictures' long-awaited sequel to Eddie Murphy's comedy film directed by Craig Brewer (Hustle & Flow, Dolemite Is My Name), from a screenplay by Kenya Barris, Barry W. Blaustein, and David Sheffield, and a story by Blaustein, Sheffield, and Justin Kanew, based on characters created by Murphy (Beverly Hills Cop, Dolemite Is My Name). It is the second installment in the Coming to America film series and serves as a sequel to the original 1988 hit film.
RELATED: COMING 2 AMERICA: 1ST TRAILER PROMISES FAMILIAR FACES AND MORE HILARIOUS MOMENTS COURTESY OF ZAMUNDA
The stars of the first film Eddie Murphy, Arsenio Hall (Black Dynamite), Shari Headley (Goosebumps 2), John Amos (Die Hard 2), Paul Bates (True Romance), Vanessa Bell Calloway (Shameless), Louie Anderson (Search Party), and James Earl Jones (The Lion King) returns in the sequel. The new addition to the cast includes Jermaine Fowler (Friends of the People), Leslie Jones (Ghostbusters), Tracy Morgan (30 Rock), KiKi Layne (The Old Guard), Teyana Taylor, David Lengel (WandaVision), Garcelle Beauvais (Flight), and Wesley Snipes (Blade).
Set after the events of the first film, former Prince Akeem Joffer (Murphy) is set to become King of Zamunda when he discovers he has a son he never knew about in America – a street-savvy Queens native named Lavelle (Fowler). Honoring his royal father's (Jones) dying wish to groom this son as the crown prince, Akeem and his trusted confidante Semmi (Hall) set off to America once again.
Craig Brewer is reteaming with his Dolemite Is My Name star in this sequel. Originally to be theatrically released by Paramount, the film's distribution rights were sold to Amazon Studios due to the global pandemic. Amazon is set to release it digitally on Prime Video. This is the most anticipated and must-watch comedy of the year.
Coming 2 America Amazon release date: March 5, 2021
RELATED: EDDIE MURPHY REVEALS HOW COMING 2 AMERICA AND BLACK PANTHER SHARE A SPECIAL CONNECTION
Chaos Walking
Chaos Walking is Lionsgate's sci-fi action-adventure directed by Doug Liman (The Bourne Identity, Edge of Tomorrow) from a screenplay by Patrick Ness and Christopher Ford. It is based on the sci-fi trilogy Chaos Walking, adapting its first book, 2008's best-selling novel The Knife of Never Letting Go by Ness.
The film stars Daisy Ridley (Star Wars: Episode 7, 8 & 9, Murder on the Orient Express) and Tom Holland (Spider-Man: Homecoming and Far From Home, The Devil All The Time, Onward), along with Mads Mikkelsen (Doctor Strange, Hannibal), Demián Bichir (The Hateful Eight), Cynthia Erivo (Harriet), Nick Jonas (Jumanji: Welcome to the Jungle), Ray McKinnon (Ford v Ferrari, News of the World), and David Oyelowo (Selma, Midnight Sky).
Synopsis: In the not-too-distant future, Todd Hewitt (Holland) discovers Viola (Ridley), a mysterious girl who crash lands on his planet, where all the women have disappeared and the men are afflicted by "the Noise" – a force that puts all their thoughts on display. In this dangerous landscape, Viola's life is threatened – and as Todd vows to protect her, he will have to discover his own inner power and unlock the planet's dark secrets.
This movie was done filming ages ago and was supposed to be released in 2019 but got delayed multiple times. At last Chaos Walking is going to see the day of light, it is scheduled to be released theatrically in the US.
Chaos Walking release date: March 5, 2021
Crisis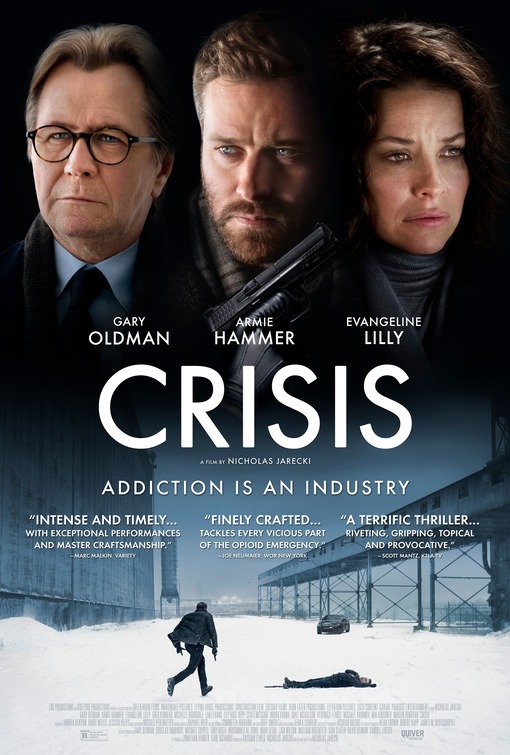 Crisis is a dramatic thriller film written, produced, and directed by Nicholas Jarecki (Arbitrage). The film tells three interweaving stories set during the ongoing opioid epidemic. It stars Gary Oldman (Mank, Harry Potter, Dark Knight), Armie Hammer (Call Me by Your Name, The Man from U.N.C.L.E), Evangeline Lilly (Ant-Man 1&2, Real Steel, Lost), Greg Kinnear (House of Cards), Michelle Rodriguez (Fast & Furious), Luke Evans (Beauty and the Beast, Furious 7), Lily-Rose Depp (The King), Veronica Ferres (Salt and Fire), Mia Kirshner (Star Trek: Discovery), Kid Cudi (Westworld) and Martin Donovan (Tenet, Big Little Lies).
Synopsis: A drug trafficker arranges a multi-cartel Fentanyl smuggling operation between Canada and the U.S., an architect recovering from an oxycodone addiction tracks down the truth behind her son's involvement with narcotics. A university professor battles unexpected revelations about his research employer, a pharmaceutical company with deep government influence bringing a new "non-addictive" painkiller to market.
The R-rated film was theatrically released in the US on February 26, 2021, by Quiver Distribution and will be followed by a home entertainment release on March 5. It will release internationally on March 26th by Universal Pictures and Warner Brothers.
Crisis VOD release date: March 5, 2021
Boss Level
Boss Level is Hulu's original sci-fi action thriller directed by Joe Carnahan (Narc, The A-Team) and written by Carnahan and Chris and Eddie Borey, from a story by the Boreys. It stars Frank Grillo (Captain America: The Winter Soldier & Civil War, Body Brokers), Mel Gibson (Braveheart, Lethal Weapon, Fatman), Naomi Watts (King Kong, Mulholland Drive), Annabelle Wallis (Peaky Blinders, Tag, The Mummy), Ken Jeong (The Hangover, Community), Meadow Williams (Den of Thieves), Will Sasso (Klaus, Mom), Mathilde Ollivier (Overlord), Selina Lo (The Debt Collector), Sheaun McKinney (Great News), and Michelle Yeoh (Tomorrow Never Dies, Star Trek: Discovery).
The film follows Roy Pulver (Grillo), a retired special forces soldier who finds himself trapped in a sinister program which results in a never-ending time loop leading to his repeated death. Time loop stories are always so interesting to watch and in addition, this film includes kick-ass action. This film is scheduled to be released on Hulu.
Boss Level Hulu release date: March 5, 2021
RELATED: BODY BROKERS REVIEW: A CRIME DRAMA THAT REVEALS TRUTH ABOUT THE DRUG TREATMENT SYSTEM BUT DOESN'T QUITE STICK THE LANDING
Pixie
Pixie is Paramount Pictures' comedy crime-thriller directed and produced by Barnaby Thompson (Burke and Hare) and written by Preston Thompson (Kids in Love). The film stars Olivia Cooke (Ready Player One, Sound of Metal, Little Fish, Thoroughbreds), Ben Hardy (X-Men: Apocalypse, 6 Underground), Daryl McCormack (Peaky Blinders), Colm Meaney (Gangs of London), and Alec Baldwin (Mission: Impossible – Rogue Nation & Fallout).
The film follows Pixie Hardy (Cooke), a young woman who sets out to avenge her mother's death by masterminding a heist that will give her the means to leave her small-town life behind. When the plan goes horribly wrong, she's forced to team up with a pair of misfits (Hardy & McCormack) who are clearly in over their heads. On the run from a criminal gang of priests and nuns, the trio tries to scheme and swindle anyone they come across.
The film was released in the UK on 23 October 2020 and now it will be released in select theatres, digital, and on-demand in the US. The R-rated film currently holds an 89% RT score based on 18 reviews with a lot of praise for the lead actress. If you love a small-town engaging crime story with all kinds of misadventures, Pixie should be on your must-watch list.
Pixie VOD release date: March 5, 2021
The Winter Lake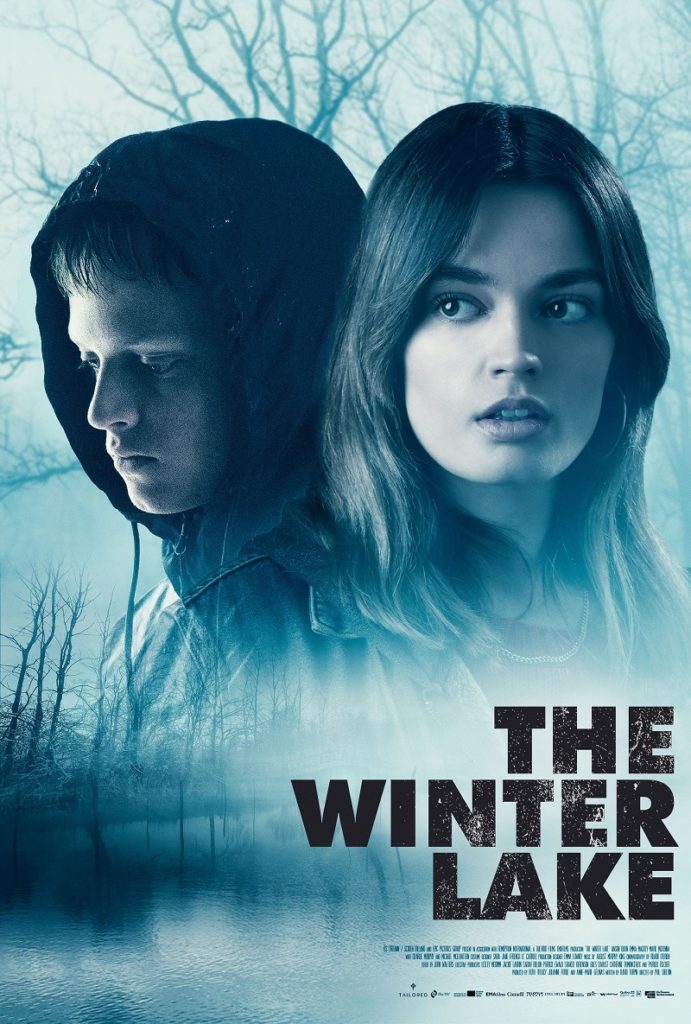 The Winter Lake is a mystery drama thriller film directed by Phil Sheerin in his feature directorial debut and written by David Turpin. It stars Emma Mackey (Sex Education), Charlie Murphy (Peaky Blinders), Michael McElhatton (Game of Thrones), Mark McKenna (Wayne), Anson Boon (Crawl), and Ally Ni Chiarain (Calm with Horses).
Synopsis: When Holly's (Mackey) dark secret is accidentally uncovered by her new emotionally unstable neighbour Tom (Boon), they are pulled into a violent confrontation with her father, who will do anything to keep the secret hidden. The film is scheduled to have a limited theatrical release in theatres on March 5 followed by an on-demand release.
The Winter Lake VOD release date: March 9, 2021
Cherry
Cherry is an Apple TV+ original crime-thriller drama directed by Anthony and Joe Russo (Captain America: Winter Soldier & Civil War, Avengers: Infinity War & Endgame), from a screenplay by Angela Russo-Otstot and Jessica Goldberg, based on the best-selling novel of the same name by Nico Walker. The film will be produced by AGBO's Russo Brothers, Matthew Rhodes, Jonathan Gray, and Mike Larocca. Cherry is the first directorial for the Russo's since Avengers: Endgame and it is a darkly humorous, unflinching coming-of-age story of a man on a universal quest for purpose and human connection.
RELATED: CHERRY: WATCH THE 1ST INTENSE TRAILER FOR THE TOM HOLLAND DRAMA NOW
Cherry is a sprawling epic that's part romance, part wartime satire, part unflinching drug drama, and part heist flick. It features Tom Holland (Spider-Man: Homecoming & Far From Home, The Devil All The Time, Onward) and Ciara Bravo (Wayne, A Teacher, Red Band Society) in the lead roles. Jack Reynor (Midsommar), Jeff Wahlberg (Dora and the Lost City of Gold), Forrest Goodluck (The Revenant), Michael Gandolfini (The Deuce), and Michael Rispoli (Kick-Ass) also star.
The film follows the wild journey of a disenfranchised young man named Cherry (Holland), from Ohio who meets the love of his life, only to risk losing her through a series of bad decisions and challenging life circumstances. He drifts from dropping out of college to serving in Iraq as an Army medic and is only anchored by his one true love, Emily (Bravo). But after returning from the war, he battles the demons of undiagnosed post-traumatic stress disorder (PTSD) and spirals into drug addiction, surrounding himself with a menagerie of depraved misfits. Cherry becomes a serial bank robber to fund his addiction, shattering his relationship with Emily along the way.
This R-rated film reteams Tom Holland with the Russo's after Endgame, as the directing duo have mostly stuck with the MCU actors in their AGBO projects. Holland has shown his dramatic acting chops in the 2020 Netflix film, The Devil All The Time, but looks like he is going to deliver even much more powerhouse performance in this.
The movie is already getting critical praise for both Tom Holland's and Ciara Bravo's performances. Fans of Holland and the Russo's will be thrilled by this film which is in complete contrast to their previous works. Cherry premiered in select theatres on February 26, 2021, and wil globally on Apple TV+ in March. This is a must-watch movie for everyone. You can read our review for Cherry below!
Cherry Apple TV+ release date: March 12, 2021
RELATED: CHERRY REVIEW: MESMERIZING PERFORMANCES RISE TO THE OCCASION IN BRILLIANT BOOK ADAPTATION
Cosmic Sin
Cosmic Sin is Saban Films' sci-fi action-adventure directed by Edward Drake (Broil), which he co-wrote with Corey Large who also produced it. It features action stars Bruce Willis (Die Hard, Unbreakable, The Sixth Sense) and Frank Grillo (Captain America: The Winter Soldier & Civil War, Body Brokers) in the lead roles.
The film also stars Brandon Thomas Lee (Sierra Burgess Is a Loser), Luke Wilson (Star Girl, Zombieland: Double Tap), CJ Perry aka WWE superstar Lana, Corey Large (Breach, Broil), Perrey Reeves, Lochlyn Munro (Riverdale), Costas Mandylor (Saw 5), Johnny Messner (Breach), Eva De Dominici (You Shall Not Sleep), and Adelaide Kane (Teen Wolf, The Purge).
RELATED: COSMIC SIN: BRUCE WILLIS AND FRANK GRILLO TEAM UP IN THE NEW TRAILER
The film is set in the year 2524, four hundred years after humans started colonizing the outer planets. Retired Military General James Ford (Willis) is called back into service after soldiers on a remote planet are attacked by a hostile alien fleet. General Ford teams up with General Eron Ryle (Grillo) to eliminate the threat to the human race before it escalates into an interstellar war. So a team of seven elite soldiers launches a pre-emptive strike against the newly discovered alien civilization with the power to infect and take over human hosts.
The premise of this R-rated movie is not new, but it definitely seems to be a dumb entertaining popcorn flick with cool visuals and action sequences, it can turn out to be a fun watch. Cosmic Sin is set to simultaneously debut in select theatres, on-demand and digital.
Cosmic Sin VOD release date: March 12, 2021
Yes Day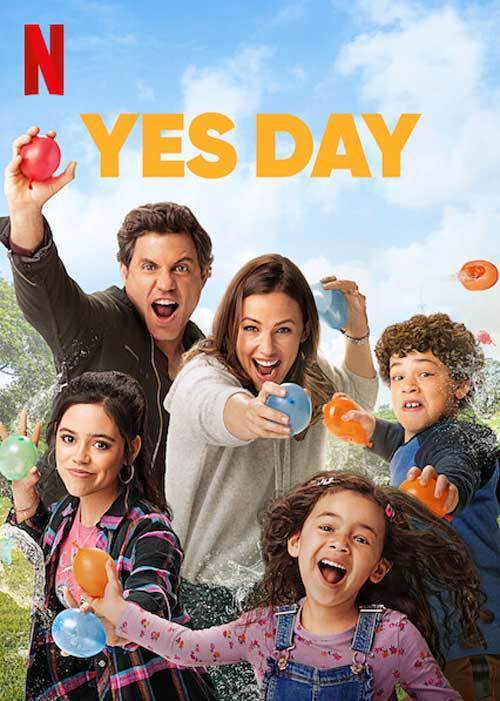 Yes Day is Netflix's original comedy directed by Miguel Arteta (Beatriz at Dinner, The Good Girl, Youth in Revolt), from a screenplay by Justin Malen, based upon the children's book of the same name by Amy Krouse Rosenthal and Tom Lichtenheld. It stars Jennifer Garner (Juno, Alias, and Love, Simon), Jenna Ortega (You, The Babysitter: Killer Queen), Édgar Ramírez (Gold, The Undoing), Everly Carganilla, Julian Lerner (Pottersville), Megan Stott (Little Fires Everywhere), and June Diane Raphael (Grace and Frankie, Long Shot).
Synopsis: Always feeling like they have to say 'NO' to their kids and co-workers, Allison and Carlos decide to give their three kids a 'YES DAY', during which the kids have 24 hours to make the rules. Little did they know that they'd be going on a whirlwind adventure around Los Angeles, that would bring the family closer to each other than ever before. This fun family comedy will be a perfect watch for family audiences.
Yes Day Netflix release date: March 12, 2021