There are plenty of August 2021 movies that are coming to theaters, streaming platforms, and video on demand that we should not miss, belonging to a wide plethora of genres. That includes action flicks, romance, dramas, comedies, adventure, fantasy, sci-fi, horror, and thrillers. Last two months, more major theatrical releases have begun to roll and that continues this month. This will be another exciting month because a whole bunch of tentpole movies are getting released.
In August, streaming services are stacked with an exciting line-up of films. They are Netflix's Vivo an animated musical comedy; The Kissing Booth 3 a romantic comedy; Beckett a crime thriller; Sweet Girl an action thriller; The Witcher: Nightmare of The Wolf an action fantasy adventure.
And on Amazon Prime, Annette a musical drama; and on Apple TV+, CODA a drama; and on Hulu, Vacation Friends a comedy is releasing. The intriguing VOD releases of this month are Naked Singularity a comedy-drama; Mortal Kombat Legends: Battle of the Realms an animated action flick.
At this point, many theaters across various countries have reopened and new movies are getting released wherever theaters are available. Looks like the movie-going audience is increasing every month and there is a sign at last for theaters to return to full form soon.
The release of major movies has increased in the last four months. The recent tentpole movie, Marvel's Black Widow set a new box-office opening record during the pandemic surpassing the June record of Fast 9
which previously surpassed the May record of A Quiet Place Part II which surpassed the March record of Godzilla vs. Kong, this has further emboldened studios. Looks like each month as a new blockbuster arrives the audience rate in theatres is going up.
Films that are releasing exclusively in theaters are- Nine Days a fantasy drama; Free Guy a sci-fi action comedy; Don't Breathe 2 an action horror thriller; Respect a musical biopic; The Night House a horror thriller; The Protégé an action thriller; Candyman a horror thriller.
In Warner Bros' HBO Max release strategy of their 2021 film slate, nine films have already been released. This month two films are arriving from that slate, The Suicide Squad a superhero action film, and Reminiscence a sci-fi romantic mystery. DCEU's The Suicide Squad is one of the biggest blockbusters of the year. Being a DC film, The Suicide Squad has the chance to break the pandemic era box office record.
Just like WB and Disney, Universal has tried the simultaneous release strategy with their animated film, The Boss Baby 2, last month. Now Paramount is trying the simultaneous release as well. Paramount is releasing their new animated film, Paw Patrol an adventure comedy, in theatres and on their streaming service Paramount+ on the same day.
Check out the synopses and release dates for each of these movies below.
AUGUST 2021 MOVIES TO WATCH OUT FOR
The Suicide Squad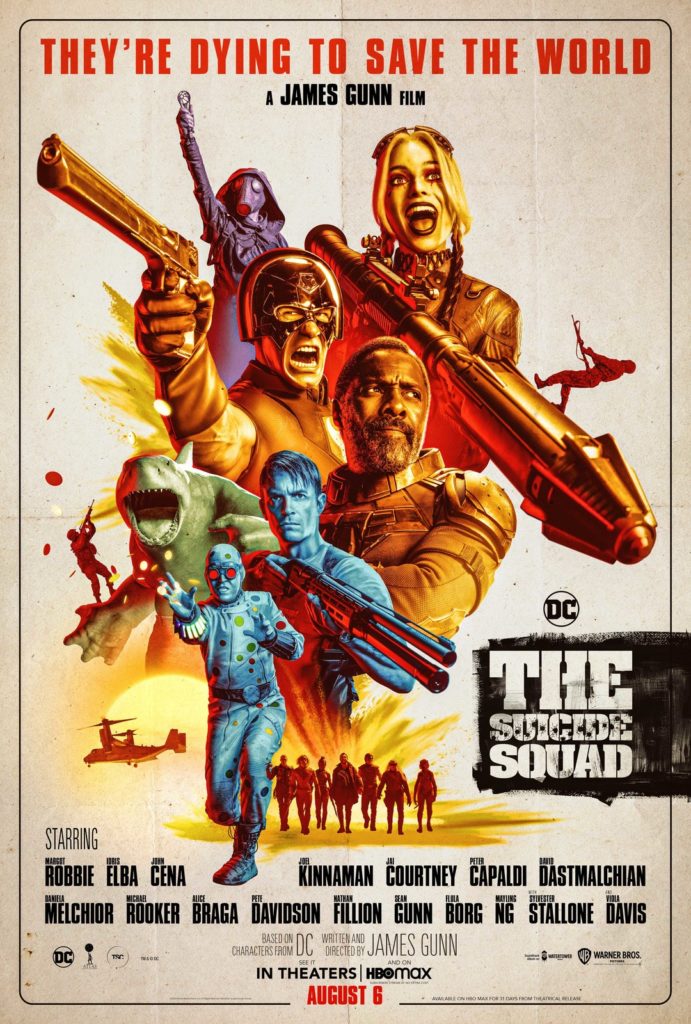 The Suicide Squad is Warner Bors. Pictures' DC superhero action-adventure film based on the DC Comics team Suicide Squad. It is written and directed by James Gunn (Guardians of the Galaxy, Slither, Super). It is intended to be a standalone sequel to Suicide Squad (2016) and the tenth film in the DC Extended Universe (DCEU). The wild film follows a ragtag group of likable super-villains whose survivability itself is at stake.
It stars an ensemble cast including Margot Robbie (Birds of Prey, Bombshell) as Harley Quinn, Idris Elba (Thor, Concrete Cowboy, Hobbs & Shaw) as Bloodsport, John Cena (F9, Bumblebee) as Peacemaker, Joel Kinnaman (House of Cards) as Rick Flag, Sylvester Stallone (Rocky, Creed) as the voice of King Shark, Viola Davis (Ma Rainey's Black Bottom) as Amanda Waller, Jai Courtney (Terminator Genisys) as Captain Boomerang, David Dastmalchian (Ant-Man, Prisoners) as Polka-Dot Man, Daniela Melchior (A Herdeira) as Ratcatcher 2, Michael Rooker (Guardians of the Galaxy, Love and Monsters) as Savant, Alice Braga (The New Mutants, Queen of the South) as Sol Soria, Pete Davidson (The King of Staten Island) as Blackguard, Nathan Fillion (Castle) as T.D.K., Sean Gunn (Guardians of the Galaxy) as Weasel, Flula Borg (Pitch Perfect 2) as Javelin, Mayling Ng (Muna) as Mongal, and Peter Capaldi (Doctor Who, Paddington) as The Thinker.
RELATED: THE SUICIDE SQUAD: WATCH THE HORRIBLY BEAUTIFUL TRAILER FOR WB'S NEW ANTI-HERO FLICK
Taika Waititi (Jojo Rabbit, Thor: Ragnarok), Steve Agee (New Girl), Joaquín Cosío (Narcos: Mexico), Juan Diego Botto (White Lines), Storm Reid (Euphoria), Jennifer Holland (American Horror Story), Mikaela Hoover (Guardians of the Galaxy) also star. In the film, a task force of convicts are sent to destroy a Nazi-era laboratory and encounter the giant alien Starro.
Synopsis: Welcome to hell — a.k.a. Belle Reve, the prison with the highest mortality rate in the US of A. Where the worst Super-Villains are kept and where they will do anything to get out—even join the super-secret, super-shady Task Force X. Today's do-or-die assignment? Assemble a collection of cons, including Bloodsport, Peacemaker, Captain Boomerang, Ratcatcher 2, Savant, King Shark, Blackguard, Javelin, and everyone's favorite psycho, Harley Quinn. Then arm them heavily and drop them (literally) on the remote, enemy-infused island of Corto Maltese.
Trekking through a jungle teeming with militant adversaries and guerrilla forces at every turn, the Squad is on a search-and-destroy mission with only Colonel Rick Flag on the ground to make them behave…and Amanda Waller's government techies in their ears, tracking their every movement. And as always, one wrong move and they're dead (whether at the hands of their opponents, a teammate, or Waller herself). If anyone's laying down bets, the smart money is against them—all of them.
A Suicide Squad film is a perfect match for James Gunn's sensibilities, humor, and action, so the excitement level for this film is high from the start. The trailers for this have been promisingly good. Even though the first film was a box-office hit it was bashed by both critics and fans. So the second film, The Suicide Squad works as a standalone sequel separate from the first film's narrative, though some cast members do return from the first one.
This is one of the WB films of this year that is going to follow the HBO Max release strategy. The Suicide Squad is scheduled to be released theatrically in the UK on July 30, 2021. It will have its first screenings on August 5th in the US and then it will be released globally in theaters and on HBO Max for a month starting the following day.
The reactions to the film have been a blast suggesting this could be DCEU's best yet. It so far holds a 95% Rotten Tomatoes score based on 154 reviews with praise for the director, story, cast, and action. The rating not only makes this the highest-rated DC movie but also one of the highest-rated movies in the whole comic book genre. The R-rated DCEU movie is filled with crazy action, violence, comedy, heartfelt story that takes us on a bonkers fun adventure ride. Like any DC flick, this is a must-watch for all audiences.
Read our review for The Suicide Squad below!
RELATED: THE SUICIDE SQUAD REVIEW: A HILARIOUS ACTION FILM THAT'S A GORY WIN FOR JAMES GUNN AND DC
The Suicide Squad (HBO Max & theatrical) release date: August 6, 2021
Nine Days
Nine Days is Sony Pictures Classics' fantasy drama written and directed by Edson Oda in his feature directorial debut. In the film, a reclusive man interviews five unborn souls to determine which one can be given life on Earth.
It stars Winston Duke (Black Panther, Us, Spenser Confidential), Zazie Beetz (Deadpool 2, Joker), Benedict Wong (Doctor Strange, Annihilation), Tony Hale (Veep), Bill Skarsgård (IT Chapter– 1 & 2, The Devil All the Time), David Rysdahl (Dead Pigs, That's Not Us), and Arianna Ortiz (This Is Us).
The R-rated film had its world premiere at the Sundance Film Festival on January 27, 2020, and was released in limited theatres in the US on July 30, 2021, and now it is having a wide release. The film was first released in Australia on July 15. The film won Waldo Salt Screenwriting Award at Sundance and Excellence in Acting Award for Duke and Beetz at Denver International Film Festival. Nine Days so far holds an 88% RT score based on 80 reviews with a lot of praise for the director and the cast especially Winston Duke.
RELATED: NINE DAYS [INTERVIEW]: WINSTON DUKE AND ZAZIE BEETZ ON INDIES VS BLOCKBUSTERS: "THE WORK IS A LOT MORE SIMILAR THAN IT IS DIFFERENT"
Nine Days release date: August 6, 2021
Vivo
Vivo is Netflix's original computer-animated musical comedy film produced by Sony Pictures Animation. The film is directed by Kirk DeMicco (The Croods) and co-directed by Brandon Jeffords, from a screenplay by Quiara Alegría Hudes and DeMicco, and a story that was based on the original idea by Peter Barsocchini, with songs written by Lin-Manuel Miranda. The film marks Sony Pictures Animation's first musical film.
Miranda (Hamilton, Mary Poppins Returns, His Dark Materials) voices the title character in the movie that also features the voices of Ynairaly Simo, Zoe Saldana (Guardians of the Galaxy, Star Trek), Juan de Marcos González, Michael Rooker (Guardians of the Galaxy, Love and Monsters), Brian Tyree Henry (Widows, Godzilla vs. Kong), Nicole Byer (The Unicorn), and Gloria Estefan (Glee).
The film follows a one-of-a-kind kinkajou (aka a rainforest "honey bear") named Vivo, who spends his days playing music to the crowds in a lively Havana square with his beloved owner Andrés. Though they may not speak the same language, Vivo and Andrés are the perfect duo through their common love of music. But when tragedy strikes shortly after Andrés receives a letter from the famous Marta Sandoval, inviting her old partner to her farewell concert in Miami, Florida with the hope of reconnecting, it's up to Vivo to deliver a message that Andrés never could: a love letter to Marta, written long ago, in the form of a song. Yet in order to get to the distant shores of Miami, Vivo will need to accept the help of Gabi – an energetic tween who bounces to the beat of her own offbeat drum.
Vivo was originally intended for a theatrical release in the US on June 4, 2021, by Sony but its release was canceled due to the pandemic. Instead, the film is scheduled for a digital release on Netflix this month. This animated musical will be a nice watch for the family audience.
Vivo Netflix release date: August 6, 2021
The Kissing Booth 3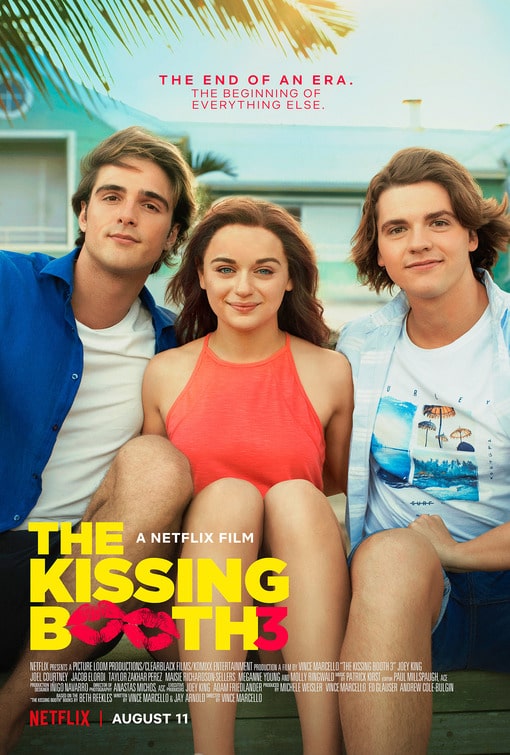 The Kissing Booth 3 is Netflix's original teen romantic comedy film directed by Vince Marcello (Liar, Liar, Vampire), who directed the first two parts, from a screenplay by Marcello and Jay Arnold. This film is a sequel to The Kissing Booth (2018) and The Kissing Booth 2 (2020), the third and final installment of The Kissing Booth film series which is based on The Kissing Booth novels by Beth Reekles.
The film sees the return of the original cast which includes Joey King (The Act, Fargo), Jacob Elordi (Euphoria), Joel Courtney (The Empty Man), Taylor Zakhar Perez, Maisie Richardson-Sellers (DC's Legends of Tomorrow), Meganne Young (Black Sails), and Molly Ringwald (Sixteen Candles). The film follows the love adventures of Elle (King), Noah (Elordi), and Lee (Courtney).
Synopsis: It's the summer before Elle heads to college, and she's facing the hardest decision of her life: whether to move across the country with her dreamy boyfriend Noah or fulfill her lifelong promise to go to college with her BFF Lee. Whose heart will Elle break?
The Kissing Booth 3 Netflix release date: August 11, 2021
RELATED: DEADPOOL MAKES 1ST MCU APPEARANCE WITH THOR'S KORG IN HILARIOUS NEW FREE GUY TRAILER REACTION VIDEO
Free Guy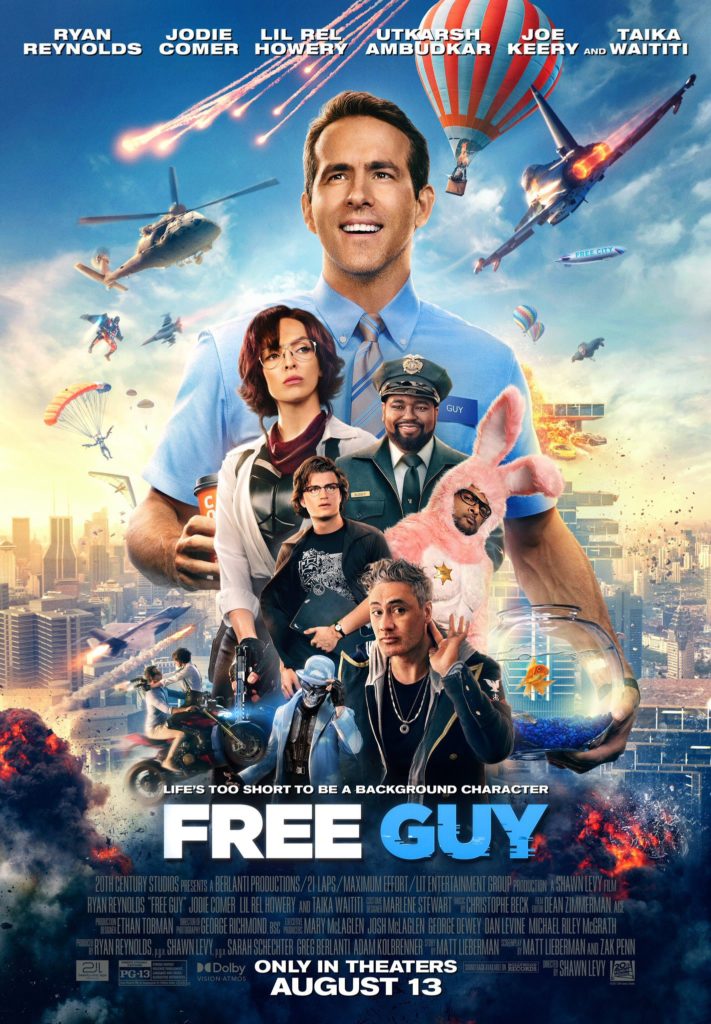 Free Guy is 20th Century Studios' sci-fi action-adventure comedy film directed by Shawn Levy (Stranger Things, Night at the Museum trilogy, Real Steel, Date Night) from a screenplay by Matt Lieberman and Zak Penn and a story by Lieberman. Levy is known for his comedy films and family entertainers filled with charming characters and concepts.
The film stars Ryan Reynolds (Deadpool, The Hitman's Bodyguard, The Proposal), Jodie Comer (Killing Eve, Doctor Foster), Lil Rel Howery (Bad Trip, Get Out), Utkarsh Ambudkar (Never Have I Ever, Blindspotting), Joe Keery (Stranger Things, Spree), Camille Kostek (Love, for Real), Matty Cardarople (Stranger Things), Alex Trebek, and Taika Waititi (Jojo Rabbit, Thor: Ragnarok). The film features cameo appearances from gamers and streamers and also many huge celebrities.
RELATED: FREE GUY STAR RYAN REYNOLDS CONTRASTS PLAYING NEW HERO VERSUS DEADPOOL AND THE JOY OF CREATING AN ORIGINAL FILM
Synopsis: In the open-world video game Free City, Guy (Reynolds) is a non-player character (NPC) working as a bank teller. Thanks to a program developed by programmers Milly (Comer) and Keys (Keery) inserted into Free City by the publisher Antoine (Waititi), Guy becomes aware of his world being a video game, and takes steps to make himself the hero, creating a race against time to save the game before the developers can shut it down.
Guy is in many ways a breath of fresh air when it comes to heroes, someone who simply decides to help people in a world of brutality because he is kind and because he can. The basic premise of the film itself is cool and intriguing. The concept of the Free Guy has a feel of other cool concept movies like The Lego Movie and Wreck-It Ralph combined with Ready Player One and a bit of The Truman Show. Take all of these films and put them inside an open-world video game that feels like Grand Theft Auto.
The trailers of Free Guy have looked so much fun. Ryan Renolds is known for his funny social media stuff and he always does creative marketing for his films and his real-life businesses. And this film is no exception, Reynolds released a video that features Deadpool and Waititi's role Korg from the MCU reacting to the trailer to Free Guy.
After several delays, Free Guy is scheduled to be theatrically released worldwide on August 13. It will have a 45-day exclusive theatrical release. The film so far holds an 89% RT score based on 35 reviews with praise for its charming heartfelt story and fun clever concept. This is a must-watch comedy entertainer because of its premise and the cast.
Read our review for Free Guy below!
RELATED: FREE GUY REVIEW: AN ORIGINAL FILM THAT IS MORE THAN A GAME
Free Guy release date: August 13, 2021
Don't Breathe 2
Don't Breathe 2 is Sony Pictures' action horror thriller directed by Rodo Sayagues in his directorial debut, from a screenplay he co-wrote with Fede Álvarez, and produced by Álvarez, Sam Raimi, and Rob Tapert. The R-rated film is a sequel to the 2016 critical and commercial hit, Don't Breathe, which was directed by Álvarez.
Stephen Lang (Avatar) reprises his role as Norman Nordstrom / "The Blind Man" from the first film, while Brendan Sexton III (Russian Doll), Madelyn Grace (Grey's Anatomy), Adam Young (EastEnders), Bobby Schofield (Knightfall), Rocci Williams (Wrath of Man), Steffan Rhodri (We Hunt Together), Diaana Babnicova (Jingle Jangle), and Stephanie Arcila (Penny Dreadful) star in supporting roles.
Synopsis: In Don't Breathe, Norman Nordstrom (Lang) was underestimated by everyone because of his blindness: he revealed an unflinching will to survive and get what he wants… but also a monstrous, evil side of his personality, as nothing – no person or conscience – will stand in his way. Now, in Don't Breathe 2, eight years later, Nordstrom lives with 11-year-old Phoenix (Grace); he has recreated the family that was stolen from him by a drunk driver and has found the twisted justice he's always felt was his due. When intruders once again come to his home, this time focused on Phoenix, Norman will reveal for a second time what's hidden inside him… and again, it will be in new and unexpected ways.
Don't Breathe became a sleeper hit, grossing $157.1 million worldwide against a low production budget of $9.9 million. The first film has an 88% RT score. It was one of the best horror films of 2016. Don't Breathe 2 is scheduled for a wide theatrical release and it is a must-watch for thriller genre fans especially the ones who loved the first film.
Don't Breathe 2 release date: August 13, 2021
CODA
CODA is an Apple TV+ original drama film written and directed by Sian Heder (Little America, Orange Is the New Black, GLOW) which is an English-language remake of the 2014 French film La Famille Bélier. It follows a hearing teenage girl who is a child of deaf adults (CODA for short).
The film stars Emilia Jones (Brimstone, Locke & Key) as the hearing girl, with Marlee Matlin (Quantico) and Troy Kotsur (The Number 23) as her culturally Deaf parents and Daniel Durant (Switched at Birth) as her Deaf brother. Eugenio Derbez (Dora and the Lost City of Gold), Amy Forsyth (Channel Zero), and Ferdia Walsh-Peelo (Vikings) also star in the film.
The film follows Seventeen-year-old Ruby is the sole hearing member of a deaf family — a CODA. Her life revolves around acting as an interpreter for her parents and working on the family's struggling fishing boat every day before school with her father and older brother. But when Ruby joins her high school's choir club, she discovers a gift for singing and soon finds herself drawn to her duet partner Miles (Walsh-Peelo). Encouraged by her enthusiastic, tough-love choirmaster (Derbez) to apply to a prestigious music school, Ruby finds herself torn between the obligations she feels to her family and the pursuit of her own dreams.
CODA had its world premiere on January 28, 2021, at the Sundance Film Festival where it got rave reviews and won a bunch of awards. Apple acquired distribution rights to the film. It so far holds a 95% RT score based on 100 reviews with praise for its cast and story. This seems to be having the potential to become an awards contender next year making it a must-watch film. The film will be simultaneously released in theaters and through the Apple TV+ streaming service.
CODA (Apple TV+ & theatrical) release date: August 13, 2021
Respect
Respect is a biographical musical drama film directed by Liesl Tommy (Jessica Jones, Mrs. Fletcher) in her feature film directorial debut, from a screenplay written by Tracey Scott Wilson from a story by Callie Khouri and Wilson, based on the life of American singer Aretha Franklin.
The film stars Jennifer Hudson (Dreamgirls, Sandy Wexler) as Franklin. Forest Whitaker (The Last King of Scotland, Rogue One), Marlon Wayans (G.I. Joe: The Rise of Cobra), Audra McDonald (The Good Fight), Marc Maron (GLOW), Tituss Burgess (Dolemite Is My Name), Saycon Sengbloh (In the Dark), Hailey Kilgore (Amazing Stories), Heather Headley (Chicago Med), Skye Dakota Turner, Tate Donovan (Argo), and Mary J. Blige (The Umbrella Academy) are featured in supporting roles.
Synopsis: Aretha Franklin sings in her father's church choir as a child and grows up to become an international musical superstar and the Queen of Soul, while simultaneously enduring an abusive marriage, constraints of patriarchy, and also being actively involved in the civil rights movement.
Respect is scheduled to premiere at the 74th Locarno Film Festival, and to be released theatrically in the US by United Artists Releasing, and worldwide by Universal Pictures.
Respect release date: August 13, 2021
Naked Singularity
Naked Singularity is a comedy-drama film, directed by Chase Palmer (IT) in his directorial debut, from a screenplay by Palmer and David Matthews. It is based upon the 2008 novel of the same name by Sergio De La Pava.
It stars John Boyega (Star Wars: Episode-VII, VIII, IX, Pacific Rim 2), Olivia Cooke (Ready Player One, Sound of Metal, Pixie), Bill Skarsgård (IT Chapter– 1 & 2, The Devil All the Time), Ed Skrein (Deadpool, Alita: Battle Angel), Linda Lavin (B Positive), and Tim Blake Nelson (Watchmen).
The film tells the story of Casi (Boyega), a promising young NYC public defender whose idealism is beginning to crack under the daily injustices of the very justice system he's trying to make right. Doubting all he has worked for and seeing signs of the universe collapsing all around him, he is pulled into a dangerous high-stakes drug heist by an unpredictable former client (Cooke) to beat the broken system at its own game.
It had its world premiere at the San Francisco International Film Festival on April 9, 2021. The R-rated movie is scheduled to be released in a limited release on August 6, before a VOD release on August 13.
Naked Singularity VOD release date: August 13, 2021
Beckett
Beckett is Netflix's original crime thriller drama directed by Ferdinando Cito Filomarino (Antonia.) and screenplay by Kevin A. Rice from a story by Filomarina. Beckett is scheduled to have its world premiere at the 74th Locarno Film Festival on August 4, 2021, and then later will be released on Netflix.
It stars John David Washington (Tenet, BlacKkKlansman, Malcolm & Marie), Alicia Vikander (Tomb Raider, Ex Machina, The Man from U.N.C.L.E.), Boyd Holbrook (Logan), Vicky Krieps (Old, Phantom Thread), Daphne Alexander (The Fourth Kind), and Yorgos Pirpassopoulos (Monday).
Synopsis: While vacationing in Greece, American tourist Beckett (Washington) becomes the target of a manhunt after a devastating accident. Forced to run for his life and desperate to get across the country to the American embassy to clear his name, tensions escalate as the authorities close in, political unrest mounts, and Beckett falls even deeper into a dangerous web of conspiracy.
Beckett Netflix release date: August 13, 2021
Reminiscence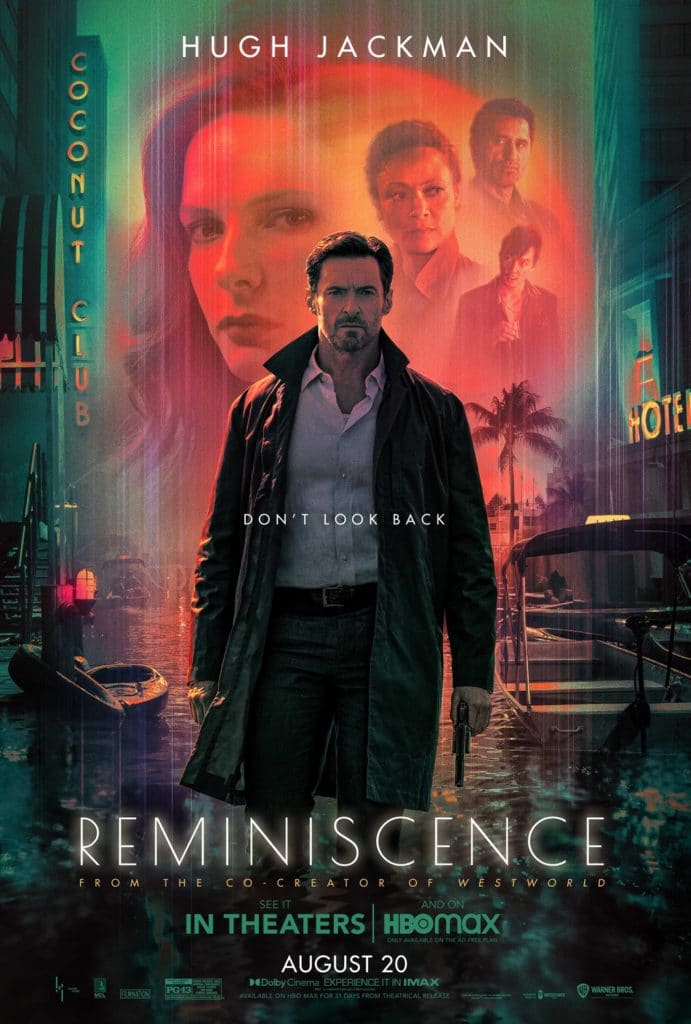 Reminiscence is Warner Bors. Pictures' sci-fi romantic mystery written and directed by Lisa Joy (Westworld) in her feature directorial debut. Joy also co-produced the film along with Westworld's co-creator Johnathan Nolan. This movie is filled with stunning visuals and an intriguing premise that has a feel of Inception and Westworld.
The film stars Hugh Jackman (Logan, X-Men, The Greatest Showman), Rebecca Ferguson (Mission: Impossible 5 & 6, The Greatest Showman), Thandiwe Newton (Mission: Impossible 2, Westworld), Cliff Curtis (Doctor Sleep), Marina de Tavira (Roma), Daniel Wu (Tomb Raider), Mojean Aria (See), Brett Cullen (Joker), Natalie Martinez (Death Race), Angela Sarafyan (Westworld), and Nico Parker (Dumbo).
Synopsis: Nicolas Bannister (Jackman), a rugged and solitary veteran living in a near-future Miami flooded by rising seas, is an expert in a dangerous occupation: he offers clients the chance to relive any memory they desire. His life changes when he meets a mysterious young woman named Mae (Ferguson). What begins as a simple matter of lost and found becomes a passionate love affair. But when a different client's memories implicate Mae in a series of violent crimes, Bannister must delve through the dark world of the past to uncover the truth about the woman he fell for. As Bannister fights to find the truth about Mae's disappearance, he uncovers a violent conspiracy, and must ultimately answer the question: how far would you go to hold on to the ones you love?
This is one of the WB films of this year that is going to follow the HBO Max release strategy. Reminiscence is scheduled to be released in theaters worldwide and also have a month-long simultaneous release on the HBO Max streaming service. The cast and concept make this a movie that we shouldn't miss.
Related: REMINISCENCE TRAILER: HUGH JACKMAN SCI-FI FLICK ARRIVES IN THEATERS AND ON HBO MAX AUGUST 20TH
Reminiscence (HBO Max & theatrical) release date: August 20, 2021
See more on the next page: